PREVIOUSLY unallocated water from the Gulf water catchment in north west Queensland has now become available to agricultural irrigation projects in the region.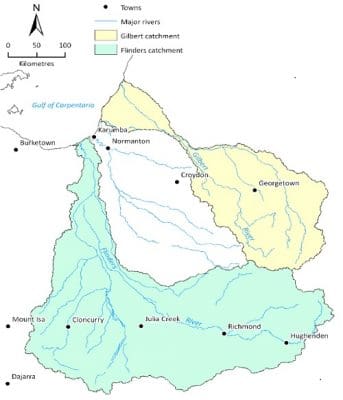 Following up on an announcement he made in July that the water would be open to offer in August, Minister for State Development and Minister for Natural Resources and Mines Dr Anthony Lynham said applications could now be made for 92,500 megalitres of water in the Cloncurry and Gilbert Rivers.
"This water is being made available to support agriculture projects that are shovel ready in north west communities including Cloncurry and Georgetown," Dr Lynham said.
"Applications can be lodged online at the DNRM website and will stay open while water remains available from this release process."
Dr Lynham said online lodgement provided a more efficient, direct and responsive process that would assist business planning.
"We understand that there will be strong demand for this precious resource so it is imperative applicants ensure they comply with all terms of sale requirements before submitting their application online," he said.
"This is to avoid disappointment as the water will be allocated on a first in, first served basis for applications that provide all of the necessary information.
"Department of Natural Resources and Mines officers are available to assist potential applicants to work through the necessary information requirements prior to submitting their application."
Dr Lynham said community consultation in August in Cloncurry and Georgetown had identified some concerns, particularly in relation to flexible payment options and vegetation clearing.
"The Government has listened to those concerns and, accordingly, a range of payment options now exist," he said.
Options are a longer term outright up‑front payment for a 93-year licence period or annual payments over a 20-year period.
The longer-term licence allows greater flexibility but requires full payment up-front at $125 per megalitre.
The alternative is an annual payment plan for a 20-year licence with the first instalment starting at $6.25 per megalitre.
This option allows those who do not have the financial capacity to pay in full the opportunity to gain access to water as a first step in developing an irrigated agriculture business.
There will be an option to surrender that licence and transition to a long-term licence after five years.
Dr Lynham said the volume of water being made available reflected known demand and the need to retain water for emerging large-scale proposals.
"This release follows the granting of more than 194,000 megalitres of water through two previous tender processes in the Gulf Water Plan area," he said.
Cotton industry support
Cotton Australia general manager, Michael Murray, said the allocation gave hope that irrigated agriculture could be developed in Queensland's north.
"This announcement is a welcome one, and we appreciate the efforts of the Queensland Government to make this resource available," Mr Murray said.
"In the past, interest has been expressed in opening up Queensland's north for irrigated agriculture, including for cotton. I know many growers and processors will investigate the potential for our crop in the region, and would look forward to taking it up if it is proven to be feasible.
"Of course, investments in infrastructure would be required to make production viable, and this is something the Queensland Government should consider investigating seriously."
Unlocking potential
In July, AgForce water spokesman, Kim Bremner, said the release of thousands of megalitres of water in the Flinders and Gilbert River catchments was a positive step towards unlocking the enormous potential for irrigated agriculture in north-west Queensland.
"The potential for irrigated agriculture in north-west Queensland and the idea of a 'northern food bowl' has long been talked about but access to water has always been a critical factor holding back development in the region," he said.
"AgForce is keen to see the water releases converted to on-the-ground development and the flow on employment and economic benefits as soon as possible."
Mr Bremner said AgForce supported further cropping development in northern Queensland and the use of a science-based process to identify water resources that could be sustainably developed while also protecting any significant natural values in the area.
Water-use efficiency funding
Meanwhile, the Queensland Government will invest another $2 million in the 2017-18 Rural Water Use Efficiency Initiative (RWUEI) to provide grants and assistance for farmers across a number of industries to help with keeping water on-farm and also meeting natural resource management outcomes.
Queensland Farmers' Federation (QFF) president Stuart Armitage welcomed the continuation of funding for RWUEI, but expressed the sector's concern over funding uncertainty post 2017-18 with farmers being subject to increasing water-use challenges from climate change.
"Queensland irrigators have been subject to and continue to implement wide scale reform to water use that has seen structural adjustments in the irrigation sector," Mr Armitage said.
"This has included significant capital investments by farmers and the adoption of water saving infrastructure and practices, and the importance of metering.
"Farmers understand the simple economic benefits that come from minimising costs, increasing efficiencies and improving productivity.
"Governments must accept and acknowledge the role of irrigated agriculture in supplying food, fibre, foliage and increasingly fuel; and the income it generates, particularly in regional communities post 2017-18."
"We want to see the Queensland Government work closely with industry to overcome the challenges to sustainably developing the north, including access to water and the need for sensible and balanced vegetation management laws," he said.
……………………
For more information on unallocated water in the Gulf visit www.dnrm.qld.gov.au, phone 07 4760 0750 or email [email protected]
Sources: Queensland Government, Cotton Australia, AgForce, QFF
……………………
See Grain Central stories: https://www.graincentral.com/property/whats-water-worth-in-the-north/
https://www.graincentral.com/news/92500-megalitres-to-be-released-in-flinders-and-gilbert-river-catchments/
https://www.graincentral.com/cropping/policy-inertia-renders-northern-irrigation-a-pipe-dream-farley/