SOUTH Australian chickpea growers are being urged to consider their ability to effectively manage ascochyta blight before planting the crop.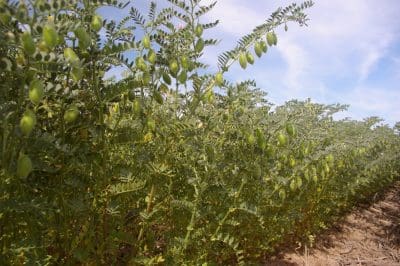 Pulse pathologists at the South Australian Research and Development Institute (SARDI) are advising that all chickpea varieties are now susceptible to moderately susceptible to the disease.
Ascochyta blight can infect all above ground parts of the plant and is promoted by cool and rainy weather during the cropping season.
Changes in the ascochyta blight reactions on some lentil and faba bean varieties were also detected last season.
SARDI research scientist, Sara Blake, said all chickpea varieties were now susceptible to moderately susceptible to ascochyta blight, with popular resistant variety Genesis 90 becoming overcome last year by a particularly aggressive strain of ascochyta blight across southern chickpea growing areas.
"Both high and low rainfall regions are at risk as severe outbreaks are possible in all current chickpea varieties in wet seasons such as 2016," she said.
"Our short term advice is for chickpea growers to seriously consider their risk of ascochyta blight infection and their ability to effectively control disease with fungicide before growing the crop."
A thorough seed treatment and fungicide strategy is key for all pulse crops in 2017, together with stringent monitoring for the disease.
The resistance ratings for ascochyta blight in lentils has not changed for 2017, but the intensity of plantings and short rotations between lentil crops is a serious risk to the currently resistant varieties.
Unexpected levels of ascochyta blight were found on the popularly grown resistant variety PBA HurricaneXT in Maitland and Mallala in 2016. Growers in those areas are advised to treat PBA HurricaneXT, PBA Ace and PBA Bolt as a potentially higher risk for ascochyta blight.
The strain of ascochyta blight able to infect Farah, PBA Rana and PBA Zahra faba beans was detected in the Yorke Peninsula and the South East faba bean growing regions, having spread beyond the original location in the Mid and Upper North of SA. Additional fungicide sprays may be required for these varieties.
For more information or advice contact Sara Blake on 08 8303 9383 or email [email protected], or Dr Jenny Davidson, Senior Pulse Pathologist, on 8303 9389 or email [email protected]
Visit: http://www.pir.sa.gov.au/alerts_news_events/news/sardi/ascochyta_blight_advice_for_pulse_growers
Source: SARDI