IN a world challenged to produce about 25 per cent more rice with fewer inputs of land, water, and labour to keep pace with population growth over the next 25 years, Australia has an opportunity to contribute to regional security through expanding its supply of the popular grain.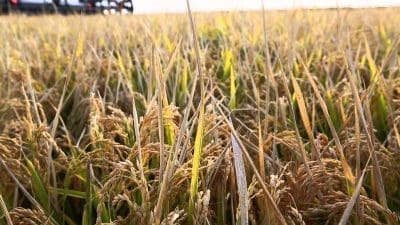 That was the view of International Rice Research Institute (IRRI) director general, Matthew Morell, in his keynote address to the International Temperate Rice Conference in Griffith, NSW, this week.
With 87pc of the world's rice consumed in the region, potential instability in rice production and pricing could pose risks to consumer food security and farmer's incomes, creating a challenging situation for many of the region's lower socio-economic communities.
"Today, we have the science and technology to develop high-yield rice that is stress-tolerant and more resilient that still meets nutrition and quality standards," Dr Morell said.
"The research and stewardship of Australia's rice sector has contributed significantly to a stable and prosperous industry. Continued collaboration in research, stewardship and capacity building to increase rice production in temperate and high-altitude regions is more important now – in the face of these challenges – than ever before."
Temperate rice – rice varieties that thrive in colder climates – accounts for about 20pc of global rice production.
With the impact of climate change and more diversified diets across the growing global middle class, temperate rice production is becoming increasingly important to ensure global food security.
In his time with IRRI, Dr Morell has been instrumental in shaping the institute's research and outreach agenda, including IRRI's leadership on climate change-ready rice, healthier rice varieties, farmer-friendly crop management and value chain practices as well as encouraging the next generation of rice scientists.
Prior to that, Dr Morell was theme leader at the Commonwealth Scientific and Industrial Research Organisation (CSIRO) where he led a research program on Future Grains and Plant Oil Production.
Source: International Temperate Rice Conference.