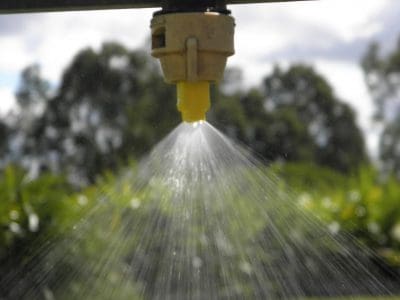 The 2016-17 Australian cotton season has begun, with planting mostly completed in the northern-most cotton valleys and early estimates anticipating a strong production year by growers.
Cotton Australia estimates more than 500,000 hectares of cotton will be planted this year.
"Rain in most cotton valleys has added to water storages, soil moisture profiles are ideal and global cotton prices are solid, boosting hopes for a productive season", says Cotton Australia CEO, Adam Kay.
"Australian producers remain the highest-yielding cotton growers in the world, and if that trend continues as we expect it to, total production this season could be in the order of 4 million bales."
However, Mr Kay says while recent rains have been beneficial for cotton growers, it has also brought the added danger of off-target spray drift from other crops and fallow spraying.
"The 2015-16 season was the worst in memory for spray drift impact on cotton crops, and Cotton Australia is again undertaking a massive effort this season to combat the threat," Mr Kay says.
"At least 60,000 hectares of cotton was damaged last season, affecting more than 20% of the nation's crop. Damage was estimated to be more than $20 million, so we are taking this issue very seriously."
"We urge all farmers, no matter what crop they are growing, to access tools to protect their crops from off-target spray drift, and prevent damage to neighbouring farms."
Mr Kay says that the vast majority of Australian cotton growers map their fields using CottonMap to ensure all farmers in their area can check the location of nearby cotton farms and avoid unacceptable spray drift damage.
"We ask people to be mindful of weather conditions and to check CottonMap to identify nearby cotton farms before applying weed control. Respect for your neighbours and their ability to earn a decent income from their operation is critical."
"We also remind cotton growers, farm managers, consultants, agronomists and contractors to input their cotton fields into CottonMap and help protect their crop."
CottonMap is a collaboration between Cotton Australia, Nufarm Australia Limited, the Cotton Research and Development Corporation (CRDC) and the Grains Research and Development Corporation (GRDC).
Mr Kay says farmers should use this four-point checklist when preparing to spray, particularly Group I herbicides such as 2,4-D:
1. Know what to do:
Read and follow label instructions – it is a legal requirement
Ensure spray applicators are fully trained and accredited
2. Check the conditions before spraying:
Monitor conditions before, during and after spraying
Do not spray when there is a surface temperature inversion – strongest between midnight and sunrise – or when wind speeds are very low
3. Consider your neighbours:
Check www.CottonMap.com.au for cotton fields that could be impacted by drift – spray droplets can travel further than 20km
Notify your neighbours of your spray plan
4. Adjust your spray equipment:
Select nozzles that produce coarse or large droplets and use them in accordance with the manufacturer's specifications
Minimise boom height when spraying and slow down – high speeds significantly increase potential for drift
When using insecticides, farmers are encouraged to check the BeeConnected website – www.BeeConnected.org.au – made available by CropLife Australia to connect with registered beekeepers, enabling two-way communication on the location of hives and crop protection product activities.
More information on spray drift is available at the following sites:
Source: Cotton Australia