COTTON Seed Distributors (CSD) has finalised the first phase of the ambitious multimillion dollar redevelopment of its 'Shenstone' cotton seed processing plant and laboratory, near Wee Waa, in north west NSW.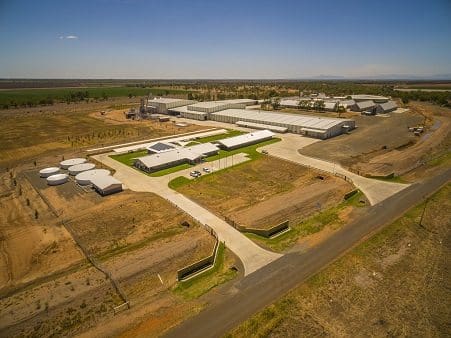 Infrastructure of all earthworks, roads, buildings and essential services has now been completed, with staff commencing operations from the new administration complex and Quality and Research Centre in late 2017.
CSD managing director, Peter Graham, said the second phase of the redevelopment project, involving the construction and installation of specialised plant and equipment, was now well underway.
"Four major contractors are currently on site assembling the production lines used for delinting and treating cotton planting seed. The commissioning of the new technology incorporated in the delinting plant will not be rushed," he said.
"We have kept the existing facilities well maintained and are currently using the delinting plant for this season, while the new plant is expected to be operational for treating."
CSD chairman, James Kahl, said CSD's redevelopment project had been extremely well planned and run by project managers and CSD's project committee.
"With respect to timeliness and expenditure, the project is right where we expected it to be. We have begun 2018 operating from our new administration building, and Quality and Research Centre," he said.
"This new facility will enable us to supply cotton planting seed for up to one million hectares of irrigated and dryland cotton in any one season. This won't happen next year; however, it is within our planning for the next 30 years.
"CSD is the only supplier of cotton planting seed in Australia, so the industry is totally reliant on us to fulfil their requirements as and when needed. We recognise the importance of investing in innovation to ensure a robust and profitable cotton industry in Australia, today and well into the future."
Source: CSD
Grain Central: Get our free daily cropping news straight to your inbox – Click here