THE digital building blocks are in place throughout the cotton industry for it to move to a more integrated system of connectivity along the supply chain, but a more concerted effort is needed to bring it all together, according to Auscott CEO, Harvey Gaynor.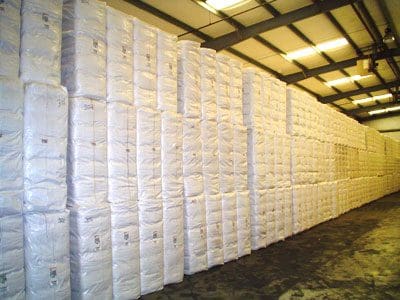 Speaking at the Australian Farm Institute's 'Harvesting the Benefits of Digital Agriculture' conference in Melbourne, Mr Gaynor said many different digital technologies were being used across the cotton growing, processing and marketing sectors, but there was not a lot of inter-connectivity along the supply chain from the farm to the customers.
"I am not aware of many technologies further down the supply chain that will immediately push back to what we are doing on-farm," he said.
Mr Gaynor said the industry needed to address three areas – cost, quality and provenance – to build greater connectivity and provide a more comprehensive chain of information and assurity to customers.
Cost
Mr Gaynor said there were two components to the issue of costs in the supply chain.
"One is that a lot of the new technology we are using on-farm is trying to reduce or contain per unit production costs. It is about on-farm efficiencies, the efficiency of inputs, water and labour. That is a benefit to the supply chain, but we are not passing that technology along the chain," he said.
"The second is more about the transaction costs through the supply chain. That gets to things like payments. Most of our cotton is currently traded using letters of credit and they take a significant amount of time, effort, paperwork and cost to ourselves, our customers and banks.
"I think things like Blockchain offer some potential to reduce that time and cost in the supply chain. For growers that will mean adding data to the Blockchain at the farm level.
"It is about connecting the demand to the supply. At the moment, a grower will use maybe a broker and a merchant, the merchant might use an agent, and the agent might then talk to the mill.
"It is hard not to imagine there will be online platforms in the future for a grower with cotton of a certain quality in a warehouse or in a gin to connect directly with a mill through an online marketplace."
Quality
Mr Gaynor said customers wanted Australian cotton because of its quality, but they were increasingly looking for more data about the quality of every bale.
"It used to be that everything was just sold as a type and, if it wasn't quite to that type, there would be a negotiation. That still happens. But more and more the customers are wanting quality data on every bale," he said.
"We are able to supply that, but it is in a raw format at the moment as an excel file. In the future, we will want to integrate that data transmission better."
Mr Gaynor said where fibre quality had historically been measured post-ginning, there was a growing trend of producers taking quality measurements earlier in the production phase.
"We are now trying to measure it at the grower-end as soon as it's picked to get some colour and leaf content measurements, and are even doing some pre-ginning to get a heads-up on the quality and be able to use that earlier," he said.
"Perhaps we will ultimately be mapping quality across the field. That is fairly easy to do with grain, but more difficult with cotton. We have had a couple of goes at it, but there is work to be done yet to be able to map cotton quality. But I think it will become more important in the future."
Provenance
Mr Gaynor said an increasingly important area the cotton industry needed to focus on was using the digital space to promote the provenance of the product as customers were increasingly wanting to know where it came from and how it was produced.
"Provenance used to be the realm of food and beverages, but more and more it is becoming the question our cotton customers ask us," he said.
"Cotton is well placed to do that. When we pick a module of cotton it has an RFID tag on it that tells us where it was picked, what the date was, what the moisture is, what the weight is. It has a lot of information. That then gets passed on to the cotton bale when it is ginned, so we can trace cotton in the spinning mill right back to the farm.
"Mills are increasingly asking for that information, not because they want it but because the clothing and home textile brands at the end of the chain are demanding that information.
"I don't think we will see customers scanning the label on a shirt and seeing the farmer and where the cotton was grown because cotton is blended so much. It will be more at the brand level where they will want to be certain the cotton comes from Australia, comes from a farm that has BMP/BCI certification, hasn't been using child labour, has been efficient with resources."
…………..
Mr Gaynor said there were significant barriers to achieving the full utilisation of digital technology, which included:
the coverage and connectivity on-farm, or the lack of it.
the skill levels of people to be able to manage technology on-farm.
the integration of all the data coming from and going to so many different platforms.
Grain Central: Get our free daily cropping news straight to your inbox – Click here