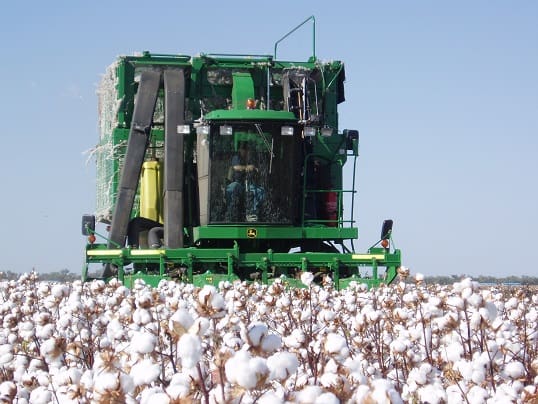 COTTON picking is back in full swing in southern New South Wales after rain last week called a temporary halt as harvest passed the halfway mark.
Growers in the south are now racing to beat another forecast rain front due in the next few days, while clear skies in the northern growing regions of Queensland and northern NSW have seen the majority of the crop there already safely taken off.
Cotton Seed Distributor's (CSD) extension and development agronomist for southern NSW, Jorian Millyard, said growers in the south were in the midst of picking what had turned out to be a reasonable crop.
"They are trying to get it off before the next rain. Rain late last week pulled up picking for a few days. People are just starting back into it, but there are more showers predicted for the next couple of days," he said.
"Yields have been between 10 to 12 bales/hectare with some 13 to 14b/ha. Some crops used more water than what was expected. About 80 per cent of growers went in with full allocation for the crop they planted. Some of the others had to go and buy water and pay a lot for it."
Mr Millyard said early ginning results indicated the rain had had an impact on fibre quality.
"Ginning has just started. There are reports of cotton before the rain having extremely good colour, but after the rain it has dropped a couple of grades," he said.
"Growers are in the situation where the colour grade is being compromised by the fact they want to get the crop off and not leave it to bleach out."
In the northern growing areas, CSD extension and development agronomist for Queensland, Sam Lee, said all the early crops had been picked in Central Queensland where there were only a few late crops to come off.
He said picking was in full swing further south on the Darling Downs where close to 75pc was done.
"Yields were variable. Basically no-one got in-crop rain. Anyone who had on-farm stored water or picked up a bit of rain during the season and could keep the water up to the crop during the dry, warm summer have yielded reasonably well. There are some irrigators who ran out of water or ran short, and their crops suffered," he said.
"Dryland is the same. The early dryland crops suffered badly through the heat and dry. Yields are well down and quality has also been affected.
"Some crops on the Downs went in late around Christmas time on the back of a mid to late December rainfall event. Those crops are a couple of weeks from first defoliation and look okay. They benefited from late February rain."
Cotton Australia chief executive officer, Adam Kay, said it had been a tough season through much of the growing belt with the final harvest total likely to be around 2.2 million bales – well down on the 4.5 million bales Australia produced last year.
"Yields on fully irrigated cotton have been fantastic. But anywhere where people have been short of water and have had to cut back, there is a noticeable yield decline from missing one or two drinks," he said.
"A lot of growers budgeted on getting some sort of rainfall during the growing season but it just never came. It was such a dry summer it left them 1.5 waters short. That has taken the gloss off the yield for some people."
Mr Kay said it had been a particularly hard year for dryland crops where yields were below average and some crops had to be ploughed out altogether.
He said the hot, dry conditions had also affected the fibre quality of dryland crops.
"Some that has been picked has been short stapled and had problems with micronaire typical of fibre quality issues you see in low water years," he said.
Mr Kay said one of the bright spots of the year was that cotton prices had held up.
"Prices are still high at around $630/bale today and $600/bale-plus on offer for next season which is giving growers plenty of encouragement to plant cotton. It is just that the weather is not. We need the weather to give some encouragement with inflows into storages," he said.
He said unless there was significant rain to replenish water storages over coming months, next year's crop would be cut even further.
"If we have a tough winter and don't see any inflows it could halve again next summer. We'd be back to something like 1.1 million bales in the worst case," he said.