FARMERS watching winter crops falter in the dry conditions of the eastern farming zone and contemplating double cropping into summer crops have been warned to consider the potential adverse effects of herbicide carryover.
Speaking at this year's Australian Mungbean Association AGM where he was awarded life membership of the organisation, Pulse Australia northern region industry development manager, Paul McIntosh, said herbicide used in the past 12 months had to be taken into consideration when farmers were deciding what crops to grow this summer.
"Everyone will be looking to double crop because they are earning no money out of last summer crop and they won't make too much money out of the current winter crop," he said.
"They are looking to double crop if the ground fills with a good profile of moisture. That summer crop may depend on what herbicides they have used in the last four or five months on the winter crop or fallow ground.
"Their summer cropping may be determined by what herbicides have been on there because there has been very little break down of herbicides over the last eight to 12 months because there has been no rain.
"So, herbicide used in the last 12 months has to be taken into consideration for what they grow this summer."
Mr McIntosh said herbicide considerations would partly determine the area of mungbeans producers would grow this coming season.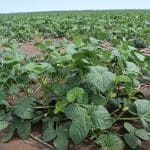 "It will depend on the rain, it will depend on the price, but the thing people may not have considered is what herbicide has been put on the ground on the winter crop that the summer crops may go into," he said.
"We will need moisture. There is no moisture at the moment. If mung bean prices stay firm around $1000/tonne I think we will go alright. I think sorghum will give us a bit of harm. The price of sorghum has come up a bit.
"So, it could be a mixed bag. There is still a lot of confidence in mungbeans out there. People are changing their programs to grow mungbeans."