FLOODWATERS from the past two weeks of heavy rains in NSW continue to ravage low-lying cropping country in the key river valleys of the Central West, causing waterlogging and crop wipeouts in the hardest-hit areas, particularly along the Lachlan River between Forbes and Condobolin.
Flood warnings are current for the Lachlan, Murrumbidgee, Macquarie, Bogan, Namoi, Murray, Paroo, Warrego, Culgoa and Barwon rivers.
Maturing wheat, barley, canola and chickpea crops already suffering 'wet feet' in paddocks saturated by earlier rain events are under renewed threat from the latest inundation.
Compounding the issue, farmers are bracing for another rain band to move through the State today and tomorrow, bringing widespread rain to most inland districts, particularly the Central West and South West Ranges and Plains.
Grains Research and Development Corporation (GRDC) northern panel chair, John Minogue, said it was important to convey to growers watching helplessly as crops disappeared under flood waters across regional NSW that "you are not alone".
The fifth generation farmer from Barmedman, NSW, who has a 2000-hectare mixed farming and broadacre cropping operation, said it had been a season of extremes for many in the industry.
"At one end of the spectrum we have growers who are potentially looking at record winter crop yields, at the other we have growers facing the prospect of losing everything they planted this season," Mr Minogue said.
"In some cases, for those growers who lost or could still lose crops, the impact is compounded by the fact many had extra input costs this season, through additional fertiliser, fungicide and herbicide applications.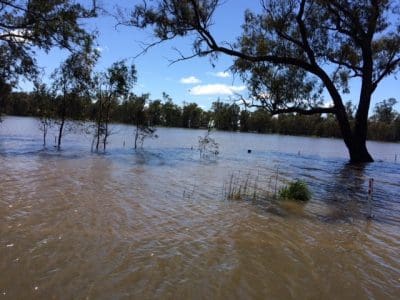 "Our property on The Bland, near Barmedman, had been okay until the past two weeks when the water has just gone everywhere and done a lot of damage.
"Like others in agriculture, we know the challenges and how much seasons like this test rural communities, so my message to growers is 'you are not alone'. We're all in this together, so if you need help please ask."
It is a message reiterated by GRDC northern panellist, Tony Hamilton, who owns and manages cropping country along the Lachlan River at Forbes.
"There are growers in this region, who will lose 80 to 90 per cent of their crop, we are talking tens of thousands of hectares, it is a very confronting situation," Dr Hamilton said.
On a personal level he said his chickpeas were "written off" before this week's near record flooding, while the predicament of his wheat and barley crops hinges on the outcome of Bureau of Meteorology forecasts of more rain.
"This region desperately needs to dry out to give crops a chance of making it through to harvest," Dr Hamilton said.
"At this point though, we are just focused on getting everyone safely through this week, we have sandbagged a house on the property, built up levee banks and shifted what we can to higher ground.
"It is times like this that we need to stick together as communities and as an industry, things can feel pretty desperate and if it helps growers to talk, please feel free to call me, or call a mate. Don't think you have to deal with this situation on your own."
Further west, Condobolin-based GRDC northern panellist, Neil Fettell, has had the advantage of more time to prepare for the inevitable flooding.
"Our house is right on the Lachlan River so we anticipate being cut off for about seven days when the water gets here," he said.
"We should be okay, we have shifted everything we can to higher ground and expect two-thirds of our country to go under so there is not much more we can do, but hope the rain stops."
Dr Fettell said after one of the wettest winters and springs in history it was a three-part story in his region, mirroring the situation across much of NSW.
"On the better-drained red soils there are growers, who look like harvesting a four tonne per hectare crop this season, while others have significant wet patches through paddocks and then there are whole farms under water," he said.
"The situation seems to vary like this right across the state, but we'll get through it. For mixed farmers, pasture feed and stock prices are great and for croppers there are positives like a full moisture profile going into next season.
"Right now though it is about monitoring flood water levels and being there for each other as we deal with the immediate impact."
Meanwhile, Mr Minogue said the GRDC would continue to provide growers with up-to-date information to assist in minimising crop damage where possible given the increased moisture levels, as well as agronomic advice for paddock recovery post flooding and waterlogging.
For immediate support growers struggling with the stress of flooding or the impact of crop losses should call – Lifeline 13 11 14; BeyondBlue 1300 224 636 or the Suicide Call Back Service 1300 659 467.
Disaster assistance is now available to help communities in 21 LGAs in flood affected NSW. More info- https://www.emergency.nsw.gov.au/…/forbes-flooding-2016.html
Source: Grain Central and GRDC