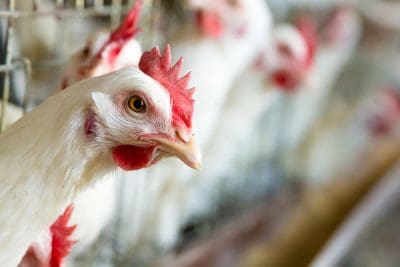 MAJOR investment by poultry and livestock feeders in South Australia has been a long time coming.
But the shift is now occurring as Australia's chicken-meat heavyweights vote with the their feet, increasing investment northwards in NSW and westwards in SA.
The move is significant, planned geographic step into grain-surplus areas (production) and away from population areas (consumption).
Behind the trend is a complex raft of rapid change affecting poultry companies.
It is an industry already known for its appetite for innovation in genetics and excellence in nutrition.
Those factors are central, but the world is changing because producers of meat chickens – efficient converters of grain into meat protein – in Australia have also had their unique business model turned on its head.
The news is good for grain growers in South Australia, who are set to benefit from increased demand from the chicken sector, but less positive for grain growers in Victoria.
Baiada announces closure, Inghams terminates contracts
Australia's second-biggest poultry company, Baiada, has confirmed this week that it will shut its Victorian processing plant at Laverton in suburban Melbourne in March next year.
This is not enormous news of itself (the plant accounts for around one thirtieth of the national broiler product and other major processors will still operate in Victoria), but it adds further change amid poultry-giant Ingham's upcoming float on the Australian Stock Exchange.
Nonetheless incremental improvement in grain quality and feed conversion is significant enough to explain the pressure for moving.
Cut-throat behaviour among many poultry businesses both at the asset level and out in the chicken meat marketplace appears to be forcing the hand of all operators.
Ingham's also reportedly unexpectedly terminated contracts of two of its chicken suppliers in Victoria, sparking an angry reaction from the Victorian Farmers Federation.
Ingham's was bought by private equity firm TPG Capital for $880 million in 2013, and is gearing up for a public listing on the ASX in November.
VFF chicken meat president Allen Bullen has accused TPG of "fattening Ingham's up" for the stock market float.
He said the TPG has announced it intends to slash Ingham's 8000 strong workforce, despite the processor last year booking revenues of $2.28 billion.
He said it had already stripped $600 million of assets from the company, and said the firm's treatment of loyal chicken meat suppliers "bordered on unconscionable".
"The processor-supplier relationship can be tense at times, but at the end of the day it's a relationship built on mutual trust and a long-term view for the industry," Mr Bullen said.
"Ingham's and TPG have breached that trust by refusing to engage with their farmers and offer any reasonable explanation for why these two growers were let go.
"TPG's cost cutting regime is only a short-term solution which could jeopardise the long term future of the chicken industry in Victoria, which is something to be very concerned about."
Mr Bullen said the VFF Chicken Meat Group was attempting to work through the dispute but had hit a wall with Ingham's management, prompting the Group to consider further action.
"Ingham's actions are hurting an industry that has historically been held in high regard, and we need to take action to ensure confidence is restored to the Australian poultry industry," he said.
Ingham's expansion in South Australia
Ingham's expansion in South Australia is a key component of its prospectus which has been prepared in the lead-up to its proposed float.
The expansion would double Ingham's presence in South Australia, and runs right through the production chain to include breeding, hatching, processing, feed production and product distribution at 15 sites.
Sites included in the expansion are Bolivar, Edinburgh Parks and Dry Creek as well as Monarto, Yumali, Murray Bridge and other sites in the Murraylands.
More expansion forecast
Poultry businesses function most effectively with vertical integration of chick genetics, hatcheries, feedmills, growing sheds, processing factories and meat marketing outlets.
Throw in other factors such as the business environment, interface with government on EPA, land-zoning factors, and it is easy to see why chicken producers are taking their operations to the wide-open spaces.
Rural, rather than peri-urban developments, have lower regulatory issues and possibly drier and cleaner conditions, with pathogen control a big factor in efficiency of intensive production.
As urban sprawl continues, the rising value of real estate owned by poultry farmers and processors has also become difficult to resist.