THE Australian sorghum crop now in the early stages of harvest is forecast to produce 1.47 million tonnes (Mt), according to the Australian Crop Report released today by the Australian Bureau of Agricultural Resource Economics and Sciences (ABARES).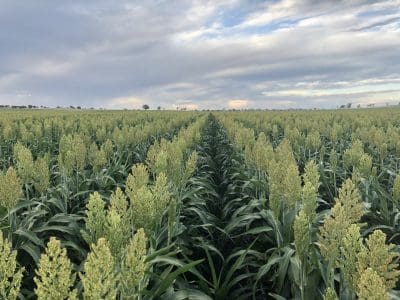 ABARES  has estimated the 2017-18 sorghum area at 501,000 hectares, up 26 per cent on the 2016-17 figure, and production to be 44pc ahead of the 1.02Mt grown in 2016-17.
"Planting of summer crops is now largely complete, and planted area is estimated to have increased by two per cent to 1.3 million hectares," ABARES executive director, Steve Hatfield-Dodds, said.
Sorghum outlook
Queensland is the major producer of sorghum, and ABARES has forecast its area planted to the crop at 350,000ha, up 35pc from the 2016-17 area, but well below the 10-year average of around 435,000ha.
ABARES said this reflected unfavourable seasonal conditions which were expected to limit sorghum area in the late planting window, particularly in Central Queensland.
Queensland sorghum production is forecast at 998,000t, up 53pc on the 2016-17 figure.
In New South Wales, the area under sorghum is estimated at 150,000ha, up 11pc on the 2016-17 area, and production is forecast at 465,000t, up 28pc on last year's output.
Dr Hatfield-Dodds said below-average rainfall and above-average temperatures over summer have dented expectations for dryland crop production in 2017-18.
"Unfavourable weather conditions through the hottest months of the year prompted farmers to reconsider their crop planting strategies, which will result in less dryland crop area than anticipated and lower yields."
The area planted to cotton in 2017-18 has fallen to 500,000ha, around 10pc below the 2016-17 figure.
Production of summer crops, including cotton, rice and sorghum, is forecast at around 4.3Mt in 2017-18, up 12pc from the previous year.
NSW crop
Area

'000 ha

Yield

t/ha

Production

kt

Area change

%

Prod. change

%

Grain sorghum
150
3.10
465
11
28
Cotton lint
310
2.15
667
–16
16
Cottonseed
310
3.04
943
–16
16
Rice
78
10.14
790
–2
–1
Qld crop
Area

'000 ha

Yield

t/ha

Production

kt

Area change

%

Prod. change

%

Grain sorghum
350
2.85
998
35
53
Cotton lint
190
1.73
328
2
4
Cottonseed
190
2.44
464
2
4
Table 1: 2017-18 key summer-crop estimates for NSW and Queensland
Winter crop wrap-up
ABARES said favourable seasonal conditions in spring and early summer resulted in the now complete 2017-18 winter-crop harvest exceeding expectations in some key growing regions of Western Australia, Victoria and South Australia.
In contrast, production in Queensland and NSW is likely to be lower than the December 2017 ABARES crop forecast.
"Total winter crop production is estimated to have decreased by 36pc to 37.8Mt in 2017-18, but with the late season boost to production it looks likely to remain 6pc above the 10-year average to 2015-16.
"For the major crops overall, wheat production is estimated to have decreased by 38pc to 21.2Mt, barley by 33pc to 8.9Mt and canola by 15pc to 3.7Mt."
Chickpea production from the 2017-18 harvest has been estimated at 1Mt, 49pc below the 2016-17 tonnage.
A tough growing season for much of northern NSW saw the state's wheat crop at 4.5Mt drop an estimated 58pc from the 2016-17 figure, and come in only 500,000t above Victoria's output.
This was despite the NSW area at 3.1Mha being double the Victorian area.
Data discrepancy addressed
The Australian Bureau of Statistics (ABS) on January 8 released its preliminary estimates of planted area and production of wheat, barley, canola, oats and grain sorghum in its Principal Agricultural Commodities, Australia, publication.
The grain industry was surprised to see the ABS figure of 30Mt for the 2016-17 wheat crop, 5MT below the comparable ABARES estimates.
The ABS has met with ABARES as part of the review and has indicated that a number of factors could cause its ABS' final estimates to differ from preliminary figures.
In past years, final crop estimates released by the ABS have often been higher than its preliminary estimates.
ABARES has reviewed and amended its own estimates of 2016-17 crop production, taking into account the latest available information, including export data and information obtained through industry resources.
Area planted to wheat in New South Wales in 2016-17 was revised down 200,000ha to 3.3Mha, and area planted to canola was revised up 70,000ha to 580,000ha.
As a result, ABARES national wheat production estimate has been revised down from 35Mt to 34.4Mt, and the canola production estimate has listed 200,000t to 4.3Mt.