IT'S a big year for lentils in South Australia where harvest is nearing completion on crops that have, in many cases, yielded more than three tonnes/hectare, even in the more marginal rainfall areas.
Grain Producers South Australia chief executive, Darren Arney, said in the past two years the area sown to lentils in South Australia had expanded from 100,000 hectares to 150,000ha.
"There are quite a few first-time lentil growers in South Australia, including in some newer areas. The home for lentils is the Yorke Peninsula and the Mid North, but there are now lentil growers on the central Eyre Peninsula, through the Mallee and South-East," he said.
Mr Arney said lentils had replaced significant barley acreages, and some canola area, and had been a priority crop for farmers to harvest.
"Even if barley was ready you would probably reap the lentils first, particularly when barley is worth about $160/t on-farm and lentils about $600/t to $700/t," he said.
"I have been hearing yields of over 3t/ha. An average normally would be around 2t/ha."
Mr Arney said the bigger tonnages had put added pressure on handling and storage this year.
"The logistics of getting grain from the header and delivered, then getting the truck back to the header, has been a challenge because you are doing 1.5 times as many trips as last year," he said.
"And having the storage. A lot of farmers will store it on-farm. Not a lot goes into the central bulk handling system. Most lentils are machine dressed and packed into containers for export to India."
Farmers in the more marginal rainfall areas have struck it lucky with lentils this year.
Mid North farmer and contract harvester, Andrew Kitto, Gladstone, said lentils had rarely been grown north of Kadina in the past, but this year a few growers had grown the pulse for the first time above Goyder's Line – the historic line defining the marginal areas for cropping (see breakout below) – and been pleasantly surprised by the results. The furthest crop north was near Port Germein north of Port Pirie.
"There are a number of paddocks grown outside Goyder's Line this year that have done very well. Some yields have been up to 3.5 tonnes/hectare. Last year, 1.2t/ha was an exceptional crop," he said.
Mr Kitto said crops had filled very quickly and were heavy to harvest.
"People spray top them off before reaping them because they are thick crops and the vine underneath is taking a long while to dry off. The grain is ripe but the straw is really tough underneath," he said.
"Harvest weather has been reasonably good. We have only had one fire ban day on Sunday and that turned out to be a non-event. Then we had a little bit of rain and we are hoping to get going again with harvest today."
While there is a growing domestic market for lentils, most of Australia's production is exported. The biggest market is the sub-continent into India. Canada is the largest producer of lentils for export.
…………………………………………………………………………………………………………….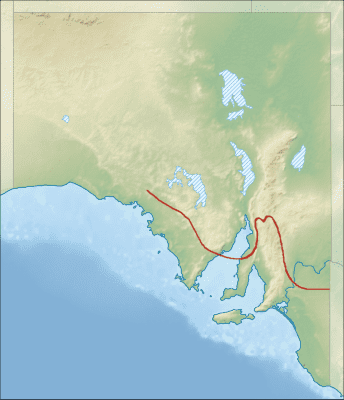 Goyder's Line
Goyder's Line is a line mapped by SA surveyor-general, George Goyder, in 1865 defining the boundary of reliable rainfall in South Australia. It separates land suitable for crops from general grazing land. North of the line was considered to have annual rainfall too low for cropping.
Goyder's Line starts on the west coast near Ceduna and runs south-east across the Eyre Peninsula to strike Spencer Gulf near Arno Bay. It continues from near Moonta north to Crystal Brook and Orroroo, then south-east past Peterborough and Burra to the Victorian border near Pinnaroo, crossing the Murray River south of Blanchetown.
Source: Wikipedia
Grain Central: Get our free daily cropping news straight to your inbox – Click here