AUSTRALIAN plague locusts numbers remain low across eastern Australia with dry conditions in most regions limiting the pest's opportunity for successful breeding.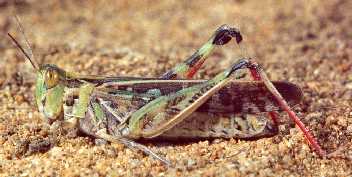 The Australian Plague Locust Commission (APLC) said only limited surveys had been conducted, in which very few adults and no nymphs were detected.
There have been no locust reports and no light trap detections.
In New South Wales, there were no locusts detected in a survey in the Far West region.
In Queensland, a survey of the Central West, South Central and Central Highlands regions identified only low density adults in the Blackall–Longreach and Injune–Roma–Taroom areas.
In South Australia, a survey in part of the Far North region detected no locusts and habitats were very dry.
Locust numbers are expected to be very low in Victoria.
The APLC said the outlook for the remainder of spring and summer was for population densities to remain low in inland eastern Australia.
The Bureau of Meteorology seasonal rainfall outlook for November–December indicates continued below average rainfall and high temperatures are likely to persist in most areas of the species range.
However, localised heavy rainfall events can provide breeding opportunities and subsequent nymph populations.
Rainfall in the Queensland Central Highlands during October will provide suitable habitat conditions for locust breeding and a small population increase is possible in November.
Given the very low current population numbers in other regions, several successful generations of breeding would be necessary to produce higher density populations.
There is a low probability of a widespread infestation developing in any region during November or summer.
Spur-throated locust
The autumn population of spur-throated locusts was lower than that of several recent years.
This species spends the winter months in reproductive diapause, often forming swarms that occupy tree-line or woodland habitats.
No swarms were detected or reported during winter or September–October.
Breeding usually commences with the start of the northern wet season.
Surveys in early October identified very low density adults throughout the Queensland Central Highlands and the Roma area. Occasional adults were recorded in the Blackall area.
The repeated rainfall events in the Queensland Central Highlands during October may initiate maturation and some breeding during November.
Low numbers of nymphs are likely to develop in parts of that region during December. Nymph survival will be reduced if habitats become dry.
There is a low risk of a widespread spur-throated locust infestation developing during the remainder of spring or summer.
Source: APLC