NEW South Wales lupin crops have been given the all clear for lupin anthracnose disease after a joint NSW Department of Primary Industries (DPI) and Local Land Services (LLS) biosecurity surveillance operation found no sign of the devastating disease.
NSW DPI pulse pathologist, Kurt Lindbeck, said lupin anthracnose was first detected in NSW commercial crops in October 2016.
"Surveys across the state have been part of an ongoing plan to eradicate the disease in NSW," Dr Lindbeck said.
"NSW DPI provided diagnostic and technical support to the surveillance operation, which involved five Local Land Services areas – North West, Central West, Riverina, South East and Murray.
"With strong support from lupin growers, agronomists and local communities we will continue to work towards eradication of the disease into the next year."
A total of 38 LLS and seven NSW DPI staff took part in the operation, which inspected 92 albus and narrowleaf lupin crops, and covered 9800 hectares.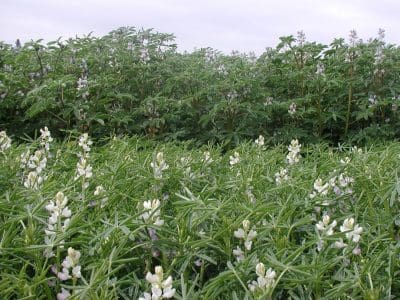 In 2016, six farms in the Cootamundra-Gundagai, Coolamon and Junee shires were confirmed to have anthracnose.
The infection was isolated and controlled, and an eradication plan was put in place.
Cootamundra-Gundagai, Coolamon and Junee shires remain subject to restricted conditions under a biosecurity zone to control lupin anthracnose.
Residents of these three shires are not permitted to grow ornamental lupin plants to help support the eradication campaign.
Additional restrictions have been placed on properties where anthracnose was found, and properties whose boundaries were within one kilometre of an infected property.
Surveillance for lupin anthracnose will be conducted in spring 2018 to confirm the absence of the disease and support an eradication declaration for NSW.
Source: NSW DPI, www.dpi.nsw.gov.au