MICE no longer pose a threat to this season's winter crops with numbers declining to low levels throughout Australia's cropping regions, according to the latest report from the CSIRO.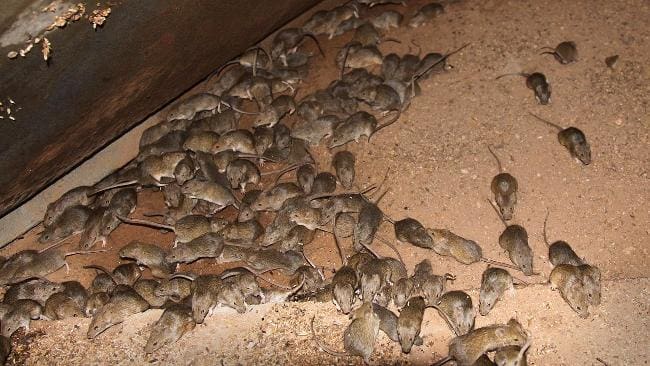 Numbers have declined across western, southern and northern regions, largely because of very dry conditions, and are expected to continue to decline through until spring when breeding starts.
In South Australia, mouse numbers have declined to low on the North Adelaide Plains, the Mallee, the Eyre and Yorke Peninsulas.
The CSIRO's monitoring program showed the trap success rate at Mallala north of Adelaide was very low at only 1 per cent in July. There was some activity on some sites, but low overall.
In Victoria, mouse abundance has declined to low in all locations, including the Mallee and Wimmera regions. Trap success was 1pc at Walpeup in July (very low). Again, there was some activity on some sites, but low overall.
In Queensland, mouse activity is low but there are some localised patches of activity with a transect near Dalby identifying one active burrow in sorghum stubble; low to moderate activity entailing 12 burrows on the central Darling Downs; and nil to low activity on a southern transect towards Warwick.
In New South Wales, numbers are low in all southern, central and northern locations with very few sites with chew card activity.
In Western Australia, monitoring showed mouse activity was low in Ravensthorpe and Esperance areas.
However, while mouse numbers have dropped to low levels, growers are urged to remain vigilant and monitor across multiple paddocks to gauge activity and inform their management decisions.
Mouse activity should be reported on MouseAlert www.mousealert.org.au
Source: CSIRO, GRDC
Contacts: Dr Peter Brown – ([email protected]) CSIRO Agriculture & Food, Canberra
Steve Henry – (@MouseAlert) ([email protected]) CSIRO Health & Biosecurity, Canberra
Grain Central: Get our free daily cropping news straight to your inbox – Click here