A $422,890 multi-purpose, field-based laboratory will be built at the Lachlan Irrigation Research Station at Condobolin in Central West New South Wales.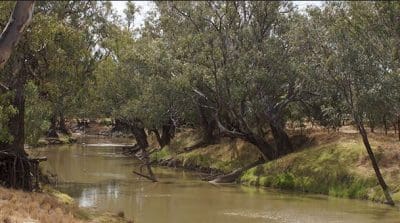 The infrastructure investment project is a collaboration between the Grains Research and Development Corporation (GRDC), Central West Farming Systems (CWFS) and Lachlan Shire Council.
It will allow for irrigated and rain-fed research into grains agronomy, physiology and pre-breeding to be conducted in the state's Central West.
Federal Member for Parkes, Mark Coulton, said the investment would pave the way for vital research trials in the region and contribute to gains in farm profitability for grower's right across the state.
"This is a significant development for the Central West and recognises the important role the grains industry plays in the region's economy and highlights the need for ongoing work in research and development (R&D) to ensure agriculture's future," he said.
GRDC managing director Steve Jefferies said CWFS had received a $380,886 GRDC Grains Research and Development (R&D) Infrastructure Grant to establish the laboratory at Condobolin.
"CWFS and their collaborative partners in this project Lachlan Shire Council have also committed a combined amount of $42,000 to the laboratory project," he said.
"Without the GRDC Infrastructure Grant funding, the multi-purpose, field-based laboratory and associated infrastructure would be very difficult to develop.
"The laboratory will provide a much needed site for research organisations, including CWFS, to conduct grains agronomy, physiology and pre-breeding research in both irrigated and rain-fed farming systems and delivered validated, regionalised data back to growers."
Dr Jefferies said the laboratory would become a long, standing and key focal point for Central West research work with the new facility also able to be utilised as a site for field days and workshops.
CWFS chief executive officer Di Parsons said the multi-purpose laboratory would improve the organisation's research capacity allowing them to fast-track the delivery of effective and relevant trial results to growers.
"CWFS is an independent, not-for-profit, grower driven organisation so we are appreciative of the GRDC's support through this infrastructure investment, which will significantly increase our research capacity and capability," Ms Parsons said.
"We operate in an area covering 14 million hectares in Central West NSW and have more than 300 members, made up of growers, agronomists, researchers and industry stakeholders.
"Three years ago we started research, development and extension (RD&E) activities at the Lachlan Irrigation Research Station, which is a 120-hectare area with a 1226 megalitre irrigation license, so it is these facilities that will be complemented by the new laboratory.
"Our research is making a difference on a regional and a state-wide scale and this investment will provide an opportunity for even greater RD&E outcomes."
Lachlan Shire Council mayor, councillor John Medcalf, was extremely pleased to be associated with this project.
"Council was approached by CWFS to financially support this project and was only too pleased to help in getting this project over the line. There are many benefits arising from this project that will assist not only farmers but also agronomy students, researchers, local businesses and the wider community," said Mayor Medcalf.
The GRDC investment infrastructure investment in collaboration with CWFS and Lachlan Shire Council would allow for the establishment of:
A purpose-built laboratory
An area to store and process samples
An area to conduct physiological measurements
A grain and soils processing area
A cool room and drying facilities
All weather road access.
Mr Jefferies said the $380,886 GRDC Grains R&D Infrastructure Grant was part of $15 million the GRDC Board had agreed to invest in a strategy to build national research capacity.
"The purpose of the grant program is to boost capacity and capability in Australian grain research and development through funding key infrastructure, and to create enduring profitability for grain growers," he said.
Source: GRDC