CONTINUING dry weather across the NSW winter-cropping region is impacting on canola area, with most growers in central and northern regions who have not yet planted now abandoning plans for roughly 30 to 50 per cent of intended area, and more in places.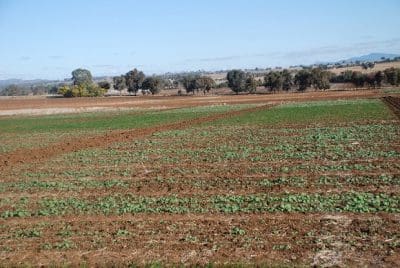 While growers will happily plant wheat and barley in June, canola runs the risk of severe yield loss due to frosting if it is planted beyond mid-May in areas west and north of the central slopes of NSW.
Australian Oilseeds Federation chief executive officer, Nick Goddard, said growers were making daily decisions about whether to abandon canola area and replace it with barley as a winter grazing option and a cash crop with a strengthened price outlook.
"Quite a lot of canola has been sown dry on the hope of some rain to get it going, but we are seeing a strong move towards barley," Mr Goddard said.
Anzac Day marker missed
For many NSW growers, Anzac Day marks the ideal time to plant canola.
Mr Goddard said the absence of widespread April planting rain has meant that dual-purpose canola crops were now unlikely to be planted in much of the state.
"Canola crops for grazing usually get planted in late March and early April, and the later it gets, the less chance there is of a crop being grazed and then yielding well at harvest.
"This later start has certainly put the kibosh on canola crops from Dubbo north, but there's no reason to think that the traditional areas on the southwest slopes and in the south won't produce crops that do well.
Mr Goddard said early last week, intended South Australian and Victorian canola areas looked to be average, while West Australian area was up a little, and NSW was down slightly.
"We're now one week past the traditional planting date, so area in NSW will come back more if we get to mid-May without a general rain."
Seed cancellations
iGrain broker, Duncan Whittle, is based on the NSW central slopes, and said a chunk of the region's crops have been dry sown and germinated on patchy recent rain.
"We're hearing of growers cancelling their seed orders because the risk of frost damage to their crops if they sow in May is not one they want to take, and barley is a better option for later sowing.
"Reports we are getting is that canola area in early maturing regions is going to get pulled right back by up to 50 per cent.
AgriWest Parkes agronomist, Luke Wood, has estimated about 95pc of the district's canola which has been sown has gone in dry.
"There's only a bit of canola in, and until we get a rain, that won't increase," Mr Wood said.
"We are seeing a switch from canola to wheat or barley, and we are definitely seeing growers ask for a return on canola seed that they've ordered."
Mr Wood said around 50 millimetres of rain was needed to consolidate prospects for dry-sown crops, and enable growers to plant intended winter-crop area.
"Some people are sticking with canola because they need to have it in their rotation for weed control or disease management, and some are growing lupins, but in two more weeks, lupins will be out the window too."
Grazing crops needed
Mr Wood said mixed farmers who had winter crops up might not harvest them, as a planting date well into May would mean a wait of 8-10 weeks between planting and germination, instead of six weeks for April-sown crops.
"Those paddocks might be sacrificed for stockfeed."
At Dubbo, Joe Masters of Fletcher International, said graziers were looking for barley, oats and cottonseed, and options for feeding sheep and cattle over winter were looking more important than growing canola for cash for many growers.
"Around here, May 14 is when people want to have their canola in by, but time's ticking and we're hearing cases of growers wanting to return their canola seed and plant a cereal."
"We really need 75mm of rain to get things going in terms of winter planting."
Australian Grain Link trader, David Dore, said growers north of Griffith were selling back half to two-thirds of their intended canola seed, and were looking at planting barley, or fallowing over winter.
"To the north, canola is definitely down, but from Oaklands south they are full bore into planting because they have a better moisture profile after the rain they got over summer."