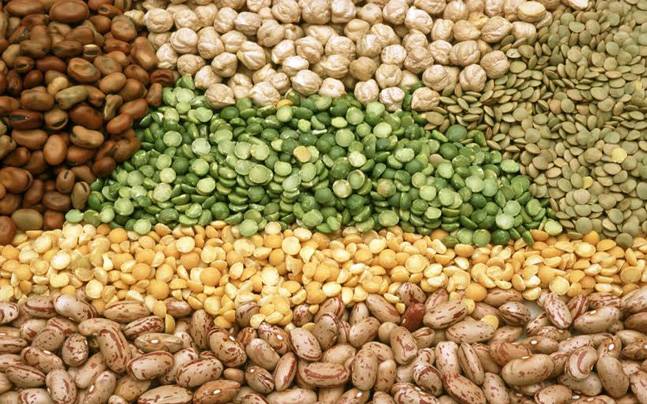 EXPORTS of Australia's major human-consumption pulses at 231,323 tonnes in October-December 2018 were down 66 per cent from the corresponding 2017 quarter, according to the latest Global Pulse State of Play report.
Prepared by Pulse Australia and the Grains Industry Market Access Forum (GIMAF), with support from the Australia-India Council, the report is designed to inform the Australian pulse industry about the trends and drivers in global markets.
Tonnages are based on data from the Australian Bureau of Statistics, and reflect the absence of India in Q4 2018, and unprecedented demand for high-value pulses as stockfeed to supply drought-affected eastern Australia.
Pulse Australia chief executive officer Nick Goddard has described the 2018 season as one of two halves, and one where India's trade restrictions created new or stronger trade flows into alternate markets.
"If you are in the half dealing with lentils and chickpeas, it's probably a year best forgotten, as excess stocks, in the case of lentils, has kept prices soft, while dry conditions have left many chickpea paddocks fallow, and  many silos empty," Mr Goddard said.
"If you are in the half growing and trading peas, lupins and faba beans, you've probably done OK as strong demand for feed has supported market opportunities and prices throughout the season."
The worldwide shortage of faba beans is expected to exhaust any global export surplus by May, and has driven prices to record decile 10 levels of $800 per tonne or more, with demand from countries including Saudi Arabia boosting values.
Mr Goddard said 2018 season saw one of Australia's lowest levels of pulse production in recent years, largely driven by the dramatic reduction in chickpeas.
Exports have been impacted both by the lower supply domestically, particularly of chickpeas, and the greater domestic demand for feed.
| | | | |
| --- | --- | --- | --- |
| | Oct-Dec 2017 | Oct –Dec 2018 | Percentage change |
| Chickpeas | 430,142 | 73,636 | -83 |
| Lentils | 141,207 | 60,236 | -57 |
| Peas | 51,527 | 32,615 | -37 |
| Faba beans | 56,857 | 64,836 | +14 |
| TOTAL | 679,733 | 231,323 | -66 |
Table 1: ABS October-December 2017 and 2018 export data.
Mr Goddard said it was too early to make projections for Australia's 2019 winter pulse production, but subsoil moisture has been described as either non-existent or severely depleted in most growing areas.
While the weather forecast may not be kind, ongoing shortages of feed should provide a strong price base for higher-protein pulses like lupins, which is a major export crop for Western Australia, peas and faba beans in the short term.
China, India changes

China is rejigging its pulse imports to cater for reduced purchases of US soybeans as caused by the China-US trade dispute.
This has made China a strong buyer of Canadian peas at a time when China's pulse consumption is reported to be growing by 200,000-300t per annum as the country increases its fractionation capacity, as well as shifting more pulses into the feed market in lieu of soy.
There has also been growing interest in China for Australian peas, lupins and faba beans, which compete in China against Canadian exports, and need to pay more than the Australian feed markets will pay.
"Notwithstanding China, our fate for the coming year lies with India."
The report said pulse demand in India remained relatively constant.
"Over time, we can foresee a reduction in per capita consumption as more and more of the population move up the protein hierarchy towards high-value and better-quality pulses, and beyond, to increasing meat consumption."
The report said a new generation of Hindus was gradually adopting western diets and accepting a change from vegetarianism to "flexitarianism", where a small amount of meat was seen as acceptable on occasions outside intergenerational family dining.
However, this macro trend is seen as unlikely to impact overall pulse demand in the near term.
On the supply side, after a slow start to the rabi (winter) season, with delayed plantings, the overall production is forecast to be roughly average for chickpeas and lentils.
From a very dry start, rainfall for the first six weeks of the year in Madhya Pradesh, India's major pulse-growing region, is about 46 per cent down on average.
As India heads into harvest, total volumes are expected to be around 10-15pc down on last year's above-average production, and focus has now shifted to the kharif, or summer-crop, seeding period for mungbean,black matpe and pigeon pea.
Combined with stock in storage, Indian pulse supplies are expected to be sufficient to meet demand for the rest of 2019 at least.
However, it should be noted that that much of the stock held centrally by governments and/or their agencies is being criticised for the conditions it's being held.
Reports are common that 5-10pc of stored pulses have insect damage.
Much of the Indian trade policies of the past 12 months have been designed to placate the Indian farming sector, which tends to be a major constituency of the ruling BJP.
Ahead of the Indian election expected to take place by May, tonnage restrictions on pea imports are likely to be extended for another three months.
Advice from the Australian Agriculture Counsellor in Delhi is that India is unlikely to open its doors widely to pulse imports until late 2019 or early 2020, when current stocks begin to look depleted.
However, pulse production from India's kharif crop, and planting prospects for the rabi crop around the time of Australia's winter-crop harvest will also have a strong bearing.
Different suppliers
The strong and rapid shift to domestic supply for India has seen some interesting, and most likely irrevocable changes to the Indian pulse trade. Buyers have consistently applauded the consistent and high quality of Australian and Canadian pulses.
However, with these supply lines effectively severed, buyers have been driving higher and more consistent quality back down the supply chain to domestic suppliers and to those with whom India has favourable trading arrangements.
This includes Myanmar and some African countries.
Some reports state that quality of pulses from these suppliers has improved, and reported investment in grading and sorting equipment by Indian processors has further aided pulses and pulse products of higher quality hitting the Indian market.
"The implication is that India, and some of their supplying countries are lifting their game.
"While Australia and Canada may have set the quality benchmark, we need to keep pushing the quality boundaries of Australian pulses."
"By June, we will know where we stand, have a clearer view about India, both policy wise and pulse supply wise, and a better sense of global supply prospects generally."
The report said longer-term prospects for pulses were "very bullish".
India and WTO
Australia has joined Canada in co-sponsoring a United States action with the WTO in relation to Indian minimum support pricing (MSP) and knock-on trade policies.
This was recently advised to all Pulse Australia members.
Last week, a Reuters report said the US has been successful in gaining a WTO ruling challenging Chinese MSP for farmers for wheat and rice.
This is likely to have an impact on the Indian action.
"This won't change things for this year, but it will hopefully make India think more carefully about future market intervention actions."
Source: Pulse Australia
Grain Central: Get our free cropping news straight to your inbox – Click here