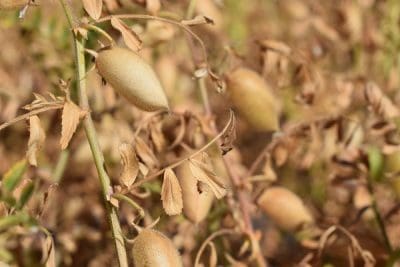 Queensland grain growers have welcomed the Federal Agriculture Minister's announcement that he will travel to India to attempt to a resolve a trade dispute over chickpea imports.
AgForce Grains President Wayne Newton said India's decision to slap a 30 per cent tariff on Australian chickpeas was a 'devastating blow' for Queensland grain growers, who produced 86 per cent of the nation's chickpea exports.
"Chickpeas are Queensland's fastest growing export product, increasing by more than 300 per cent in 2016/17 to be worth almost $800 million, largely through demand from India," he said.
"Chickpeas now make up almost half of our total bulk export grain market, and the growth in these exports has contributed to Queensland becoming the most valuable agricultural state in the country.
"A 30 per cent import tariff will slash growers' incomes into the future and what's even worse is that an estimated 200,000 tonnes of chickpeas and lentils were already on their way to India when this decision was announced in late December.
"We appreciate the Federal Government is seeking alternative markets for those shipments, and are hopeful Agriculture Minister David Littleproud's upcoming visit to India will see further progress made towards resolving this issue and getting a better deal for Australian farmers."
Mr Newton said good access to key international markets like India was vital for Australian agricultural exports like chickpeas.
"In contrast to almost all OECD countries, Australia provides no trade distorting measures, little or no subsidies and we rely on a free and open trading environment to ensure ongoing profitability," he said.
"With Australian farmers exporting about three quarters of what we produce, reducing trade distortions in global markets and achieving new export opportunities is critical for the continued growth of our agricultural sector."
Source: AgForce Queensland