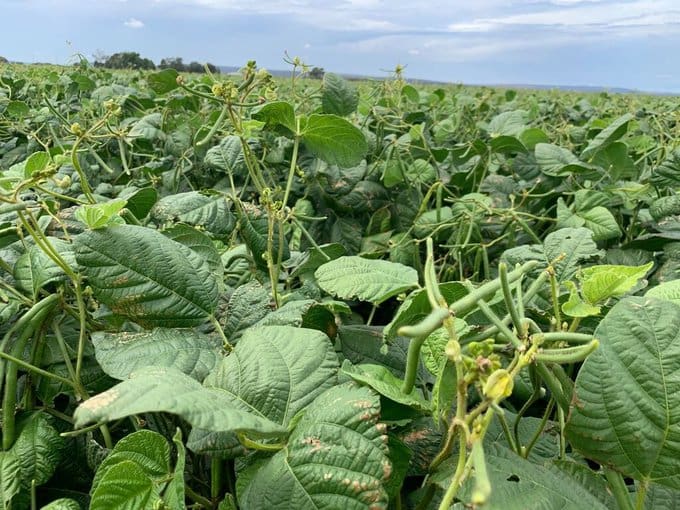 MUNGBEAN growers in the northern grains region could struggle to gain yield and profitability benefits from applying additional nitrogen (N) fertiliser to crops.
While mungbean crops typically require N to maximise yield, recent research has found that mungbean crops will not respond to applied N fertiliser under a wide range of field conditions.
It's one of the key findings from the Mungbean Agronomy project – a Grains Research and Development (GRDC) and Queensland Department of Agriculture and Fisheries (DAF) joint investment.
DAF has led the project over the past two years with support from New South Wales Department of Primary Industries (NSW DPI) at field sites from Emerald to Breeza, as well as in glasshouse trials.
Initiated in response to industry calls for more detailed guidelines on the nutritional management of mungbean crops, the research assessed mungbean's nitrogen requirements, the ability of mungbean crops to access N and the effectiveness of inoculation in supplying sufficient N to maximise yields.
Consistent results
Project leader and DAF principal development extension officer, Jayne Gentry, said the lack of N response was consistent across seven field trials in 2018-19 and 2019-20, ranging from extremely harsh to moderate climatic conditions.
She said starting soil nitrate nitrogen profiles ranged from 54 to 194 kilograms N/hectare (0-90cm), with yields ranging from 0.3 to 2.5 tonnes/ha.
"These trials accurately quantified the contribution of mineralised nitrogen to the soil profile over the spring period, far exceding currently understood estimations," Ms Gentry said.
"With large amounts of mineralisation occurring in spring coupled with the plants' ability to fix atmospheric nitrogen if well nodulated, there has been an adequate amount of available N to support mungbean yields up to 2.5t/ha.
"The only exception to this was recorded in an irrigated situation with very low starting soil N and high crop potential."
In this particular situation, an application rate of 150kg N/ha recorded a yield of 2.3t/ha which was 260kg/ha higher than an inoculated control which received no N.
However, increasing mungbean yield in response to increasing rates of N did not occur, with similar yields recorded for the inoculated control and treatments receiving up to 120kg N/ha.
Overall, mungbean nutrition trials at Kingaroy in southern Queensland in 2017, 2018 and 2019 generated similar findings to the DAF trials, concluding that additional N applications did not consistently deliver improved mungbean yields or profitability on the region's brown ferrosol or haplic eutrophic red ferrosol soil types.
Productivity, profitability implications
The trials were established to evaluate the productivity and profitability implications of planting mungbeans into a high nitrogen environment and compared five different nitrogen application rates.
Trial coordinator and DAF principal agronomist, Nick Christodoulou, said although in some instances the study showed small yield responses of around 100-200kg/ha to high rates of N (100 and 125kg N/ha) and yield improvements in a subsequent wheat crop of over 1t/ha, results were not uniform.
"Put simply, based on current knowledge, the potential impact on mungbean yields and profitability simply isn't conclusive enough to warrant the risk of costly N applications on most soil types in the South Burnett region."
While the on-going quest for improvement in yield potential and stability in northern mungbean crops is heavily reliant on effective inoculation, soil fertility and crop nutritional management, it is also dependent on the management of crop establishment and early growth, according to GRDC manager agronomy, soils and farming systems – north, Kaara Klepper.
"It's critical to get the basics right when it comes to paddock selection, sowing and general agronomy to maximise the yield potential, yield reliability and gross margin of mungbean crops," Dr Klepper said.
"In particular, crops should be planted on narrow rows, root lesion nematodes measured pre-planting, starting soil fertility should be sufficient for good early root growth and recommended planting windows adhered to in order to help manage the impact of heat on flowering and pod set."
Source: GRDC
Best management recommendations for mungbean nutrition, based on outcomes from GRDC research investments, can be found in the GRDC Mungbean GrowNotes.
Additional mungbean production information, as well as details on the Industry Accredited Agronomist Scheme and mungbean training courses, can be found on the Australian Mungbean Association website or by contacting Pulse Australia's Industry Development Agronomist – Northern region, Paul McIntosh, on 0429 566198 or [email protected]