Grain Central's State-by-State analysis of winter crop planting continues, with today's focus on NSW:
A RAIN band moving across NSW over the next few days will be a timely boost for this year's winter cropping program that has already seen many areas finished sowing and only a few yet to get going.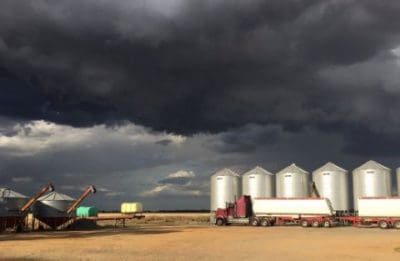 Much of NSW west of the Dividing Range is expecting falls of 30 to 50 millimetres, with isolated storms potentially delivering up to 100mm.
In North West NSW, B&W Rural consulting agronomist, Rob Long, Moree, said a lot of early crops had already gone in on the back of 50mm of rain the day after Anzac Day.
"The canola area is up slightly, the faba bean area is down – price-driven. The wheat area is similar to last year, but because of the rain the day after Anzac Day, which was just perfect, effectively a lot of wheat has gone in, but it is all early varieties like Gregory and Lancer," he said.
"So, people have nearly finished wheat planting. Just about all the wheat that is going to go in is in. Normally you get a spread through May, but people have a lot of chickpeas to go and they are just at the stage where they are starting to plant chickpeas.
"There will be a huge planting of chickpeas similar to last year which was massive. It is bigger than the wheat area.
"People like to grow them because of their rotational benefits, but it is price driven as well. They look at the risk and reward. Every chickpea crop that is going in is probably in a narrower rotation than it should be and they are putting them under disease pressure, but it is a risk they are prepared to run because of the potential for high rewards."
Mr Long said two-thirds of the region was "in really good shape", but there were pockets that were still very dry and had been unable to sow.
"Anywhere that grew barley, canola or faba beans last year left a bit of water behind, so the rainfall topped that up nicely. Anything that came out of chickpeas or wheat was dry because the chickpeas grew for three weeks longer than normal and that chewed up a lot of water," he said.
"It will be all systems go if we get the rain. If we get 10 to 20mm that will be perfect. It will consolidate things, slow everyone down and make sure they don't get ahead of themselves with frost risk.
"They will get going with chickpeas in the last week of May and the first couple of weeks of June. That's just where we want to be."
Grain Central: Get our free daily cropping news straight to your inbox – Click here
In the Central West, Grain Orana Alliance CEO, Maurie Street, Dubbo, said it was a mixed bag with some areas, such as around Peak Hill, finished sowing and looking good, while other areas were really dry and, up until this week, had nothing sown.
He said around places like Coonamble there had been a lot of dry sown crop but not a lot had emerged.
"The prospect of rain in the next few days is driving a lot of the dry sowing. Growers in the dry areas are madly sowing in front of it," he said.
Mr Street said there was a lot of interest in canola as it was well priced, particularly against the cereals.
"There are a lot of first time growers or growers that have increased their acreages. It is done. If you haven't got canola in yet you would want to be finishing up your program or you will be too late," he said.
"Barley is on the nose. Chickpeas are still very strongly priced and will be a strong part of growers' programs. There is some being dry sown now ahead of the rain and others have finished their programs, depending on where they are.
"There are a few growers who will drop chickpeas from their system despite the high prices, frustrated with their yield potential and the difficulties of growing them."
On the South West Slopes, Grassroots Agronomy consultant, Greg Condon, Junee, said winter crop sowing was more or less "done and dusted".
"There are still some field peas to go in, but most people have finished their main season crops. There is still some sowing to go in the western areas where moisture has been limited," he said.
Mr Condon said it had been one of the best autumns in a long time.
"We have good subsoil moisture right through the autumn and rain on Anzac Day which, on top of the stored moisture, allowed everyone to finish their sowing programs.
"There has been a lot of canola go in, at the expense of barley. Wheat is static. These days there is less wheat-on-wheat. People tend to put wheat on paddocks that are better condition and don't push the wheat area as much.
"Lupins and faba beans are down, but there are a few more lentils in the program."
Mr Condon said one of the benefits of such a good season was that growers had been able to apply very effective weed control programs.