TWO forage oats varieties growing a few metres apart at the DAF Kingsthorpe Research Facility near Toowoomba are separated by exactly 100 years of breeding history.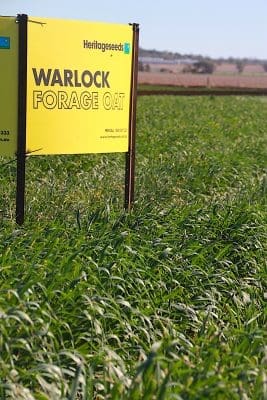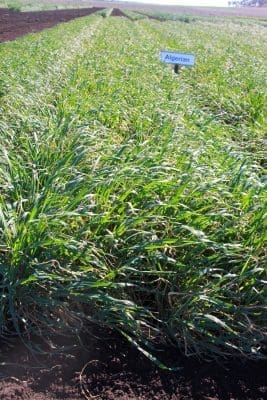 The Algerian oats variety (left) was launched in 1918, and has since been widely used as a parent line for forage oats breeding programs over the past century.
Warlock (right) is the 2018 variety launched yesterday by the Queensland Department of Agriculture and Fisheries and Heritage Seeds.
Side by side they tell a story of a century of breeding progress.
Forage production is an obvious difference, with Warlock's forage yields in trials averaging around 30 percent higher than Algerian.
But the main difference, according to master forage oats breeder Bruce Winter, is in the maturity of the lines.
Warlock will not start flowering until September/October, whereas Algerian will start much earlier in mid-August.
Effectively that means a much longer growing period, adding at least another month and up to six or eight weeks of additional grazing opportunity.
"Old types like Algerian tend to be very slow early in the season, they don't have good early vigour, and they also have a quite a prostrate growing habit," he said.
"So when they emerge, they remain quite close to the ground, and that means it can be difficult for cattle to graze until the canopy thickens up, so that is probably the main difference between the (newer) varieties, they are later maturing, higher yielding and more erect."
Despite marking its 100th birthday Algerian isn't a mere historic curiosity, with small areas of the now-antique variety still commercially grown in areas of central New South Wales.
"We have well and truly gone beyond the yield potential of it, but some of those varieties will persist in small areas where they have a good fit," Mr Winter said.
How a new variety is born
Breeders are always seeking to increase growth with new varieties, but another key challenge is to develop varieties that can withstand rust for as long as possible.
Leaf rust has many different races and tends to mutate frequently, which typically leads to the breakdown of rust resistance of new varieties in a matter of years.
For example Genie, a popular high-yielding variety launched in 2007, began to show evidence of rust-resistance breaking down in some areas in 2011.
Leaf rust tends to be a problem in higher yielding, higher rainfall areas, particularly in coastal regions, but there are still many of areas of Queensland and New South Wales where leaf rust is less of an issue, and varieties such as Genie continue to provide a vitally important winter feed gap solution for livestock producers.
The obvious need to develop varieties that enable producers to stay one step ahead of leaf rust is one of the reasons why the quiet, largely unseen endeavours of people like Bruce Winter and his offsider Richard Uebergang working at Leslie Research Centre and Kingsthorpe Research Facility is of such importance to livestock producers in a vast region from Dubbo north to Mackay.
Warlock released yesterday was effectively 10 years in the making.
It is actually a three-way cross, with three parent lines used in its genetics when the original cross for the new variety was made along with hundreds of other experimental lines back in 2008 and 2009. (The same process continues every year, with hundreds of new crosses continually progressing through the breeding and trialling pipeline to produce the commercial varieties of the next 10 years and beyond).
Like other lines Warlock was first tested for resistance in disease nurseries, where researchers also looked for traits including later maturity and high forage yield performance.
Warlock was among varieties then selected for paddock yield trials, undergoing four years of performance testing in crop situations before the final decision was made about three years ago to select it for commercial release.
During those trials a small mechanical forage harvester is used to cut each individual trial plot to simulate grazing, removing the forage and allowing the variety to regrow.
The trials are conducted under dryland conditions, as most oats crops are grown, and also under irrigated conditions to push production and to see how much yield each variety is capable of producing.
"But particularly it allows us to select for regrowth, which is a very important characteristic with forage oats, Mr Winter said.
"In our irrigated trials we can cut these varieties six or seven times during the growing season and they continue to regrow, so that is a very important selection criteria."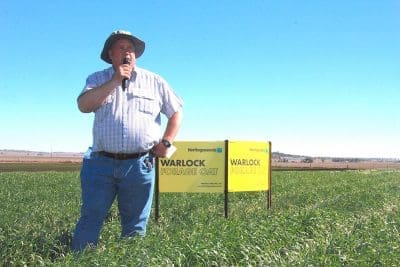 The decision to commercialise Warlock involved handing over the "couple of handfuls" of the seed available at the time to Queensland DAF's commercial partner Heritage Seeds to produce commercial volumes of seed over the past three years. From that first 'small handful' there will be several hundred tonnes of Warlock seed available through Heritage Seeds for commercial release in time for next year's winter oats planting season.
Mr Winter said Warlock was the highest yielding line that has come out of the Queensland DAF program, producing a 19pc increase in total forage yield over the full length of the season over the high-yielding variety Genie. It was also selected for good earlier vigour, late maturity and better regrowth later in the season.
"So it really does represent a significant leap forward in forage yield potential," Mr Winter said.
"Just to clarify, we measured this forage yield increase in our trials, and this is averaged over a number of years.
"We can't claim that every crop of Warlock is going to be 19pc better than the commercial varieties, but just that this forage yield potential means it should perform better in most situations in comparison to the other commercial varieties."
Battle against leaf rust never-ending
Even for a brand new variety like Warlock the battle against leaf rust continues. Mr Winter said the researchers have recognised that despite their best efforts there is one pathotype of leaf rust that infects Warlock.
"We discovered this about 18 months ago, but looking at the yield results we achieved, looking at the overall agronomic characteristics of Warlock we decided go ahead with the commercial release," he said.
"There are a lot of forage oats grown in areas where leaf rust is less of an issue, there are many areas of Qld and NSW that don't see much leaf rust, so we felt that the potential yield advantage of this variety was going to be very important to growers in that area and it was worthwhile getting this variety out to market.
"We're very pleased with this variety, we feel it should find a place particularly in those tougher drier areas that yield advantage is going to be the main selling point, and we look forward to seeing more of this in the field and helping farmers to take advantage of the outcome of our research work here."
Grain Central: Get our free daily cropping news straight to your inbox – Click here