GROWERS in Western Australia have begun seeding the first of this season's winter crops in what the Grain Industry Association of Western Australia (GIWA) estimates will be an 8.4-million-hectare (Mha) planting for the state, similar to last year.
GIWA Oilseeds Council chair, Michael Lamond, said small areas of canola had been sown on moisture from recent thunderstorms in the eastern and southern regions, but most canola had been sown dry so far.
"There has been some dry sowing, particularly around Esperance where they have more subsoil moisture, but the rest of the state is just cranking up now and will get going in the next two weeks," he said.
"Growers are now dry sowing or will start to dry sow in the next week with most planning to start by ANZAC Day."
Mr Lamond said the outlook was for increased barley plantings, although this would be less in the regions of the state that had a reasonable season last year.
"The wheat area is continuing to decrease, being substituted for barley and to a lesser extent pasture. Resowing of pastures to legumes is an increasing trend across the whole state as is the sowing of cereals intended for grazing by stock," he said.
Mr Lamond said the intended canola and lupin areas for this season would remain about the same as last year at around 1.415Mha, although rain over the next few weeks would determine the final areas sown.
"The next three weeks will determine what really happens. There can be big swings in areas and crop mixtures. If it stays dry until the end of the first week of May, people will drop canola and lupins and go to cereals," he said.
Mr Lamond said GIWA's crop area estimates would be far more accurate this year with assessors now having access to quantitative imagery data.
That has also allowed them to rejig some of the figures from last year.
"We now know there was definitely 1.4 million hectares of canola last year. We had estimated 1.2Mha but as the yields came in we realised there had to be a bigger area because the yields weren't high enough to have the tonnage we were getting. So, when we got the yield imagery data we found it was 1.4Mha," he said.
"As we go through the growing season it will get more accurate. It still won't be perfect by the end of the year, but it will get better each month."
Zone-by-zone WA winter crop outlook for 2018
Geraldton Zone:
Northern Geraldton
Growers are just getting underway dry sowing crops.
The area of barley is projected to be up at the expense of wheat area due to the current high price.
There have been more noodle wheat varieties grown in the region in recent years and this is expected to continue, noodle varieties have been yielding close to yields of milling varieties.
Canola and lupin plantings are projected to be up although this will depend on rain in the next few weeks.
Southern Geraldton and Northwest Kwinana
Sowing to date has been confined to small areas of canola going in on moisture around the Wongan Hills and Latham areas and dry sowing pasture.
There is likely to be an increase in the barley area in the region due to the current high prices.
The area of noodle wheat grown in this region may stay steady or decrease in response to projected increases in other regions of the state.
Total wheat area will remain about the same as last year.
Canola area will be down slightly due to the lack of hybrid seed available for planting.
The lupin area will remain about the same as 2017.
Kwinana Zone
Kwinana West
Some canola has been planted into moisture following the thunderstorms over the past two weeks and is up and looking promising.
There is likely to be an increase in lupin plantings of between 10-15 per cent due to the current price and newer varieties being more reliable in yield.
Barley plantings are likely to be up slightly due to historically high prices compared to wheat and the ability of barley to generally out-yield wheat.
Wheat plantings are projected to be similar to last year with a slight shift to noodle wheat varieties due to some of the newer varieties such as Ninja yielding close to or equal to Scepter.
Kwinana East
Some wheat has been planted in the areas around Southern Cross, Bullfinch and Marvel Loch and small areas of canola have gone in around Mukinbudin, Nungarin, Burracoppin and south to Muntadgin.
The canola area will be down this year for the region if the opening rains don't come in April.
Wheat area is expected to be about the same as last year, barley will be up slightly and lupins equal to last year.
Oat area will be unchanged for the lower rainfall regions with most used for grazing, hay or grain retained on farm
Albany Zone
Albany South Coast
Most of the activity has been dry sowing pastures and fodder crops for stock feed.
The total crop area may be back 5-10 per cent this year, although most of the enterprise mix decisions will be made in the next month.
There is likely to be a small increase in feed barley area this year with some growers having already forward sold a percentage of their intended barley crop at the current high prices.
Canola area is forecast to remain unchanged this year for the region and wheat a slight decrease in area.
West and South Albany
The feed barley area will be up slightly in the region due to the relatively high price and potential grain yield advantage over wheat.
Wheat area will continue to decline this year as it has over recent times and be substituted with pasture for livestock.
Growers are dry sowing pasture legume species to improve the stocking rate of existing pasture paddocks and more area is going into oats and barley for early grazing.
Canola area will be similar to last year although this can change depending on rains in the next few weeks. Lupin area is likely to remain unchanged for the area this year.
Eastern Albany (Lakes Region)
A small area of canola has been sown into moisture from recent storms although most will go in dry over the next few weeks if it does not rain.
The area of barley will be up 5-10 per cent mainly at the expense of wheat area.
Lupin area will be similar to last year.
Esperance Zone
There has been some canola go in on moisture although the area is small. Growers are sowing pastures and canola dry.
The crop enterprise mix is unlikely to change significantly this year as most growers had a good 2017 and will stick to their rotations rather than chase prices.
The uncertainty around pulse crop prices together with a lack of suitable cold tolerant varieties will limit the expansion of pulse area in the region.
Canola will predominantly be Triazine Tolerant varieties in part due to the lack of availability of hybrid canola seed.
WA winter cropping season outlook
After a summer where rainfall was well above average, March rainfall has been below average across much of the agricultural area of WA.
WA Department of Primary Industries and Regional Development (DPIRD) research officer, Ian Foster, said thunderstorms had been active in eastern parts but rainfall has been patchy.
Accordingly, modelled soil water shows low levels of storage across much of the northern, central and southern agricultural areas (see Figure 1).
In areas showing higher levels of storage, such as the Esperance region and western parts of the central agricultural area, water is likely to be at depth rather than near the surface.
The seasonal rainfall outlook from DPIRD's statistical model for April to June shows a preference towards drier than normal conditions.
Most international climate models have a neutral outlook for this period, meaning no preference towards either wetter or drier than normal conditions.
Beyond that period, the risk of below average seasonal rainfall increases during winter.
In the shorter term, April appears likely to have below average rainfall. Opportunities for early crop emergence may be limited except in areas where recent thunderstorms have provided soil moisture.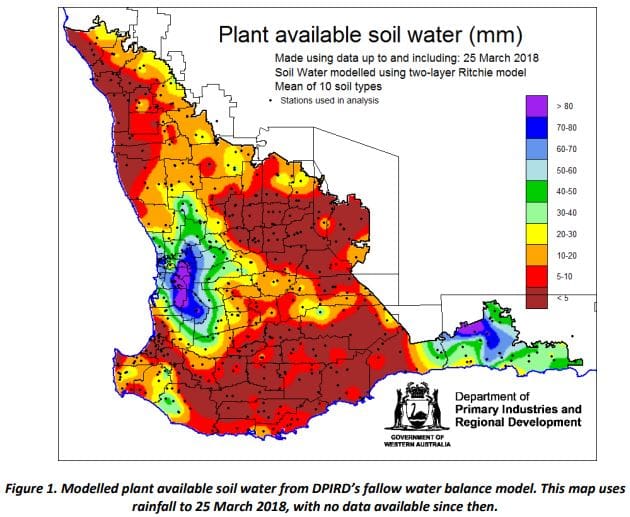 Sources: GIWA, DPIRD
Grain Central: Get our free daily cropping news straight to your inbox – Click here