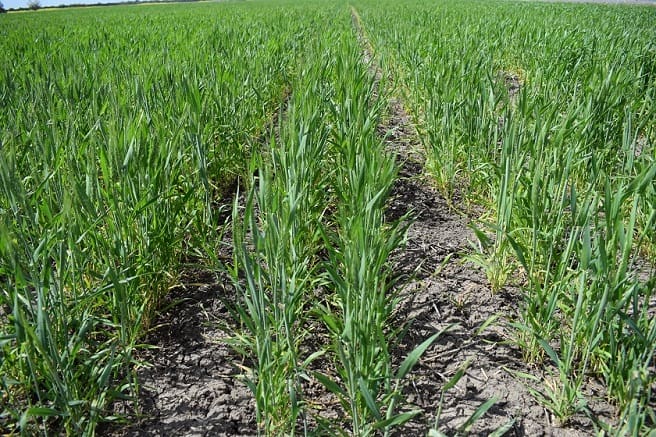 WINTER crops in the greater part of the Western Australian grainbelt are in good shape, making up ground over the last month following reasonable falls of rain and warm growing conditions, according to the latest crop report from the Grain Industry Association of Western Australia (GIWA).
The exception is in areas in the Great Southern down to the south coast and through to the Esperance port zone, and some areas north of Merredin, where the majority of rainfall events have been below 10 millimetres, with poor conditions compounded by significant wind damage.
Wheat has emerged as the standout crop this year, alongside a record planting of barley, but a reduced area of canola.
GIWA estimates WA growers have planted 4.86 million hectares (Mha) of wheat, 1.61 Mha of barley and 1.09Mha of canola this season.

GIWA Oilseeds Council chair, Michael Lamond, said the northern agricultural areas that were impacted by dry conditions in 2017 had cereal crops with above average grain yield potential.
"The whole Geraldton port zone is good with a relatively full profile. Crops are well on track for the season. They have very good yield potential right across all the crops. From the coast to the east to the edge of the wheat belt is all good," he said.
The central grain growing regions of the state have had one of the best starts to the season for many years and crops have above average potential if the season continues in a similar vein.
Mr Lamond said there had been less rainfall in the southern areas of the state, and crops that had emerged well would need good follow up rains and a soft finish to reach average grain yields.
"Crops are gappy from the wind damage, there's been slow emergence because of the furrow fill. There is some subsoil moisture there so there is a bit more potential if things crank up. But, they haven't had any double-digit rainfall events along the whole South Coast," he said.
Mr Lamond said wheat was the standout in WA this season with crops looking outstanding.
"Wheat will be the kicker this year as far as tonnage goes. It is tillering well and has had an easy run," he said.
The WA canola area is significantly lower this year and most crops are later, with many having low plant density which will limit final grain yield.
Mr Lamond said the barley area across the state was the largest in history, although potential tonnage would be impacted by a poor start to the season in the major barley growing regions in the south of the state.
"The barley area is way up at around 1.6 million hectares. Tonnage will be impacted a little by the southern area which can produce a lot of barley, but it is not the best down there. Again, it is later and low plant density," he said.
"A lot of the substitution of canola has been taken up by barley and a lot of that has been resown late, so has lower potential."
Grain Central: Get our free daily cropping news straight to your inbox – Click here