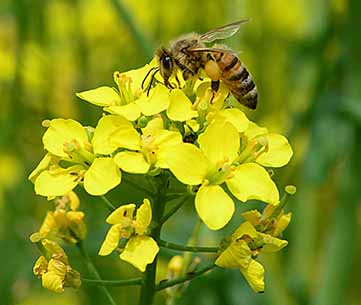 BEE pollination services are an under-utilised resource in the broadacre farming sector where growers are missing out on the potential to increase yields in crops such as canola, legumes and cotton.
That's the view of Australian National University researcher, Dr Saul Cunningham, who says growers are hearing mixed messages about the benefits of putting bees on crops, but evidence shows the hard-working pollinators can deliver an increase in yield of around 10 per cent, and sometimes much higher.
"There are a lot of crops farmers grow that we know would benefit from putting honey bees on for pollination but are being under-pollinated, yet we still don't do anything about it," he said.
"I ask the question why? I think the answer is partly about a lack of knowledge. Agronomists tend to focus on fertiliser, water and pesticides and don't tend to advise on pollination. They are not normally in the business of selling pollination. So, to some extent, farmers don't think about it because they don't even know there is a benefit."
Speaking at the 3rd Australian Bee Congress on the Gold Coast, Professor Cunningham said while there was no benefit to be gained from introducing bees into cereal crops, there was good evidence of pollination benefits in crops such as canola, mustard, legumes and cotton.
"These crops all produce perfectly well in the absence of bees, yet most of the research shows they produce more in the presence of bees. They will self-fertilise, but bees increase the rate this happens," he said.
"Even though canola is quite capable of producing seeds without pollination, most studies show it will produce more when bees are put on them. The benefit is around a 10 per cent lift in yield.
"There are some horticultural crops like almonds that produce nothing in the absence of bees. None of the broadacre crops are in that category. They are in the categories of realising a benefit ranging from 10pc to around 17pc.
"We did some research where we put honey bees on faba beans in South Australia. We got 17pc yield boost close to hives. We did a cost benefit analysis to see whether the cost of the hives was worth it and overwhelmingly it showed it was.
"That's another example where the science clearly shows there is a benefit and you can lift your crop's production by a good number. You won't get 17pc in all places, but in our study that was the average."
Professor Cunningham said the cost benefit analysis was a question that challenged many growers, as was coming to a suitable arrangement between grower and beekeeper.
"You have to form a relationship with someone who can bring the bees in and then work out how much you pay them. In the case of canola, the beekeeper gets honey out of it so you might not have to pay anything," he said.
"When you put on water or fertiliser you control it, but pollination is always a relationship with someone else. It brings in the extra complexity of how do you know you are getting what you paid for and what kind of contract do you have?"
Professor Cunningham said another issue that was limiting the widespread adoption of pollination services in agriculture was the fear that beekeepers had about the impact of crop pesticides on their bees.
"The biggest problem, I think, is that although we know there are many crops that would benefit from more pollination, as long as beekeepers fear there is harm to their bees from crops that have pesticides, the beekeepers are then cautious," he said.
"Hence beekeepers worry a lot about the use of neonicotinoids which I believe is used in almost all canola seed dressing in Australia. Sometimes their worries are unfounded but every now and then incidents happen that leave them to have reason to worry.
"So, there is a lot that revolves around the issue of trust. How can we improve that relationship so the growers get the extra boost in productivity and the beekeepers get either payment or honey and everybody's happy?"
Professor Cunningham said the most important thing in building a relationship was for each party to openly communicate their concerns and actions.
"Beekeepers know pesticides are part of most agriculture. They just want the communication lines to be open so that, if a farmer decides to apply a pesticide that hadn't been planned, the beekeeper absolutely has to know. The beekeeper risks losing all his 'livestock'. Decent beekeepers will then come and remove their bees or do whatever they need to do," he said.
"The risks the beekeeper is taking are higher than the risks the growers are taking. That asymmetry is the challenge.
"My advice would be for growers to keep the beekeeper in mind and think about them as a colleague who has a business as well. You don't want to be the person who caused harm to their bees."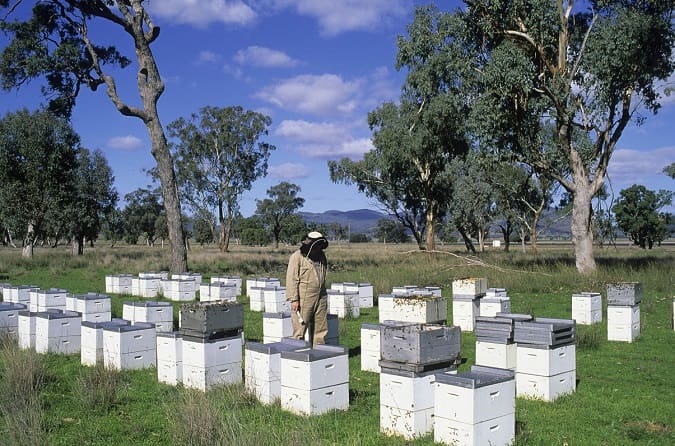 Stocking rates
Also speaking at the conference, the University of Sydney's Dr Ben Oldroyd addressed the question of how many bees were needed to maximise profits from pollination.
"Recommended stocking rates are remarkably high, from 2-10 colonies of honey bees per hectare," he said.
"Yet some growers assume that there are adequate numbers of feral bee colonies, native bees, and flies in nearby remnant bushland, and that these insects can provide adequate pollination services to their crops. Based on this assumption, some growers are reluctant to pay beekeepers for pollination, or they assume that the benefits of paid pollination are limited."
The University of New England's Dr Romina Rader told the conference that stingless, native bees also played an important role as crop pollinators and were regular visitors to crops in many parts of Australia.
"Stingless bees are effective pollinators on a per visit basis yet abundances are variable and highly dependent on landscape structure," she said.
Grain Central: Get our free daily cropping news straight to your inbox – Click here