AUSTRALIA's biggest container park operator, family-owned Maritime Container Services (MCS), is breaking new ground by constructing a grain container packing operation in the Botany Port area south of Sydney, innovating the railing of bulk grain from anywhere in NSW and loading to vessels via container rail shuttle.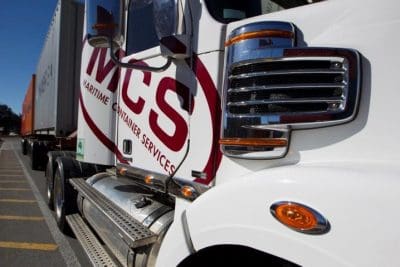 After many years on the drawing board, construction is about to begin on the facility which will be owned by MCS and operated in conjunction with joint venture partner, listed agribusiness, GrainCorp (ASX:GNC).
The site presently operates MCS's intermodal service, taking containers full of cargo off the wharf, distributing locally, and returning containers either utilised or empty to reload on a vessel to sail back to Asia.
MCS also has container maintenance and upgrade services, a truck fleet and its Sydney Flyer rail shuttle service which will be critical to the new venture.
Fast take-up of spare capacity
"Fifty five per cent of containers that come to Sydney are shipped back to Asia empty," MCS consultant Brett Duczmal said.
Shipping lines welcome the development at the port.  Their southbound freight revenue is two to three times greater than northbound, so the lines are motivated to get their boxes full or empty back to Asia for another load as quickly as possible.
Construction at the site is expected to commence in mid-2017 and be completed next year.  It will include temporary grain storage bins for short term transfer of bulk grain from the country to load into containers, container loaders, inspection services and fumigation.
The nominal capacity of the plant is expected to be around 10,000, twenty-foot containers per annum.
Commodities handled chiefly are likely to be grades of wheat, canola and barley.
GrainCorp storage and handling division will run the facility as an extension of the GrainCorp system; so, for example, if a client had stocks of wheat in Parkes in central NSW, it could give up that wheat for a tariff rate and have an equivalent numbers of boxes delivered to the port.
Slots or port windows
The nightmare of every container operator is the costly threat of missing the 'slot' allocated for particular cargo to load on a particular vessel; the timing of both factors is variable and often beyond people's control.
MCS has a lower risk when it comes to hitting the port receival window, which is approximately four days.
"Our facility is four kilometres from port. We intend to have containers packed in advance and our 24-hour shuttle service is scheduled around peak traffic times," Mr Duczmal said.