PRICES for current-crop and new-crop feedgrains in eastern Australia have firmed in the past week, based on a spike in export demand from The Philippines and critically dry conditions in southern Queensland and northern New South Wales.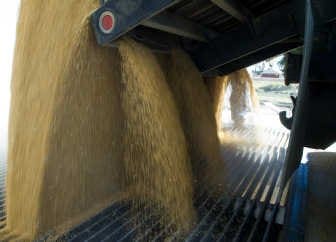 Offshore support for wheat has come from The Philippines for October-December shipment, and trade sources believe this, combined with the need for follow-up rain for many crops in south-eastern Australia to preserve current yield potential, has sparked buying interest.  
The prompt Brisbane free on truck (FOT) wheat market has been quoted as steady on last week at $380-$385 per tonne, and similar in Newcastle, with barley around $5/t higher.
The inverse between current and new-crop was now at around $40-50/t, with the new-crop market delivered Downs at around $400/t for January forward, up $5/t on last week.
Patchy rain has fallen overnight in parts of the Burnett, Northern Downs and Maranoa regions of Queensland, but not enough to fill soil profiles in readiness for the upcoming summer-crop plant.
Armidale-based Broun & Co principal Wal Broun said many crops in northern NSW were in desperate need of rain. 
"It's getting critical now, and new-crop markets are a little bit firmer, but growers aren't keen to sell if their crops aren't looking good.
"There's always the odd exception, and some crops are okay, but generally things aren't good. 
"Even the Liverpool Plains is struggling."
Many feedlots are believed to have booked coverage to the end of the year, and drought feeders have also continued to be active.
They have helped to kick up prices for cottonseed ex gin southern NSW by up to $30/t in the past week or two.
"The clear option has been to pick it up from southern gins and truck it north, and that southern seed is probably too expensive now." 
The prompt ex-gin cottonseed market is now at around $515-$525/t for northern sites, up $5-$10/t in the past week, and $460-$470/t ex southern NSW gins.
Many growers in northern NSW and southern Queensland are hoping to plant sorghum from late September onward, and Mr Broun said substantial rain would be needed between now and then to make that happen.
"Profiles at the moment are not going to be suitable for planting sorghum.
"They need 100 millimetres of rain to even think about planting sorghum."
Some of the drought feeders are happy to maybe pay a little bit more for the extra protein.
In southern NSW, wheat for prompt delivery to Riverina end-users is quoted at around $375/t, which is up $12-$15/t since early last week.
Pearsons Grain trader Reagan Stroud said the recent sale of Western Australian wheat to The Philippines appears to have supported prices in Victoria and southern NSW.
"The market's up over the past seven to 10 days, and I think we're seeing a few consumers are buying a bit more," Mr Stroud said.