RECORD shipments out of Brisbane, Gladstone and Mackay have helped Australia shift a record export surplus of chickpeas, and with new-crop in Central Queensland only weeks away from harvest, the pattern is likely to be repeated in 2017.
The emergence of Gladstone as a container port in recent years helped Central Queensland's chickpea industry achieve the freight task, and grab the premiums which the slow-to-mature crops in southern Queensland and northern New South Wales missed.
"Doing containers out of Gladstone is frightfully expensive, but the earlier harvest in the Central Highlands meant those chickpeas could get the premium for September-October," GrainTrend trader, Sanjiv Dubey, said.
"It normally costs $30 or $40 a tonne more to send containers out of Gladstone, and last year's price at $800/tonne made it worthwhile to pay that.
"Otherwise you can be better off sending them south by road to get them packed, and shipping them out of Brisbane."
GrainCorp Limited is the only container packer at or near the Port of Gladstone; the Auckland Point facility started operation in time to fumigate and pack chickpeas from the 2015 crop to supplement the company's bulk services.
"In addition to traditional bulk exports, GrainCorp currently packs chickpeas into containers at its port in Gladstone," a company spokesperson said.
"In our experience, it is more efficient to pack containers at port rather than shipping the empty containers upcountry to be packed.
"In saying that, we are currently exploring the possibility of featuring upcountry container packing at our new flagship site at Yamala, near Emerald.
"Our immediate focus, however, is on construction of the bulk grain and outload rail facilities; we aim to have a variety of options  available to our international customers which includes bulk and container services."
Bulk beats containers in north
Trade sources say the ability of shipping lines to offer competitive freight rates, and get empty boxes to packers, is seen as limiting the growth of Gladstone's boxed exports for now.
A Queensland-based trader said Swire Shipping was the only line servicing Gladstone for containers, and it would be "bits and pieces" out of Gladstone and possibly Townsville until the market reached a critical mass.
"Nothing will grow until there's real competition — more lines and bigger volume. Swire will argue they are calling for a smaller quantity, so they have to charge a higher rate than they would out of Brisbane."
Adding to the cost of shipping containers out of Gladstone has been the shortage of boxes.
"Sometimes the companies have to bring in empties from Melbourne or Sydney or Auckland or wherever.
"As long as there is bulk demand, bulk makes more sense."
In 2016/17, Gladstone Ports Corporation handled approximately 8000 containers, and anticipates this number will increase dramatically over the next 12 months.
"The Port of Gladstone has the capacity to facilitate an increase in containerised trade and is investigating the opportunities in this area," a spokesperson for the Gladstone Ports Corporation said.
Brisbane best bet
Limited container slots in Newcastle, and logistics difficulties in Sydney, have the trade interested in shipping out of Townsville and Gladstone if the numbers stack up, but Brisbane has remained Queensland's preferred port for shipment of containerised chickpeas."
"At times, container rates out of Gladstone have been as much as 50 per cent higher than those on offer out of Brisbane.
"At this point in time, I have no intention of doing containers out of Sydney; it's terribly problematic on a number of issues, with rail line closures, and shipping lines that sometimes can't get containers to you any more than 3-4 days before sailing.
"The chickpea market is highly volatile, and we don't need extra uncertainty. We'd rather send them out of Brisbane."
According to Port of Brisbane chief operating officer, Peter Keyte, its 2016/17 chickpea exports broke records, with 619,000t shipped in containers and 277,000t in bulk to total 896,000t.
"There are no further bulk shipments are planned until next season. However, we understand there are still some containers being exported," Mr Keyte said.
Mackay, Gladstone records
In 2016/17, the Port of Mackay shipped 110,000 tonnes of chickpeas.
The port's operator, North Queensland Bulk Ports Corporation, said this was a new high, up from around 85,000t in 2013/14.
In the 2016/17 year, cargoes of chickpea loaded at Mackay ranged in size from 10,000t to 35,000t, and current-crop shipments have now ended.
Mackay does not export containerised grain.
At Gladstone, total chickpea exports for 2016/17 totalled 140,914t, well ahead of the previous record of 91,450t shipped in 2012-13.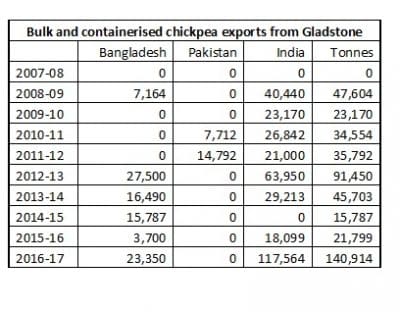 New-crop shipment of Central Queensland chickpeas is scheduled to start in October-November, with Mackay booked to load 100,000t in six cargoes over the period, and Gladstone to load 90,000t in four cargoes.
Other ports
Sydney's Port Botany shipped 512,000t of containerised chickpeas in 2016/17, and southern Australian ports also played their part in shifting the crop, with Melbourne shipping 33,000t, Adelaide 20,000t and Fremantle 3,000t.
Market softens
Mr Dubey said prices for current-crop and new-crop chickpeas have softened since mid July, as good monsoon rains have boosted prospects for India's new-crop which will hit the market in March, and on some sell-side pressure from Australian growers.
"Prices are back to $750 a tonne now, which is still a very good price; it's just not as good as what was around at this time last year."
Current-crop bulk exports end
Trade sources said Glencore, COFCO-Nidera, GrainCorp and GrainTrend have done the bulk of Australia's 25 or so cargoes of 2016/17 chickpeas, with Newcastle in NSW being the only port outside Queensland to bulk ship current-crop.
"We are still being offered from growers."
Australia's 2016/17 chickpea production has been estimated at around 2mt, a record brought about by large area and above-average yields.
Trade sources estimate around 200,00t has been retained for seed and domestic consumption, and 2016/17 exports are now winding up with containerised shipments out of Brisbane and Sydney.
Given a more modest yield outlook for the crop currently in the ground, the 2017/18 crop is forecast to yield around 1.5mt.