FOLLOWING a large monthly gain of 6.5 per cent in September, the National Australia Bank (NAB) Rural Commodities Index has continued to perform well month-on-month, rising a further 1.8pc in October.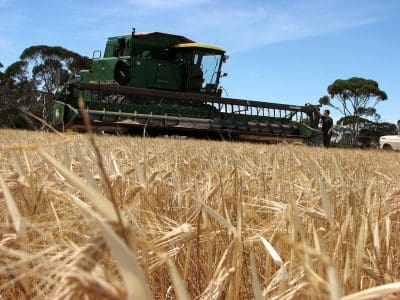 The latest index shows sugar and barley were key drivers of the increase, which was offset by weakening lamb and wool prices.
NAB Agribusiness economist, Phin Ziebell, said sugar had enjoyed a 24.1pc rise in October, while prolonged drought conditions, and associated domestic feed demand, had led to a 11.7pc rise in barley prices.
"Domestic feed prices are still extremely elevated compared to historic norms and global benchmarks. This is reflective of poor grain availability amid drought conditions, and below average 2018-19 winter crops," he said.
"Some recent rain caused grain price indicators to soften slightly, but things are far from normal. The NAB feed grain price index is up 7.2pc month on month, and a staggering 76.6pc year on year in October."
Lamb prices fell 9.0pc over the period, in what was the biggest monthly fall across all commodities in the index, and wool was also 5.0pc softer than last in September.
"Lamb prices have been on a rollercoaster recently. The National Trade Lamb Index peaked at an extraordinary 875 cents/kilogram in early September, before falling to 671c/kg in early October, rising to 783c/kg in late October and now sitting back at 678c/kg," Mr Ziebell said.
"Despite this, lamb prices remain very good for producers on the whole.
"The demand for wool has softened, and this saw the Eastern Market Indicator drop back to 1,776c/kg last week. We anticipate that this downward trend will continue if buyers keep holding out."
Despite dry conditions in much of the country, the Eastern Young Cattle Indicator (EYCI) remained resilient.
"The ongoing resilience of the EYCI is largely a result of strong demand for finished cattle, as opposed to any restocker demand, which is likely to be constrained by a dry weather outlook and high feed costs.
"Whether or not this demand is sustainable remains to be seen, and we will be watching US domestic market developments closely. Over the coming months, we anticipate that the EYCI will sit in the mid-400c/kg to low 500c/kg level."
State by state
On a state-by-state basis, Queensland was the best performer in October rising 3.3pc, followed closely by Western Australia at 2.9pc.
"Our Index showed that most regions gained on a monthly basis in October, although lower lamb and dairy prices did have an impact on Victoria, South Australia, Tasmania and western New South Wales.
"Global Dairy Trade Auctions continue to disappoint, and while the lower AUD has helped, it is difficult to see any major improvements in the short term."
Winter crops in the eastern states have had a very tough season, with October rain coming too late to many of the most drought affected regions.
"Despite a somewhat mixed spring, WA remains on track for an above average season. However, downgrades in NSW and Qld saw the wheat production forecast fall from 17.4 to 16.9 million tonnes," Mr Ziebell said.
Cotton prices remain strong, despite having fallen slightly this month. Crop production is expected to be a key challenge, due to a sharp reduction in available irrigation water and tough dryland growing conditions.
Dry outlook
The Bureau of Meteorology's outlook shows a 70pc chance of El Nino this year, and the dry three-month outlook is concerning given that water storage levels are already low.
"Murray Darling Basin storage levels have now dropped below 50 per cent, which is the lowest spring amount since 2015.
"If allocations are affected, then temporary prices will be high in coming months and growing conditions could become increasingly challenging."
The Australian dollar was trading slightly higher toward the end of October, and is forecast to trade between the USD 0.71 – 0.75 between now and the third quarter of 2019.
Source: NAB