INDIA's Minimum Support Price program (MSP) continues to purchase significant volumes of cotton amid expectations for record sales in 2020/21, according to the latest report from the United States Department of Agriculture (USDA).
As of February 1, the Cotton Corporation of India (CCI) had purchased the equivalent of 6.9 million bales (480 lbs.) of lint cotton from the 2020/21 crop.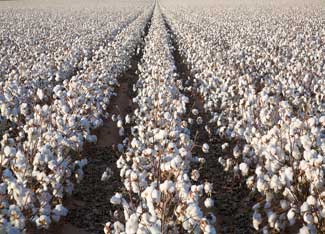 This represented about 40 per cent of the cotton sold to date by farmers and 25pc of the USDA production forecast.
MSP buying continues with no fixed end date.
In 2019/20, buying started in November and continued into July.  MSP purchases totalled roughly 9.8 million bales, about one‐third of the total crop.
MSP sales from the 2019 crop started in June and continue to date, with an estimated 550,000 bales of 2019 crop cotton still in MSP stocks.
Sales of 2020/21 crop started in January with 1.1 million bales sold by February 1.
The last time a significant portion of the harvest was bought—2014/15— about 30pc of the crop was procured under the MSP.
In the interim, MSP buying has been insignificant until 2019/20 and 2020/21.
In both 2014/15 and 2019/20, MSP operations removed large volumes of cotton from the market during the peak harvest season (see Figure 2).
Like the US Marketing Loan (ML) program, the effect of the MSP program is that it delays cotton from entering the commercial market, thus supporting prices while also providing cash to farmers.
In the ML program, US producers determine when the cotton is returned to the market, while the Indian government determines that timing under the MSP.
India operates MSP programs for over 20 commodities with MSP prices for all commodities set at 150pc of the estimated cost of production.
Each crop year, an MSP price is announced early in the season. The MSP for cotton is designed to support farm prices by buying seed cotton from farmers at a guaranteed price.
When the MSP is active, farmers are reluctant to sell to commercial gins below the MSP price which simply encourages gins to buy at or near the MSP price.
The MSP for medium staple cotton for the 2020 crop is 5,515, rupee/quintal.  MSP buying is done by various state‐owned entities; for cotton, it is primarily the Cotton Corporation of India (CCI).
Source: USDA