A CARGO carrying 16,500 tonnes of faba beans, as well as wheat, to Egypt will open the new-crop bulk shipment program for Australian pulses.
Due to load in Newcastle next week, it will mark the first bulk faba shipment from New South Wales since 2017. Shipments from southern ports are likely to follow suit from next month when the later crop comes in.
With a La Niña weather event in play, growers of faba beans and lentils, particularly in southern Australia, are fearful that rain will cause some downgrading problems and are forward selling only minimal tonnage prior to harvest.
Chickpeas
The chickpea harvest is drawing to a close in Queensland, but gathering pace in NSW as the harvest rolls south, with farmers reluctant sellers now that prices have dropped by more than $50 per tonne since last month.
Deacon Seeds general manager Mark Schmidt said the chickpea market had softened in recent weeks.
"It's come back because of a lack of demand out of Pakistan and Bangladesh, and because of harvest tonnage," Mr Schmidt said.
GrainTrend director Sanjiv Dubey said hopes were held for a reduction in India's chickpea tariff, but this had not eventuated.
"There was speculation, because of the tariff reduction on lentils, that there would be a reduction on chickpeas with the festival season coming up, but Pakistan and Bangladesh are the only markets now."
Yields in Central and southern Queensland and northern districts of NSW have generally been around 2-2.5 tonnes per hectare, which is roughly average, and much better than those of the past two or three drought-affected seasons.
Mostly isolated storms dumped some heavy falls on the crop, but downgrading appears to be minimal.
"Rain hasn't affected the chickpeas; so far so good."
Desi-type chickpeas have been trading at around $530-$550/t delivered up-country packer, down around $40-$50/t from mid-October levels.
Trade sources have told Grain Central that two part-cargoes of bulk chickpeas are due to load in Mackay, one in December and another in January.
The cargoes will probably be completed with hatches of lentils out of South Australia or Victoria before sailing for Bangladesh.
Faba beans
A technical squeeze has inflated the prices for faba beans in north-west NSW, where disease and rain at harvest affected yields and quality in some crops.
Agri-Oz Exports managing director Francois Darcas said this had caused some growers to wash out or replace contracts, and had some traders scrambling to fill orders for containerised fabas.
"Good quality faba beans are few and far between…and some poorer quality fabas are getting resold into piggeries and other domestic users," Mr Darcas said of the north-west NSW market.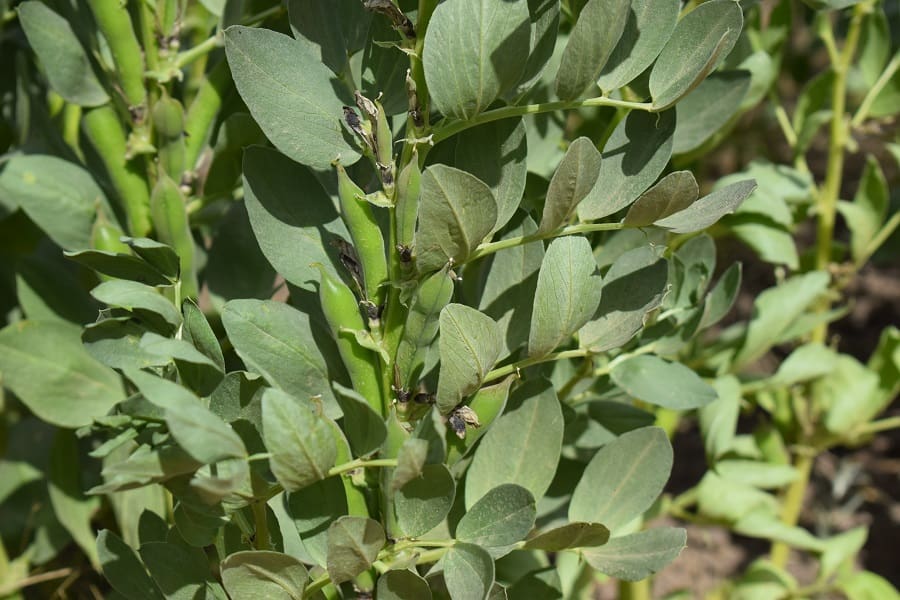 However, quality of fabas harvested in southern Queensland has been high, good news for the container market out of Brisbane.
Prices for faba beans delivered Melbourne and Adelaide are sitting at around $400-$410/t for early crops, and about $380/t delivered to Wimmera packers.
"Various people are working on the possibility of bulk shipments out of SA.
"Container shipping is such a headache at the moment; the differential between (bulk) freight and containers is growing."
Mr Darcas said congestion in some ports, particularly Sydney, and a contraction in space available on container vessels, were dampening exporter appetite for boxed business.
"The main issue is that worldwide, the movement of containers has slowed down post-COVID."
He said getting containers from Australia to Singapore was straightforward, but the second leg of the journey to Egypt as the world's biggest faba market was challenging.
"There are big problems shipping containers to Egypt."
The Baltic states, the United Kingdom and Australia are major supplies of faba beans to Egypt.
The UK and the Baltic states are shipping good-quality beans to Egypt at present.
Mr Darcas said the market for Australian beans into Egypt was at a slight premium to Baltic beans.
"Whether that stays there or shrinks depends on grower selling."
Prices for faba beans are well below levels seen in recent years, when the eastern Australian drought absorbed almost all of the small crops grown.
Mr Darcas said this, combined with concerns about late rain causing quality problems, was likely to make growers reluctant sellers.
"I think we'll see some storage by growers."
Lentils
India's tariff on lentils from major suppliers Australia and Canada dropped from 30 per cent to 10pc for the periods from early June to 31 August, and again from mid-September to 31 October.
Last month, India announced the reduced tariff would remain for product which arrived by 31 December.
"The market for lentils is very firm on the back of the tariff reduction, but there are hardly any sellers just now."
Crops in the Victorian Wimmera and South Australia's South East are generally running up to two weeks later than normal because of late growing-season rain.
Reasonable demand from markets like Bangladesh, Nepal, Pakistan and Sri Lanka as well as India is supporting prices, and accumulation for bulk export appears to be taking place for December shipments ex South Australia.
"The lentil market has been more active than fabas," Mr Darcas said.
Traders are paying up to $720-$730/t port for December-delivery lentils, which goes against the trend by being stronger than the market for lentils delivered up-country packer.
"It's a two-speed market."
Mungbeans
The Queensland delivered Darling Downs market for new-crop mungbeans for March-May delivery is steady at around $1300/t for No. 1 grade, $1200/t for processing and $1100/t for manufacturing.
Provided forecast rain was to fall in coming weeks in northern NSW and southern Queensland, planting of the crop will start next month and finish late January, while the CQ crop planting window would be January-February.
"China is buying forward for March, April and May delivery.
"It's really encouraging from a mungbean perspective."
Mr Schmidt said stubble from the big winter crop now being harvested would provide an ideal environment for new-crop mungbeans.
"Mungbeans love the stubble, as they use moisture in the top 60 centimetres of soil, so that protection it offers will certainly help the crop."
A small percentage of Australia's annual mungbean production is grown in the Burdekin district over spring.
This early crop is now in the final stages of harvest, and is being exported in containers from the Port of Townsville at prices to growers of $1450/t for No. 1 grade, $1350/t for processing and $1200/t for manufacturing.
Australian Choice Exports managing director James Hunt said most of the spring crop was making processing grade.
"Anything not used for seed is going to China, and a bit is going to Vietnam and Indonesia."
These three markets, as well as Thailand, are also showing interest in new-crop mungbeans.
Grain Central: Get our free cropping news straight to your inbox – Click here