WIDESPREAD rain has slowed harvest deliveries for Western Australia's major bulk handler CBH Group, which still managed to receive 881,900 tonnes of grain in the week to Friday to take total intake for the harvest to date to almost 2 million tonnes.
Rain followed an increase in the pace of harvest deliveries in the last days of October before rain slowed receivals at many sites.
CBH Group chief operations officer Ben Macnamara said patchy rain forecast to fall into this week was likely to cause further interruptions.
"Wet weather has been creating challenging conditions for growers, many of whom were just starting to ramp up their harvest programs," Mr Macnamara said.
"Last year we experienced a relatively dry, uninterrupted harvest which allowed us to receive the Western Australian crop in a short amount of time.
"This year, we've already seen two rain events halt activity.
"Further interruptions are likely which will continue to impact the pace of harvest deliveries."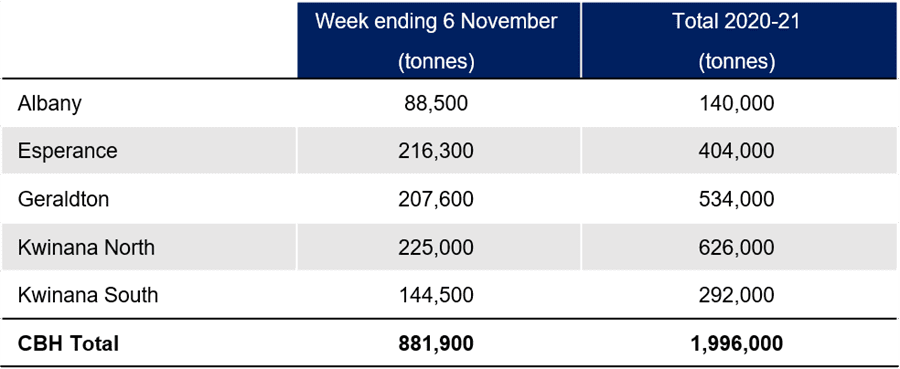 Markets ease
Australian wheat prices softened over last week by approximately A$15 per tonne, with grower prices finishing the week close to $335/t free in store (FIS) Kwinana.
There remains some interest from international markets as South-east Asia looks to cover its January-March 2021 requirements. Australian wheat is calculating well into the market, and is looking to displace a significant proportion of Black Sea wheat, particularly up to June.
Concerns over demand from Indonesia as Australia's largest milling-wheat market are likely to see Indonesian flour millers purchase hand to mouth during 2021 as they seek to understand the impact of the recession -on demand.
Feed barley prices continue to fluctuate, and last week sat between $265-275/t  FIS Kwinana.
Uncertainty about the timing of the next Saudi Arabian tender combined with expectations of a larger Australian crop has the market watching closer for the next available demand.
Grower selling has eased off from previous weeks as growers hold on to barley and look to sell other commodities with higher potential value.
Zone-by-zone:
Geraldton
The Geraldton Zone was heavily affected by last weekend's rainfall, with few receivals since then.
Canola and barley are making up the bulk of receivals prior to the rain delay, and some quality issues appeared as a result of high screenings in areas that had minimal rainfall during the growing season.
Harvest rainfall may bring some quality into question, and more rain forecast into this week will continue to hamper the speed of deliveries.
Kwinana North
Widespread falls of 10-40 millimetres fell across the zone last Monday and Tuesday and stopped harvest, but some growers had resumed deliveries by late last week.
Barley is making up the majority of receivals, and high screens have pushed most out of the malting and into the feed category.
The small amount of wheat received has been of mixed quality.
Most Kwinana North sites should open this week, and storms over parts of the zone since Saturday will slow deliveries from some growers.
Kwinana South
Widespread rain across the zone over the weekend slowed receivals significantly earlier in the week, however they have since picked up.
Most deliveries in Kwinana South have been barley, and harvest is expected to ramp up over the next two weeks.
As of Friday, 17 of the 26 Kwinana South sites were open for receivals, with remaining sites will likely open in the next 10 days.
Albany
Rain throughout the zone stopped harvest early in the week, but most growers were going again by Friday.
Some high screenings has been seen in malting barley varieties, and this has pushed some loads into into feed segregations.
The bulk of receivals in the Albany zone have been barley, with some canola and a small amount of oats and wheat.
Esperance
Rain across the zone last Monday significantly slowed deliveries after a run of high receivals in the days prior, and rain may impact deliveries again this week.
All sites in the zone are now open and have been receiving good tonnages, mostly made up of barley and canola.
Delivery of wheat in small amounts has started.
Source: CBH Group
Grain Central: Get our free cropping news straight to your inbox – Click here