WHAT's coming next in ag tech?
A wealth of insights were shared at Toowoomba's Empire Theatre yesterday where ag tech innovators, investors, entrepreneurs, service providers and regulators from around Australia gathered for the second annual 400M Ag Tech conference organised by Food Leaders Australia.
The palpable energy of an industry in the midst of an accelerating growth phase was highlighted by the full-house attendance and the proliferation of new ag tech brands on display, many of which did not exist just 12 months ago.
A highlight was a "Shark Tank" style forum that gave 11 ag tech innovators the opportunity to pitch their products to an expert panel of judges for feedback, and in the process, to try to hook an investor from the audience.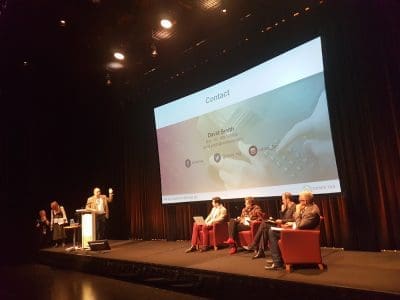 Australia has historically captured a very low proportion of global ag tech investment, but forums like 400M and SproutX were improving the opportunity for Australia to become a powerhouse for innovation on the world stage, Telstra's Agribusiness Industry Development Executive Lavina Muscat said.
"There is no doubt that the innovation opportunity for Australian ag tech is humongous," she said. "There is no end of problems to be solved in the agribusiness industry."
However, as the conference heard many times, poor connectivity in rural Australia remains the key hurdle preventing the full potential of ag tech innovation to be fulfilled, as further highlighted below.
For those who couldn't make it, here are 10 key messages shared at yesterday's forum:  
"It is moving so damn fast"
That was one speaker's off the cuff take on how rapidly technology is changing global agriculture. Speakers noted that it took 75 years for the telephone to reach 100 million users, Facebook less than five years, and Pokemon Go less than a month. Concepts that were a novelty two years ago are now either commonplace applications or digitally extinct. If you're hearing about trends from taxi drivers, chances are the needle has already moved and you're late to the party. AgData's Brendan Skerman summed it up succinctly: "Failure to innovate means death in this market space".
But connectivity is still the showstopper in Australia: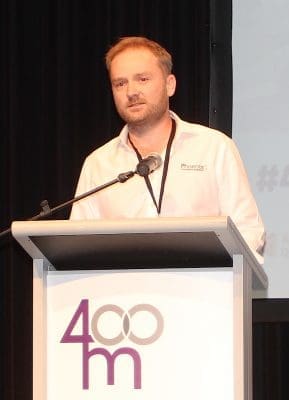 So poor was one farmer's internet connectivity issues near St George that he recently had to spend a five figure sum to build a 50 metre on-farm tower so he could place at the top an $80 Optus connection. That story, relayed by AgData's Brendan Skerman, highlighted the key recurring theme of the conference – as powerful as Ag Tech solutions may be, for many farmers, they are simply out of reach due to low data limits and unreliable internet standards. AgData has pioneered the ag technology space, providing IT-based farm management solutions for farmers since the mid 1980s, and cloud based services in the mid-1990s (that's right, these guys were doing the cloud 20 years ago!). Mr Skerman estimated that 50pc of his company's large farming client base still lacked reliable internet connectivity. "It is holding back a lot of technology that we wish to put out into the market place. It is a major problem that we in the ag space have to suffer through that is not an issue for our city cousins." Asked what Telstra could do to help solve the problem, Lavina Muscat said the telecommunications industry had to do more collectively to improve connectivity. She said the ACCC's recent decision not to declare wholesale mobile roaming was a positive step that would "absolutely continue to generate investment from the comms industry."
"Innovation is a team sport"
Collaboration between innovators and industry is essential to unlocking the potential of ag technology, Queensland's director general of Strategy and Innovation, Paul Martyn, told the conference. In Queensland the State Government has created a precinct in Brisbane's Fortitude Valley for start ups to engage and collaborate, and is supporting regional innovation with $500,000 funding to each of 12 Qld regions to foster start up growth and connectivity with industry. He also announced yesterday that the Qld Government is now calling for applications for 10 Qld ag tech startups to join an ag tech innovation tour to Israel in August. "I can't emphasise enough how important collaboration is", he said. "There are a lot of things happening and we need to bring together and we need to encourage collaboration. Innovation is a team sport."
Plants replacing animals
Bad news for beef producers, good news for wheat and other plant crops? Plant-based beef burgers could soon have a much bigger impact on global beef consumption than many may be aware, leading Ag Tech investor Andrew Kelly from BioPacific Partners told the conference. Impossible Foods' 'bleeding' vegetarian beef burger is now selling at restaurants and burger chains in the United States. Mr Kelly predicts it won't be long before legions of millennials (those born in the 1980s and 1990s) who are concerned about stories of beef's impact on the environment make the switch. (See more in separate article)
Precision Ag 'still hot, but shifting'
Precision ag was hot last year, was hot two years ago, and will be hot next year, Andrew Kelly says. However, it is changing in a very important way, as the focus moves from the platform level to specific applications that will be fundamental to empowering data-based in agriculture. Precision ag is now moving into more pragmatic, solutions-delivery, application-by-application businesses, such as specific precision ag applications for orchards, for beef production, for cereal cropping etc. This has implications for global ag tech investors, as "the big picture shifts into a smaller picture", and the amount of investment required by companies becomes smaller than the bigger initial players needed two or thee years ago.
Drones have shifted, UTVs are next
Two years ago drones were an exciting emerging technology with questions focused on the broader platform level such as the size they could be built, how strong they could be, how they could be controlled beyond the horizon etc. Now drones have shifted into specific finely-tuned applications, with drone companies now proliferating on "a need by need basis". Much of the focus until now has been on Unmanned Aerial Vehicles, but the emerging focus will now be on Unmanned Terrestrial Vehicles, such as automated tractors. "UTVs are probably at a stage where drones were two years ago ie 'how can we do it efficiently, what are the real needs here', and I think that is an exciting area," Mr Kelly said. 
Alternative plant uses
Revolutions in genetic plant breeding mean plants such as Safflowers can now produce much higher yields of oils that can be used to make industrial lubricants. This potentially disrupting technology is coming fast and has positive implications for crop-producing regions. "As we start to get plants to do sexier things I think they still will need to be grown in the ground, they will still need to be harvested, they still will need very savvy and intelligent farmers who are willing to be a bit entrepreneurial and so I do think that alternative uses for plants is a very good area." 
Gene editing will the real disruptor
Gene editing stands to become "the real disruptor", Mr Kelly told the 400M conference. Gene editing involves the ability to switch on and switch off genes in a very targeted fashion in basically anything living, plants or animals. Not so long ago gene editing required hundreds of millions of dollars and long-term laboratory work. Suddenly there are now broadly available gene editing tools that provide the power to do things that have never been done before. These tools are elegant, sophisticated, accurate, very cheap and very easy, Mr Kelly said. The gene marker for polled cattle has been one early example of its use. Can it overcome consumer concerns about genetic engineering? Mr Kelly believes it can, because it starts and finishes with the genome of the target. "It starts and finishes with just the wheat genes or the cow genes, and you have just switched some on and some off. Of course it still gets consumer concerns, but it is a step down it the level of concern." It was still early to foresee what the flow-on effects of this technology will be, but more companies are now likely to quickly start emerging with new applications for gene editing in many different plants or animals. "This will be be a hot trend, those companies will all be grabbed by the investment community and they will probably spike in value and they will do very well for a period, until the gloss comes off and then they will go down like all investment trends do."
Mega mergers will affect us all
In the past 18 months in agriculture a fascinating number of mega mergers have occurred at the same time, including Bayer-Monsanto, Dow-Dupont and ChemChina-Syngenta. These mergers have knock on effects that will affect us all, Mr Kelly said. "One of the effects is that they will have to divest lots of stuff when they do these mergers, so there will be whole big assets coming on the market that weren't there before. There will be all sorts of knock on effects, this is another disrupting force in the middle of our industry."
Know your competitive position
If you are an innovator seeking to hook an investor, Andrew Kelly has one tip above all before you pitch: Know your competitive position. "It is all too easy to get excited by one's technology, by one's company, by one's innovation and think this is great – but you have always got to know what else is along side you that is great. Not just competing technology but a second solution to the same problem that you are solving. I do find sadly that too many people, particularly dare I say earlier down the academic chain, I can say that because I was one, will get so excited by their technology, they will get blinkered to see their obvious competitor. A pitch that can stand up and say this is what I can do and it is better than that competitor, and it is faster, cheaper, whatever than the other, that is what I want to hear in a pitch."
Don't forget the investment basics
Despite the rapid pace of change, Mr Kelly's final message was that "the truths of investment are still the truths of investment". Those fundamental truths are: Think ahead; Watch the herd ('watch what the rest of the herd is doing, and maybe don't do it'); and, the old truism, buy low, and sell high. "The idea is to always make sure that when you are investing that you do it carefully."