THERE is an urgent need to build capacity and 'deal flow' if innovative start-up businesses in the Australian agricultural sector are to have any chance of becoming successful companies, according to SproutX and Agri Innovation general manager at Findex, Sam Trethewey.
Speaking at the 400M AgTech Investment Conference in Toowoomba, Qld, last week, Mr Trethewey said Australia lagged well behind other developed nations when it came to attracting and securing investment for agricultural innovations.
"Everyone points to capital. They will tell you there is not enough capital in the sector. You commonly hear across Australian agriculture that 'we need more money'. But there are billions of dollars trying to get into Australian agriculture and billions of dollars trying to get into ag tech. What is lacking is the 'deal flow'," he said.
Mr Trethewey said on the agriculture front, one of the reasons investment was being held back was that farmers were using taxation accounting to minimise their profits.
"But who wants to invest in a business that doesn't make profit?" he said.
And in the ag tech space, he said there just wasn't enough knowledge, capability and 'deal flow' to attract investors.
"I daresay that we are one of the worst commercialised developed nations in the world. We rank 33 out of 33 in the OECD for commercialisation, yet we rank number 11 in the world for spend on R&D,' he said.
"Roughly $1.4 billion a year in ag goes into R&D. Wouldn't it be lovely if we could have a $1 return on that investment, but we are just not seeing it.
"We have a shortage of venture capital which is not due to the fact there aren't any investors, there is just not enough 'deal flow'. We are not commercialising our technology.
"I point the finger at the CSIRO and our universities that are not incentivised by rural commercialisation. Unfortunately, we are not getting stuff to market."
Mr Trethewey said Australia hardly rated when it came to per capita investment in venture capital.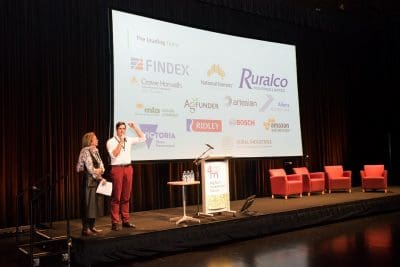 "In 2015, there were $68 per person that went into early-stage ag tech venture capital, which is generally pre-revenue, in Israel. It was $7/person in the US, but you have 330 million people so that is about $2.2 billion. Canada $5/person, UK $1.90/person," he said.
"Australia doesn't even get a blip on the map. $4.5 million in 2015 (spread) over deals of $23 million. So, not enough activity. It is not all the capital's fault, we have a lack of 'deal flow'."
Mr Trethewey said there was a critical lack of early stage venture capital for ag tech in Australia.
"There is no-one in Australia who is investing in high risk, early stage businesses. A lot of Australian venture capitalists will come in when you are at Series A (the first round of financing once seed capital has been provided), but you need capital up front to build your business until you start picking up revenue," he said.
"This is why there is a lack of ag tech innovation in Australia or early stage start-ups.
"I have a list of investors who will come along and invest in your business when you have revenue. But when you don't have revenue there is a massive drought."
Mr Trethewey said the solution was to build capability and knowledge among start-ups in Australia.
"The reason we need to build knowledge and capability is that the value proposition that an Aussie ag tech start-up presents to the global venture capital market doesn't even come close to the value proposition that a start-up from Israel or Silicon Valley presents to that same venture capitalist," he said.
"That is because they understand what a pitch is, what they need to get across and the time they need to get it across in. They understand all the things an investor is looking for in a scalable investment opportunity."
Mr Trethewey said start-ups in Australian agriculture also needed to attract different people from outside the industry.
"We are great navel-gazers in Australian agriculture. But if you look at how other industries are disrupted they are generally disrupted from other sectors and other innovations coming in from other areas," he said.