AUSTRALIA'S trade relationship with India is moving forward, despite this key market for Australian pulses being temporarily closed due to internal market controls.
That was the message from Federal Minister for Trade, Steve Ciobo, in his opening address to the two-day Australian Grains Industry Conference (AGIC) 2018, which kicked off this morning in Melbourne.
Under the banner of AGIC's title, 'The Dragon, The Eagle, The Bear…The Kangaroo?', the conference program is providing a forum into Australia's grain-based relationship with emerging and established trading partners, including India.
Mr Ciobo said a Free Trade Agreement with India would only be possible if it delivered bilateral gains.
"Until we're able to get a substantial improvement offer from India, it's going to be difficult to negotiate in a meaningful way," he said.
"They're at the table. We're having discussions.
"I haven't given up on any measure in the bilateral deal."
He said an independent report on how to build relationships between Australia and India out to 2035, and the establishment of the Australia-India Food Partnership, were driving the progress.
Mr Ciobo told the 800 delegates from around Australia and international visitors the grains industry was a key part of Australia's success as a great trading nation.
Also in AGIC's opening proceedings, outgoing Grain Trade Australia chairman (GTA) Peter Reading announced GTA director and Grain Link WA managing director Andrew Goyder as his successor.
Watch the conference streaming live online here.  Conference sessions will be available to download later.  Go to the conference website, then to the AGIC Australia tab, and then to the presentations tab to watch the Youtube of each session later in the day.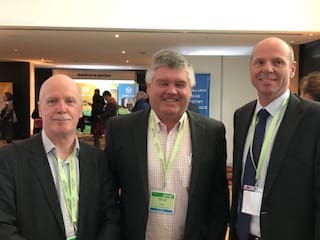 National Working Party on Grain Protection chair Gerard McMullen of McMullen Consulting, Melbourne, Rimfire Resources managing director, Mick Hay, Brisbane, and Grains Research and Development Corporation chairman, John Woods, Boggabilla.
Grain Central: Get our free daily cropping news straight to your inbox – Click here