WHILE agriculture appears to be one of the sectors least affected by COVID-19, it is not immune, and Grain Trade Australia (GTA) last week addressed some of the impacts via a webinar, connecting with around 70 of its members online.
Forum moderator GTA chief executive officer Pat O'Shannassy was joined remotely by three industry specialist practitioners in food and beverage business, financial/restructuring advice and employment law.
With a raft of support mechanisms on offer through finance and government channels in response to COVID-19, the take-home message from the webinar was about communicating actively and in depth to keep businesses solvent amid the realities of shutdowns caused by the pandemic.
Change to insolvency rules
Last week, in response to COVID-19, Australia's laws around insolvency have been relaxed.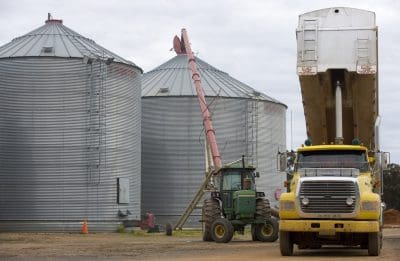 The first relaxation affects a creditor's ability to pursue a claim through a statutory demand.
"Ordinarily a period of 21 days would need to expire before an insolvency event would be created, and for a creditor to put a company into liquidation for non-payment of a debt," Grant Thornton restructuring advisory partner John McInerny said.
"That's been extended out to six months.
"The other is relaxation around the insolvent trading regime."
The regime prior to the COVID-19 changes was that if a company was unable to pay its debts as and when debts were due and payable, the company would be insolvent and any debt incurred after that insolvency date would be a personal liability of a director.
The relief in relation to a claim around insolvent trading has been extended to a period of six months.
"In times like this we are very much looking at ways to protect companies such that they come through the other side," he said.
Explore restructures/talk with staff
Mr McInerny urged businesses to seek advice early.
"In times like this we are very much looking at ways to protect companies such that they come through the other side."
Holman Fenwick Williams special counsel Stephen Schoninger, on the same theme said: "Think laterally, talk to your people, and if there's a practical solution that works on both sides, do it. It's going to save the job and the business at the end of the day."
Mr Schoninger said companies should think carefully before they made decisions around employees, and get a handle on relevant obligations and options in relation to their workers.
He told the webinar that strict laws and a range of issues were coming into play with regard to employees as the impact of COVID-19 unfolded.
In respect of health and safety, he directed participants to the Department of Health hotline for employers.
He also outlined sources of workplace rights and discussed different obligations and entitlements parties have when, for example, a government imposes quarantine on people as compared with quarantine directed by an employer.
He raised concerns about much publicised, and potentially problematic, standing down of workforces at worksite.
Mr Schoninger warned employers not to act unilaterally, but to consult with employees.
"There are going to be lots of practical solutions that you can negotiate with your employees to keep them in work and to preserve business when times are tough over the coming months."
Not business as usual
Three months ago the volume of activity in agribusiness was mergers and acquisitions, Australia ranking world number 5 over 5 years, but that's all changed with the emergence of the global pandemic, according to Grant Thornton national head of food and beverage and agribusiness Tony Pititto who presented the webinar with a short summary of business conditions prevailing in Australia's food and beverage sector.
"M&A activity has halted to zero.
In the midst of that slowdown in global companies' interest in our businesses through merger and acquisition, our producers are seeing strong demand for Australia's food and agriproducts.
"Especially in the areas of dairy, proteins and horticulture the demand is significant and is expected to continue.
"The international demand has however halted, but for the most part Australian producers are still in very strong positions."
Some difficulty in sourcing raw materials in grains in certain sectors reliant on product from overseas may present opportunities to Australian growers to supply.
Can manufacturers continue to produce?
"Those issues will be around workforce availability, and should their plants be infected, and what contingency plans they have in place to limit exposure to infection.
"Currently we are not seeing any of that, but it is likely that workforces will be impacted.
"The other thing we will need to watch is the financial position of producers and manufacturers.  This position will be dependent on their customers, how strong their customers are and whether they are going to be able to keep up the cash flow.
"It's all about cash flow and making sure that cash flow does exist in the business.
"From an industry point of view its really making sure that you are keeping close to your customers, understanding what your customer's position is because that is going to be the key in terms of being able to continue to supply."
……………..
In addition to universal access to updates published on its website, GTA has scheduled further webinars on COVID-19 impacts and issues for 1 April at 11am AEDT and 8 April.
If you would like to recommend a topic for discussion please contact GTA [email protected] or (02) 9235 2155.
Members can access the recording of the first webinar and the slides presented by the speakers.
You will need to register to attend subsequent webinars.
GTA functions to ensure the efficient facilitation of commercial activities across the grain supply chain, and its members include grain traders, brokers and handlers.
Grain Central: Get our free daily cropping news straight to your inbox – Click here