GROWER representative body, GrainGrowers, has called for a national code that will enable the safe movement of agricultural workers for the forthcoming harvest in an era of COVID-19 border restrictions.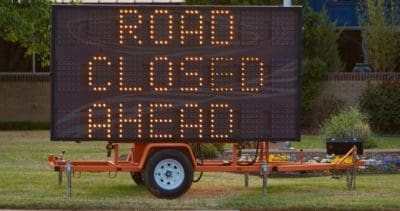 GrainGrowers chairman, Brett Hosking, said 'hard' border closures put in place by the Queensland, New South Wales, and South Australian governments (see Grain Central story) presented significant impacts for growers who were looking at one of the best seasons in several years.
He said there were examples of growers who had been denied travel permits that restricted their ability to travel from one property to another, with the postcodes used to determine permit eligibility being described as a "blunt instrument".
"Like our fellow Australians, we understand that extra vigilance around COVID-19 is essential. As an industry, the grains sector has been very proactive about the threat of COVID-19 and have been putting measures in place to manage the risk and to keep our families and communities as safe as possible," Mr Hosking said.
"With harvest fast approaching many growers rely on grain harvest professionals to support them with ensuring the crop is harvested in a timely fashion.  This ranges from professional harvesters, transport providers, specialist maintenance workers and many other experienced workers.  We are asking for a coordinated agricultural worker strategy for cross border travel to ensure our growers have the support they need to produce safe and nutritious grain."
"Our farms are the perfect setting for social distancing! The lead into harvest is time sensitive and delays in accessing specialist equipment and experienced, professional harvest contractors can have devastating consequences."
NSW-Victoria ag permit
The New South Wales Government yesterday announced changes to the existing NSW-Victoria border arrangements.
The revised permit system will give farmers and critical agricultural workers who reside outside the Border Region Zone in Victoria a new way to enter NSW and move outside the border 'bubble' for work.
Under the changes, individuals will be able to access a new Highly Specialised Critical Services (Agriculture) Permit if they:
provide a highly specialised critical agricultural service
are moving and working anywhere within 100 kilometres of the NSW/Victorian border, on the NSW side
comply with strict conditions if staying overnight
adhere to other safety requirements, including self-isolating when not delivering the critical service.
Exemptions for individuals needing to move beyond the 100km limit for work will be considered on a case-by-case basis. The new permits are available via the Service NSW website.
VFF welcomes border change
The Victorian Farmers Federation (VFF) welcomed the announcement of the farmer permit to ensure the movement of people and products into parts of NSW.
"We don't just farm for our respective states, we farm for Australia. We needed a common-sense approach so that we can continue to do our job which is to feed the nation," VFF president David Jochinke said.
Mr Jochinke said the VFF was aware that permit applications to travel further than 100km into NSW would be assessed on a case-by-case basis and the organisation would monitor the impact of that condition on the farming community.
"As worried as we were about the issues on the NSW border, we are now as equally concerned with the border in South Australia which is unworkable," he said.
"The South Australian Government should immediately look at what's been introduced on the NSW border and adopt the same approach.
"The VFF will continue to discuss the border closure with both the Victorian and Federal Agriculture Ministers to seek a solution as we anticipate farmers will encounter the same issues we had in NSW."
"At the end of the day, it's about feeding the nation and we can't have farmers being choked by red tape."
NSW-Qld border system extension
NSW Farmers welcomed the new agriculture permit system for the NSW-Victoria border zone, but called for it to be extended to the NSW-Queensland border where a similar, postcode-based border 'bubble' is in place.
"We strongly encourage the Queensland Government to follow the NSW leadership as we all seek to operate in COVID Safe workplaces," NSW Farmers president, James Jackson, said.
"With a bumper grain harvest looming in northern NSW, similar steps must be made urgently to allow the movement of workers, contractors and machinery across the Queensland border.
"We will continue to work with the Minister for Agriculture and the Department of Primary Industries to support them in pushing for an agriculture permit system to reduce any impact on an all-important grain harvest."
The Queensland Government yesterday moved to expand the border 'bubble' to include the North Star, Croppa Creek, Deepwater and Emmaville districts of northern NSW and additional districts in Queensland, including St George, Thallon and Bollon.
Sources: GrainGrowers, VFF, NSW Farmers
Grain Central: Get our free daily cropping news straight to your inbox – Click here