FARMERS were among the thousands of Australians fleeced of millions of dollars by sophisticated scams last year, according to the Australian Competition and Consumer Commission's (ACCC) latest report into scam activity released today.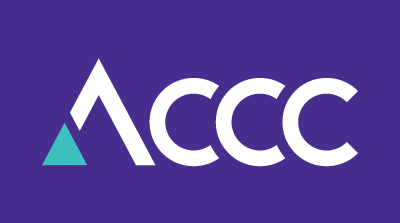 In particular, the ACCC's Scamwatch website received 334 complaints about a new scam type involving tractors and heavy machinery, with $1.1 million in reported losses.
These scams arose during the COVID-19 pandemic and involved fake online listings for farm equipment, such as tractors, bulldozers, backhoes, diggers and other agricultural machinery, at prices well below the average market rate.
Heavy machinery scams predominantly targeted farmers who were looking for a good deal on equipment.
In many of the instances, the scammers used COVID-19 as an excuse to convince small business owners to pay up-front for these items without physically seeing them.
In one case study highlighted in the report, scammers had a very impressive website offering cheap tractors that proved too good to be true.
"The website is even written eloquently but when a farmer contacts them, the replies (supposedly from the sales manager) are in terrible English.
"They are claiming due to COVID-19 you cannot visit them or inspect the tractors, but they will deliver for free in 14 days with a free return policy. It all starts to become very fishy and when you image search their profile photos (taken from the About Us page) you realise it is all a scam."
Scammers exploit crises
The ACCC study 'Targeting scams: report of the ACCC on scam activity 2020' says scam losses and reports of scams in Australia last year climbed during the bushfires and COVID-19 pandemic.
It found Australians lost over $850 million to scams and made 444,164 scam reports in total to Scamwatch, ReportCyber, other government agencies, banks and payment platforms in 2020.
Based on this combined data, the scams causing the most financial harm to Australians in 2020 were:
$328 million lost to investment scams
$131 million lost to romance scams
$128 million lost to business email compromise (payment redirection scams).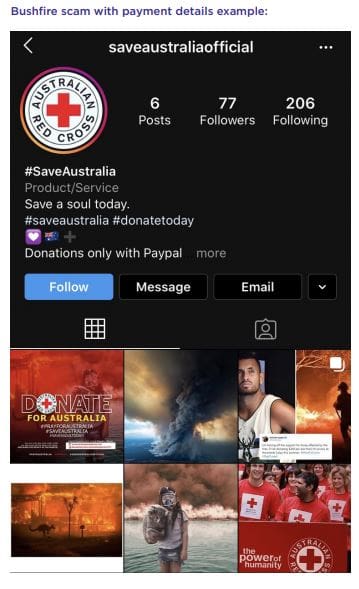 The report said scammers were quick to take advantage of crises. Scammers set up fake charity scams in response to the bushfires and took advantage of pandemic related incentive schemes available in Australia.
Levels of phishing activity increased to unprecedented levels as scammers sought personal information from Australian consumers and businesses to fraudulently access government programs.
The top three categories of reports to Scamwatch were phishing, threats to life, arrest or other (threat-based scams) and identity theft.
Reports in these categories often involved the impersonation of government agencies to obtain personal information or demand money.
Phishing activity thrived during the pandemic. Over 44,000 reports were received, representing a 75 per cent increase.
Reports of threat-based scams, which typically involve scammers threatening victims with arrest, deportation, legal action or excessive 'fees' unless money they claim is owed is paid, increased by 140pc to just over 32,000 reports.
There was a corresponding 178pc increase in losses to these scams of $11.8 million.
Similarly, identity theft reports increased by 84pc to over 20,000 reports. A number of government taskforces and law enforcement noted the increase in crimes aimed at stealing personal information and connected this to conduct aimed at fraudulently accessing COVID-19 related initiatives such as early access to superannuation.
In 2020, 25pc of all scam reports involved the loss of personal information, up from 16pc in 2019.
Loss of personal information was even higher among Indigenous consumers, where 36pc of all scam reports involved the loss of personal information.
The increasing value of personal information at a time when face to face transactions were not possible was a significant driver of scam activity in 2020.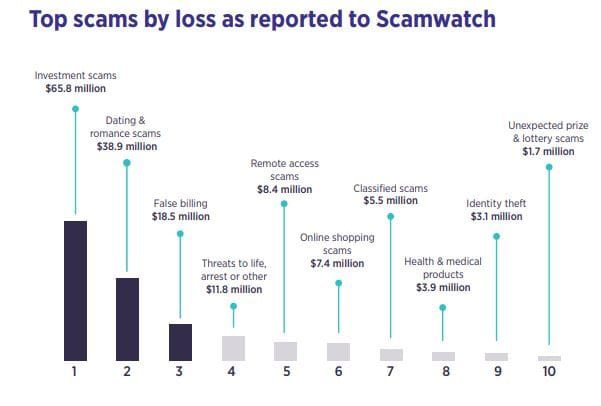 New forms of scams
ACCC deputy chair Delia Rickard said it was hard to predict the new ways scams would evolve over the coming years.
"However, there are some prevailing trends that will likely become more prominent in the near future," she said.
"It is very common for scammers to utilise current events and crises to make their scam appear more legitimate.
"We saw this in 2020 where scammers first used the bushfire emergency and then the COVID-19 pandemic as a basis for new scams, including fake charity, puppy scams, phishing and superannuation scams.
"We expect that the COVID-19 pandemic will continue to be exploited by scammers, specifically as vaccines are distributed throughout 2021."
For example, scams relating to vaccinations may be:
buying and selling scams claiming to offer the vaccine in exchange for money
phishing scams that appear to be for vaccine registration or application
health based scams that involve selling products that scammers claim to be vaccines.
Ms Rickard said the growing trend of scammers claiming to be from the government was likely to continue.
"New forms of government impersonation scams may also occur, such as emails or text messages containing malware links that may hold threats if an attachment or link is not actioned, similar to the threat-based scam phone calls that occurred in 2020."
Source: ACCC
See full report: 'Targeting scams: report of the ACCC on scam activity 2020'
Anyone who has been scammed or who believes they have spotted a scam are encouraged to report it to Scamwatch.
Grain Central: Get our free cropping news straight to your inbox – Click here