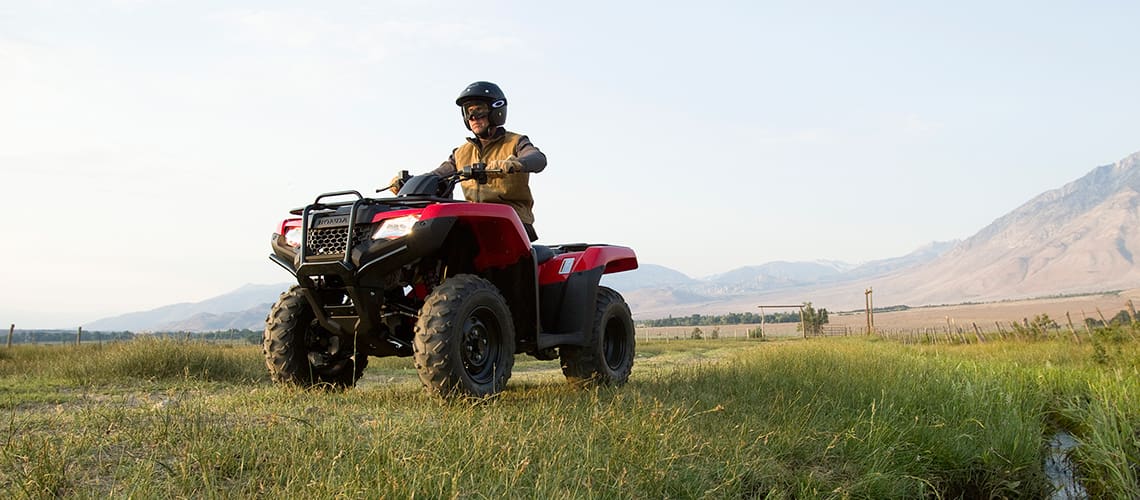 HONDA has become the latest manufacturer to announce it will withdraw from the Australian quad bike (ATV) market on October 10 next year, claiming it can't meet the new standards applied by the Australian Government in October 2019.
The new safety standards require that by October this year all new quad bikes display a warning label alerting riders to the risk of rollover, and that by October next year all new quad bikes must be fitted with an operator protection device (OPD) at the point of sale.
The regulations followed the recommendations of a report into quad bike safety by the Australian Competition and Consumers Commission (ACCC) and were supported by numerous health and safety entities and farmer groups, including the National Rural Health Alliance and the National Farmers Federation (NFF).
But they were opposed by a number of ATV manufacturers who argued that rollover protection devices would not improve safety and the focus should be on better operator training.
Honda's move follows earlier announcements this year by Polaris that it will withdraw ATVs from the Australian market in October this year prior to stage one regulations coming into force, and Yamaha that it will not sell ATVs after the October 2021 deadline.
NFF standing firm
National Farmers Federation (NFF) chief executive officer, Tony Mahar, said it was disappointing that established manufacturers would rather leave the Australian market than adhere to new safety standards for quad bikes "that will without a doubt save lives".
However, he said the decision was up to the manufacturers.
"The new safety standard requirements are not an attack on manufacturers, they are everything about saving lives. The fact is that many people are killed each year in quad bike accidents and we simply can't stand by and let that happen," he said.
"There is no doubt these multinationals have done well out of Australian farmers for many years. Despite this, they aren't prepared to wear the extra cost of adding OPDs to all new quad bikes, in the interests of saving farmers' lives. They also oppose the new safety standard that requires all new quad bikes to display a warning label alerting riders to the risk of roll over by September this year.
"To be blunt – it's shameful. There are about 15 deaths per year attributed to quad bikes, and over 650 hospitalisations. An estimated six people per day attend emergency departments due to quad bike accidents. While the personal cost is unquantifiable, the cost to the national economy is estimated at $208.1 million per year."
Mr Mahar said farmers would still be able to purchase quad bikes from other manufacturers.
"The demand for quad bikes isn't going away and other manufacturers will no doubt fill the demand left behind by those departing the market," he said.
"We've had positive discussions with other established manufacturers who tell us they are committed to the Australian market and to make the changes necessary as of September 2021."
Mr Mahar said like all changes, there had been differing views.
"The NFF's support for operator protection devices is based on the best available science and medical advice. Our priority is protecting the lives of farmers, farm workers and other quad bike riders. Operator protection devices have been proven to do just that," he said.
"The new regulation only applies to new bikes – there is no requirement for farmers to retrofit OPDs to their existing bikes. Although for enhanced safety, it is recommended.
"Honda made a similar threat when Israel introduced mandatory OPDs and while they ceased selling quads in their franchisees they remained available through private retailers."
Honda
Honda Australia Motorcycle and Power Equipment managing director, Robert Toscano, said the company had decided to exit the ATV market because the regulations could not be entirely met by any ATV on the market today, and were unlikely to be met by anything in the future.
"The new standard is extremely disappointing for farm safety and the countless farmers who rely on quad bikes every day. The safety of our customers is paramount, we will never compromise on this. Now that the rules have changed, it means we have to say goodbye to our ATV line up Down Under," he said.
"Safety standards must be evidence-based, in both criteria and testing methods, to internationally accepted standards. Honda has provided research to show the negative outcomes of the governments' proposal but unfortunately it was not considered and we are here in this position today."
Mr Toscano said Honda would continue to support ATV parts and servicing for at least the next decade, and would continue to offer its range of purpose built SXS (side by sides) and ag bikes.
Polaris
In announcing in February its decision to vacate the quad market, Polaris said it had the capability to comply with the testing and labelling requirements, but deemed the process of complying to be unviable considering the rapidly reducing size of the ATV market.
Polaris had actively opposed the fitment of OPDs, citing the lack of reliable evidence to support the safety claims made of such devices, and research indicating the devices would likely cause as many injuries as they prevented.
The company said it would now focus on the 30 models of side by side vehicles (SSV) it already offered on the Australian market.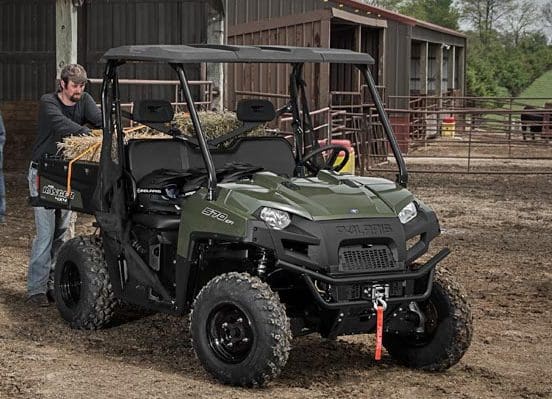 "Over recent years the Australian off-road vehicle market has experienced record levels of transference as farmers transition en masse from quad bikes to side by side vehicles," Polaris Australia and New Zealand managing director, Alan Collins, said.
"Polaris has led this transition with its industry-leading range of 30 vehicles with ROPS, and the market shift has been helped along in no small part by the safety rebates offered by SafeWork NSW and WorkSafe Victoria.
"Considering the vast contraction of the quad bike market over the past five years as customers flock to side by side vehicles with properly engineered ROPS and factory integrated safety technologies, Polaris maintains its view that the market itself would end up signalling the end for quad bikes over coming years anyway through sheer lack of demand driven by the availability, benefits and range of side by side vehicles.
"Polaris has publicly stated numerous times that we believed within 24 months the quad bike market would be minimal at best, as the market shift away from ATVs (quad bikes) and towards side by side products was in full force long before any government mandates or safety standards were enacted – obviously this shift will now accelerate even further over the coming two years as the Consumer Goods (Quad Bikes) Safety Standard 2019 takes effect."
The Federal Chamber of Automotive Industries (FCAI) reported that the ATV/SSV segment contracted in its overall share of the total motorcycle market last year from 20.6pc in 2018 to 20.1pc in 2019, showing a segment decline of 8.5pc for the year.
However, FCAI first quarter figures for this year show the ATV/SSV segment had an overall increase in sales of 8pc over the corresponding quarter last year.
Polaris topped the segment with a 27.9pc share, followed by Honda with 21.6pc and Yamaha with 19.6pc.
Yamaha
Yamaha said while its customers would not be able to purchase a new Yamaha ATV in Australia after October 2021, its sport and youth models would continue to be available.
"This is because new sport and fun ATVs do not need to be fitted with OPDs. In addition, side-by-side vehicles are not affected by this ruling, so Yamaha will support our utility ATV dealers and ease the transition from ATV to ag bike and SSV business," Yamaha director Brad Ryan said.
Grain Central: Get our free daily cropping news straight to your inbox – Click here