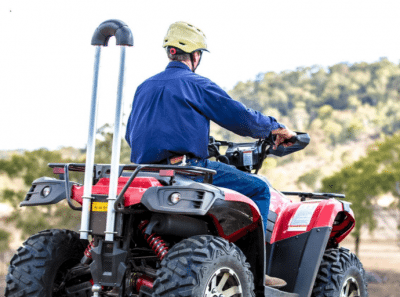 Does the answer to increasing quad bike safety lie in lifting design standards or improving rider education?
Strong support appears to exist for both approaches in public submissions for an Australian Consumer and Competition Commission investigation into quad bike safety.
More than 50 submissions have been lodged from farmers, workplace safety consultants, quad bike manufacturers and dealers, industry associations and Government and workplace health and safety bodies.
The ACCC inquiry is looking specifically at whether Australia should mandate specific design requirements and construction of quad bikes, including features that reduce the risk for children riding quad bikes designed for adults.
It is also looking into whether a safety rating system and the testing of quad bike models before they are sold in Australia, and mandating safety warning information consumers would receive when buying a new quad bike.
Of the submissions so far, about 80pc are in favour of mandatory design changes.
But many also support improved rider training, point of sale material at sale, and the development of a five star safety rating system.
Concerns have also been expressed that the ACCC inquiry could lead to prescriptive, overbearing rules that threaten the future of a useful tool on Australian farms.
Several submitters said it is clear injuries and fatalities are caused by the riders, not the bikes.
"I have been riding Quad Bikes for over 25 years without injury and am sick and tired of this issue being revisited on a weekly basis because someone expects manufacturers to "Idiot Proof" Quads," one states.
"Quad bikes are actually very safe if they are used in a responsible way in accordance with the purpose for which they are intended," another wrote.
"If people haven't done property training don't sell them a bike," was one version of a repeated refrain. "Mandating of ROPs (rollover protection devices) and CPDs (crush prevention devices) are no more appropriate on quads as they would be on horses."
In many cases the comprehensive safety warnings currently required on point of sale labels disregarded by users, some said.
"Evidence at recent Australian coronial inquests indicated most ATV (quad bike) riders who were injured or died did not comply with at least one visible warning label or instruction, one manufacturer wrote. "More vehicle warnings would be pointless unless users comply with them."
The Australasian Off Road Vehicle Association (AORVA) said it "entirely rejected" the focus on the manufactured product: "The very few deaths that result in and around farming sector use (not recreation) are clearly more related to the highly unregulated workplace environment, the hazardous working environment and the prevailing farm safety culture of safety complacency – not vehicle design, and not recreation."
But a large number of submissions say design issues are clearly part of the problem.
The National Farmers Federation said the promotion of safe user behaviour such as the wearing of helmets and active riding practices alone was not enough.
"In the agricultural workplace obstacles can be hidden in the grass so that it is impossible to anticipate the need to shift body weight in time to prevent a roll over. Design improvements to increase the stability of the quad bike in this circumstance would be more effective in reducing the risk of injury or death. "
One farmer wrote of her own life threatening experience: "Mustering sheep on my property and luckily I was on my little 125cc Yamaha rather than the 250cc I usually ride, driving steadily, when, a large rock jacked my left hand back tyre rolling the bike straight over on top of me. I was trapped under the weight of the bike with the motor still going. I had to crawl out one limb at a time but I was very lucky that I was on the little bike because it was smaller and lighter. If I had been on the big bike I would have been crushed. Also I did not have time to save myself or stop the bike from rolling on top of me."
Another said mandatory Rollover Protection Systems must be introduced. "No amount of training or rider experience can eliminate a roll-over event, particularly when the quad is being used whilst doing a job. The job is occupying the operator's concentration and it becomes easy to see how the rock/hole etc. wasn't seen. Quad bikes needs ROPS and compulsory helmets."
Transport and Road Safety NSW said a survey of 1546 workplace riders revealed that one in every two quad bike riders will experience a crash, and of those crashes, 70pc will involve a rollover.
"Changes to design in regards to rollover propensity will most likely reduce the risk," the TARS submission said. "An inherent deficiency in quad bike design is the lack of crashworthiness protection for the rider in a rollover crash."
A commonly visited issue was children riding large quad bikes not designed for them.
A range of submissions expressed concern that newer models are getting more powerful and dangerous:
"I am a farmer and ambulance officer who has experienced safety issues first hand, and assisted riders with devastating injuries from ATV incidents at remote locations. My opinion is that ATVs are under designed for safety, overdesigned for appeal, easily accessible for purchase, and fall outside of licensing regulations, and so are not often licensed or maintained appropriately."
Another said each successive new model is "getting more powerful, yet lighter in weight. This, combined with independent suspension, means that the newer models are far easier to both roll when turning or flip when going up an embankment."
One submitter called for a clear distinction between bikes for racing or fun and bikes for agricultural work. "The newer models are a dangerous hybrid" they said.
What design changes have been proposed? Submissions contain a wide range of design suggestions for ACCC to consider.
These include mandating standards to ensure a low centre of gravity, wider wheel bases, stability alarms, driving assistance systems. Rollover Protection Devices (ROPS) or Crush Protection Devices (CPDs), prohibiting locked only rear differential, mandating a child lockout ignition system, requiring smaller seat sizes to stop passengers being carried on vehicles not intended to, improving thumb throttle design to prevent inadvertent sudden acceleration, limiting engine size and including speed limiters, reducing foot peg and footrest width, installing air bags on handlebars, limiting the size of sprayers allowed on quads, and required a universal crush protection device mount to be included on all new quads.
Other ideas proposed included systems that prevent use of bike without a helmet being detected in close proximity, mandatory training for people who buy quad bikes, and banning children from riding quad bikes.
Some argued that many of the proposed design changes could inadvertently lead to more injuries. Rollover Protection Devices could make it difficult for a rider to eject from the machine when it does roll. One wrote: "I have also heard of an incident of the rider forgetting about the ROPs sticking up behind them & ducking under a low tree branch, which clipped the ROPS & caused the bike to flip.
A safety rating system could lull purchasers into a false sense of security, warned one submission.
The Motor Traders Association of Australia warned that any introduction substantial quad bike design standards for Australian conditions could lead to manufacturers exiting the Australian market.
"This is likely to result in increased numbers of uncertified and potentially unsafe and parallel imported quad bikes being sold through non- accredited dealer networks and other non-regulated markets (i.e. on-line sales and auction houses). It is also likely to result in users not being provided with the appropriate safety information and / or training to operate quad bikes safely."
The ACCC will be making a Draft Recommendation to government early this year, with a Final Recommendation to be made mid-2018.
The Issues Paper and information on the consultation process is on the ACCC website.