A CONFRONTING WorkSafe campaign in Victoria is highlighting that farm deaths and life-changing injuries can happen to anyone who doesn't prioritise safety.
The six-week advertising campaign launches this week across regional television, print, radio, digital and social media channels.
The campaign's key message – "It's never you, until it is" – aims to challenge a common mindset among farmers and agriculture workers that a serious incident won't happen to them.
Emotional story telling targets owner-operator farmers, their workers and families, to bring home the cost of not taking a safety-first approach.
Agriculture remains one of the most dangerous industries with 24 people dying in Victorian farm workplaces over the past three years. Accidents happen on Victorian farms every day. On average, one in four of those injured on farms take longer than six months to return to work
Last year alone, 424 people working in agriculture, or about eight people every week, were injured seriously enough to make a worker's compensation claim.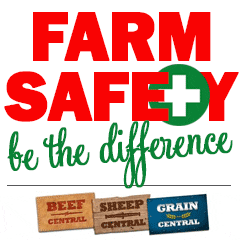 Make safety a priority
Among the stories is that of Simon Craig who spent many years as a consulting agronomist, but when he was presented with the opportunity to work at his parents-in-law's 7100-hectare broadacre grain and sheep farm at Kooloonong he took the opportunity to put his knowledge into practice.
A top priority for Mr Craig was reviewing the farm's safety, an ongoing process he continues to take pride in.
His time as an agronomist provided him with a solid background of farm safety knowledge, and a passion to create a positive environment for workers.
When he took over operations on the farm in January 2016, the first thing he did to address safety on-farm was to adopt systems management software and engage with staff about what improvements were needed in their eyes.
As a consultant before, Mr Craig truly understands the benefit of seeking expert advice. He approached the Victorian Farmers Federation and also had interactions with WorkSafe to help identify risks and areas to focus on.
He is conscious of the fact that improving safety is a constant process and while his farm is still on its safety journey, his dedication to the safety of workers is his highest priority.
The example he sets to his team fosters a culture that encourages workers to speak up about safety; every Monday morning they sit down and discuss any issues as a group, including machinery maintenance to follow-up.
Mr Craig's tractor is the largest available in Australia, and being safe working around machinery has always been a focus for him. By allocating staff to maintenance on a quiet day, they keep the tractor in good working order and can be more efficient in the paddock the rest of the time
While Mr Craig is thankful he has never had a serious incident on farm, he does recall how small fires and tractor collisions have been opportunities to reassess safety on farm and adjust his approach.
Safety front of mind
WorkSafe executive director of health and safety Julie Nielsen said the farm safety campaign would show that experience alone does not prevent workplace incidents on farms.
"Farmers know their land and machinery like the back of their hand, but that doesn't make you bulletproof," she said.
"It might be easy to think that a tragic incident will never happen on your farm, but if safety is not your top priority then the chances are high that it will.
"Farmers owe it to themselves, their families, their workers and communities to always keep safety front of mind and make it a permanent part of their daily life."
The campaign is part of a wider push to shift attitudes around farm safety under WorkSafe's Agriculture Strategy 2020-23.
The strategy sets out how WorkSafe will engage with industry to drive cultural change and encourage a mindset that farm workplace deaths and injuries are preventable, not inevitable.
It focuses on high-risk hazards such as machinery, livestock and chemicals and will collaborate with industry to improve the safety of vulnerable employees, including migrant and seasonal workers.
Source: WorkSafe Victoria