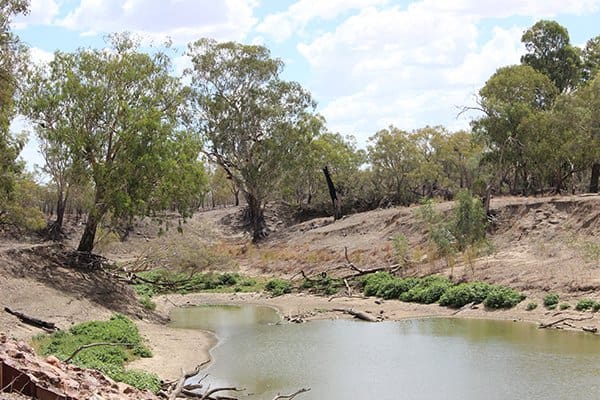 THE SEVERITY of the New South Wales drought has been confirmed by the issuing this week of zero general water allocations for inland irrigators in regulated river systems.
The NSW water year started on Monday, and WaterNSW said water sources subject to temporary restrictions for carry-over water included the Upper and Lower Namoi, NSW Border Rivers, Lachlan and Macquarie, and current water restriction in the Lower Darling have been extended and amended.
NSW Department of Planning, Industry and Environment water drought co-ordinator Michael Wrathall said the worsening drought has seen record low inflows to several inland NSW river valleys.
"Over the past two years, many rivers have dropped to their lowest flows since records began over 100 years ago," he said.
"In some valleys, especially in the Northern Basin, the water is simply not there to deliver to farmers, irrigators and industry.
"This has been caused by persistently low inland rainfall, particularly over the winter months, combined with high temperatures which have dried out the landscape."
Mr Wrathall said most storages remained at low or critically low levels, resulting in small or zero allocations for many licensed water users.
"We are focusing on extending water for critical human water needs, restarting flow in the rivers, and meeting other high priority water needs where possible."
This has prompted a number of inland river valleys to now be subject to temporary water restrictions.
"The good news in the south is that all high-security and remaining general security-account water in the Murrumbidgee and NSW Murray rivers are assured."
Total storage levels for WaterNSW-operated dams in regional NSW are about 5300 gigalitres, which equates to 30 per cent of total storage capacity, about 23pc lower than this time last year.
"Despite the announcement of water allocations, the actual delivery of water will, in most instances, depend on future tributary flows or dam inflows, and water orders may need to be rescheduled in the absence of this water."
Mr Wrathall has advised water users to check delivery constraints prior to ordering water.
"The decision to implement water restrictions on carry over is a last resort, but the only way that remaining supplies can be protected for critical needs.
As surface water resources have dwindled, Mr Wrathall said water users have been depending on ground or bore water, and some of these entitlements have also been cut for the 2019-20 water year.
"Groundwater allocations in some systems have been reduced for the 2019-20 water year to protect against unsustainable extraction."
"Over the past three months, we have been working hard to make sure communities, farmers, councils, mines and other businesses in drought-affected valleys are aware of how the drought will impact water allocations this year.
General-security water in NSW is used primarily to irrigate summer crops including cotton, maize and rice, winter cereals, pasture and fodder crops, and cotton plantings in spring are expected to be well below average due to reduced water availability.
Source: WaterNSW