DIFFERENT age groups and the factors most likely to put them in danger are in the spotlight in Farmsafe Australia's National Farm Safety Week which kicked off on Sunday.
Children are the first field of focus for the campaign, which drives home the message about the importance of adopting more effective risk-management practices to protect the next generation of farmers.
Around 15 per cent of fatalities on farms are children aged under 15, and 56pc of those occurred when there was no active supervision by an adult.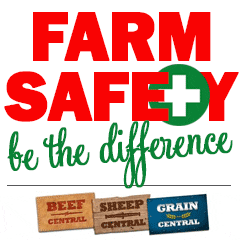 Farmsafe Australia executive officer Stevi Howdle said children were natural learners who mirrored the examples set by their role models, which made it essential to always adopt safe and responsible farming practices.
"There is no doubt that our children love to be involved in the everyday work on a family farm, and it is a wonderful opportunity for personal learning, and growth," Ms Howdle said.
"What our farming communities must do better is construct a safer and less risky environment that supports this growth through active supervision by a responsible adult, and age-appropriate activities."
Ms Howdle said farm safety was about better childhood education that explained to children why they were unable to participate in certain activities or be situated in specific areas of the farm.
"By setting clear and consistent boundaries, such as safe play areas, 'no-go zones' and instilling a 'safety always' culture, farming families can immediately improve the environmental safety at every stage of growth without dampening the enjoyment of a rich farming lifestyle.
"We need to allow kids to be kids on farm, while ensuring they're as safe as possible; it's a real balance."
Over 50s account for 50pc
This year's campaign highlights the key safety risks that are most prevalent throughout the life of a farmer, aligning with the theme: Farm Safety Through The Ages – From 2-92.
In the past decade, farmers aged 50 years and up accounted for 50pc of all Australian farming fatalities. while those aged 15-29 averaged 12.1pc of fatalities.
Ms Howdle said rural communities needed to draw the generations of farmers closer together in a process of mentorship that ensured all practices were safer for everybody.
"Our next generation of farmers are energetic, eager to learn and excited to 'do the doing'. This is something we should celebrate. But with this excitement also comes responsibility, and as current leaders of Australian agriculture, our role is to take the time to teach our people safe ways to get any job done."
"We should encourage them to ask questions more frequently, guide them in a way that builds professional confidence and a repertoire of diverse experiences, all while ensuring they feel comfortable to request assistance.
"We are role models to this high learning age group, especially when it comes to acceptable workplace culture, and instilling safety in every aspect of farming life will almost guarantee success in the future," said Ms Howdle.
Mental health included
Farmsafe Australia's five areas of focus this week are:
Children On Farm – Aged From 2 – 18 Years
Young Workers – Aged From 19 – 30 Years
Physical Health – Aged From 31 – 55 Years
Mental Health – Aged From 31 – 55 Years
Ageing On Farm – Aged 55+
Farmsafe Australia is a national not-for-profit entity advocating for farmers.
It aims to connect state farming organisations, peak commodity bodies, influential advocacy bodies and other groups that share a common interest in agricultural health and safety.
NSW Farmers president James Jackson said farming has come ahead in leaps and bounds in terms of safety, but there were was still room for improvement.
"Farm Safety Week is an opportunity to start a conversation on the less-discussed aspects of farming, such as physical and mental health, safety and well-being," Mr Jackson said.
"Farming is a rewarding but potentially dangerous occupation, and the more we talk about the risks and dangers, the better."
"The farm experience will be different between age groups, so it's handy to look at farm safety through an intergenerational lens."
"Growing up on farms can provide great learning opportunities for kids, but it can also expose them to some risks, and it's saddening to know one in five fatalities on farm are children under the age of 15."
"Half of all Australian farming fatalities are actually in the 50 and over age category, despite the relative experience of these farmers."
"For many, farm work is a 24-hours-a-day seven-days-a-week occupation that has no clock-off.
"Farm Safety Week is all about raising awareness of risk factors associated with this sort of lifestyle, as well as reinforcing tried and true messaging about machine and equipment safety," Mr Jackson concluded.
Its initiatives are based upon the philosophy that the primary responsibility for farm safety rests with individual farmers, farm workers, and their families.
Prime 31 to 55-year-olds need to set the standard, slow down
This generation relentlessly drives for productivity and efficiency, yet frequently positions mental and physical well-being towards the end of the priority list, as farmers focus on the jobs that 'just need to get done.'
The average Australian farmer is aged 52. They are working longer days, failing to get enough sleep and can have up to four jobs on the go at any one time. Tragically, this scenario has contributed to 131 life-threatening injuries and 58 fatalities on Australian farms in 2020.
Farmsafe Australia says fatigue and labour-heavy work make for a high-risk combination, and all farmers must recognise when these factors are at play. It recommends farmers commit to regular check-ups with General Practitioners, exercise more frequently, search for ways to eat healthy and prioritise a greater balance between work and lifestyle commitments.
"We…must take the opportunity to slow down occasionally, looking after our own well-being", Farmsafe Australia chair Charles Armstrong said.
Generational change, beginning with defining yourselves as role models, is a priority for 31 to 55-year old farmers who have an essential role to play in influencing both older and younger generations.
"By being careless or cutting corners, we risk neglecting our own mental and physical health and can set a poor example for the next generation. Ultimately, it is up to us all to look after ourselves and each other," Mr Armstrong said.
Source: Farmsafe, NSW Farmers
For more information on farm safety practices and to access the Safer Farms 2021 Report, visit: www.farmsafe.org.au