FOR the first time since 2010, a new pathotype of the wheat stripe rust pathogen, Puccinia striiformis f. sp. tritici, has been detected in Australia, according to the latest Cereal Rust Report from the University of Sydney's Plant Breeding Institute.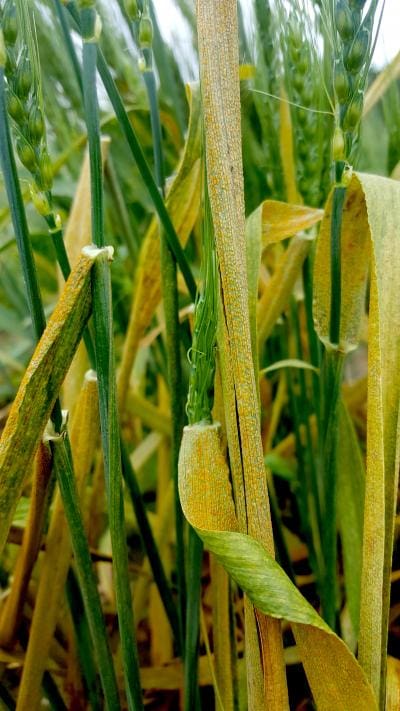 Pathotype 239 E237 A- 17+ 33+ was detected in samples from Horsham and Normanville in Victoria in late 2017.
The report says the first sample was from Normanville (Mallee) from a crop of Grenade CL Plus. The second sample was from a variety of Avocet near isogenic lines (NILs) and a breeder's line from Horsham (Wimmera).
All samples contained a mixture of pathotypes.
The new pathotype is virulent on the resistance genes: Yr1, Yr2, Yr3, Yr4, Yr6, Yr7, Yr9, Yr17, Yr25, Yr32, Yr33, YrND, YrS92/O, YrSP.
This pathotype is the first record of virulence in Australia to the resistance gene, Yr33.
Field results from the Horsham stripe rust nursery indicate that the new pathotype is also virulent on at least one adult plant resistance gene in addition to Yr33.
Implications for the southern and eastern grain regions
The current stripe rust resistance ratings for most varieties in variety guides are based on the commonly occurring wheat stripe rust pathotype 134 E16 A+ 17+ 27+. Most varieties that are susceptible to that pathotype will also be susceptible to the new pathotype.
Compared to the current consensus ratings, the main varieties to monitor for stripe rust include Coolah, LRPB Flanker, Axe, B53, Buchanan, Cobalt, EGA Gregory, Forrest, Gauntlet, Grenade CL Plus, Mitch, Steel, Trojan, Viking, and Zen.
Source: University of Sydney
………………
Stripe rust found on any variety should be submitted to PBI for pathotype analysis.
Rusted plant samples can be mailed in paper envelopes – do not use plastic wrapping or plastic lined packages.
If possible, include the latitude and longitude of the sample location.
Direct samples to:
University of Sydney
Australian Rust Survey
Reply Paid 88076
Narellan, NSW, 2567
Grain Central: Get our free daily cropping news straight to your inbox – Click here