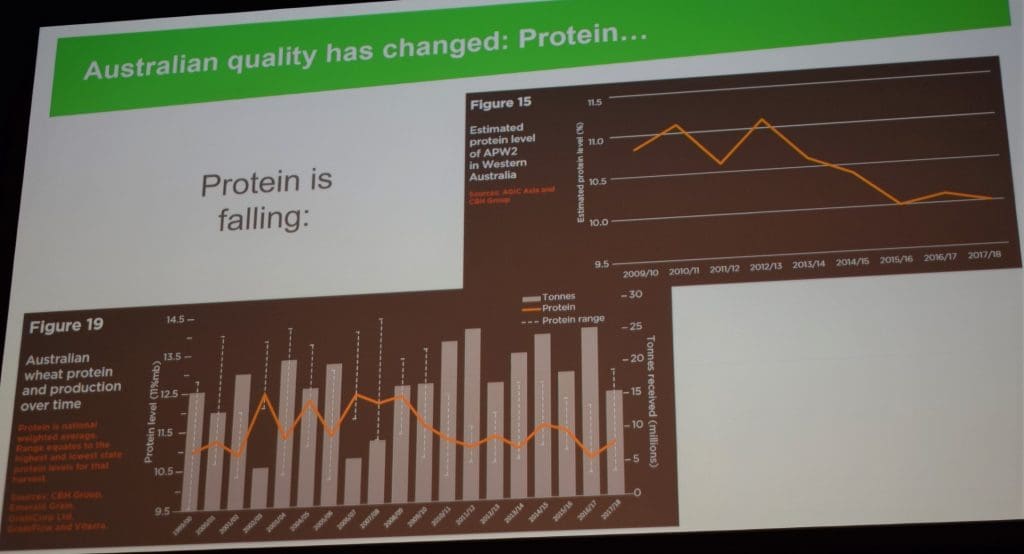 CONCERNS that Australia's wheat quality levels have slipped over the past 10 years came under scrutiny in a comprehensive review commissioned by GrainGrowers to better understand what is happening and what should be done about it.
Released in December, the report, 'Gains in Grains; Is Australia producing the most profitable quality of wheat?', reviewed quality trends and analysed what drove them, including multi-origin procurement among overseas grain buyers and the proliferation of companies trading and exporting Australian wheat.
It outlines the opportunities industry should take, including leveraging potential genetic gains for breeders, refinement of trading standards and improved collaboration on the promotion of Australia's wheat quality.
Speaking at the Grains Research and Development Corporation Grains Research Update in Perth, GrainGrowers general manager policy and research, Luke Mathews, said wheat was Australia's largest commercial crop and the quality of that crop determined the profitability for growers.
"Australia has a reputation as a provider and supplier of very high quality wheat that meets a wide range of consumer demands," he said.
"However, Australian wheat quality has definitely changed over the past decade. Average protein levels have declined. And some of the measurements of cleanliness have deteriorated.
"We have seen dockage levels, which is a measure of foreign material and other material in wheat, gradually edge higher. As well, starch quality has fallen."
So, does it all matter? Mr Mathews said Australian wheat was still relatively well sought after, but growers only received a very small reward for quality.
"If buyers are saying they want better quality wheat, start paying for it. If buyers are saying they are willing to pay for it but the price incentives aren't being transferred back to the grower, then we have some issues within the supply chain we need to look at. Are the right market signals being transferred from the buyer all the way back to the grower?," he said.
Mr Mathews said GrainGrowers and its research partner consulted extensively across the supply chain for the report and came up with key recommendations that offered an opportunity for the sector to rethink and reshape for ongoing success.
"In Australia we don't have a co-ordinated streamlined system for reviewing and making long term decisions on better quality. There are opportunities for us to rethink how we do that," he said.
"In addition, when we think about the feedgrain market, why are breeders not hitting high-yielding feedgrain varieties for us? The simple reason is breeders may not be incentivised to because of the way the system works. Do we have the right system in Australia to capture EPRs (end point royalties) in the feedgrain market? If a breeder is not going to get paid for it they are not going to do it.
"We also need to look at how the classification system works. Are we too rigid in the classification system today by having to meet new hurdles, are we potentially constraining the genetic gain in yields and other elements? A review of the classification system would be welcome.
"We also need to think about introducing new tests for cleanliness.
"Looking at the interaction between protein payments, protein scales and blending, we should consider introducing a minimum protein requirement for ASW which we don't have at present."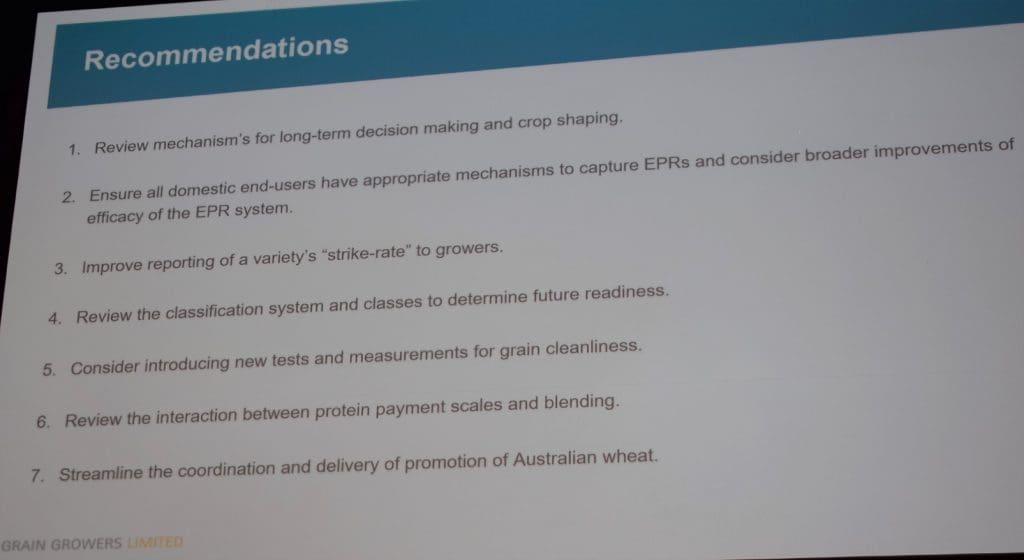 Full report: https://www.graingrowers.com.au/gains-in-grains-is-australia-producing-the-most-profitable-quality-of-wheat/
Grain Central: Get our free daily cropping news straight to your inbox – Click here