GRAIN is flowing into sites in all four of CBH Group's zones as the Western Australian harvest gathers pace, with deliveries to Friday totalling 1.1 million tonnes (Mt).
In its first Harvest Report for 2020-21, CBH said most of its sites across the grainbelt were expected to open by the end of this week.
Chief operations officer Ben Macnamara said it had been a relatively early but slow start to harvest, with receivals picking up significantly last week.
"We've started to see the pace of deliveries increase over the past few days, with about 900,000t delivered throughout this week," Mr Macnamara said in the report released on Friday.
"All commodities are now in the system, with more than half of our receivals made up of barley.
"While harvest is still in its early stages, grower feedback has indicated yields are faring slightly better than expected.
"Grain quality will become clearer over the next few weeks."
Markets firm
WA's wheat harvest started in earnest last week, with buying interest remaining relatively firm and prices for APW in the range of AU$350-$360 per tonne free in store (FIS) Kwinana.
Rainfall has raised quality concerns for eastern Australia, with harvest delays likely. This has seen quality spreads extend as the market begins to discount the lower-quality grades in anticipation for additional supplies of feed wheat.
International buyers are awaiting the Australian harvest and looking for harvest pressure as Australia heads towards a 30Mt wheat crop.
On feed barley, prices increasing last week by $5/t to $276/t FIS Kwinana.
Feed barley is the most competitive feed option when compared to wheat, and has been attracting interest from a number of new markets.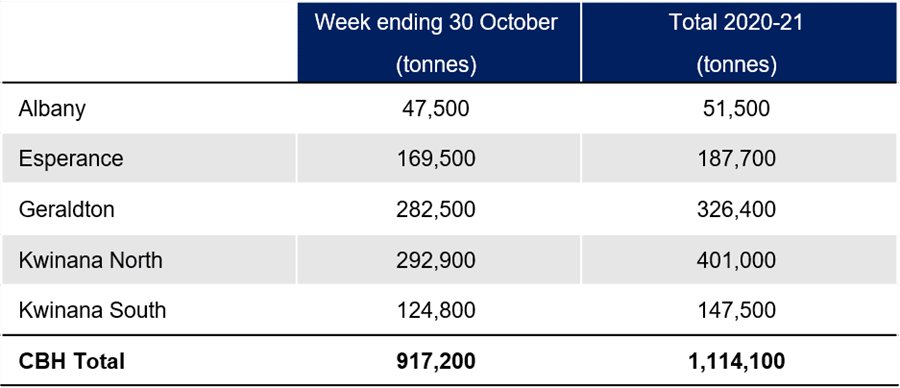 Following is a summary of activity by zone:
Geraldton
The Geraldton Zone received the CBH network's first load of grain for the season on 7 October with 50t of canola delivered to Moonyoonooka.
Geraldton Terminal, Mingenew, Carnamah and Moonyoonooka have taken most of the deliveries to date, with wheat followed by barley making up the largest portion of tonnes received.
Deliveries picked up last week following a slow start to harvest, with the unusual trend of canola being delivered first, followed by barley and wheat.
Lupins are being delivered when weather permits.
With all four grades being delivered at the same time, some cycle times are being impacted at larger sites.
Kwinana North
Harvest started in the zone with a load of canola delivered at McLevie on 12 October, and most sites within the Kwinana North Zone have now opened.
Deliveries have been mainly canola and barley, with a small amount of wheat delivered last week.
Wheat and canola quality has been good so far, while most barley has been graded feed due to high screenings and low protein.
McLevie, Kalannie, Konnongorring, Koorda and Merredin have taken in most of the deliveries, with the harvest ban across much of the zone last Monday slowing deliveries.
Kwinana South
Harvest deliveries kicked off in the zone on 12 October with a load of good-quality canola at Kellerberrin.
Deliveries have slowly ramped up, with the eastern part of the zone accounting for most receivals, and much of the tonnage going into Kellerberrin, Tammin and Cunderdin.
Receivals to date have been mostly barley split between feed and malting segregations.
Weather across the zone this week has slowed deliveries, along with harvest bans in some areas.
Albany
Lake Grace received the first load for this harvest, feed barley, on 16 October.
The majority of deliveries to date have been barley, and have taken place in the zone's north, with Hyden and Newdegate taking the majority of loads.
Most sites in the zone are expected to open this week.
Too early to comment on quality across commodities, however there is
A mixture of malting and feed deliveries is being received, and a comment on quality cannot be made until more grain so far.
Esperance
Harvest began in the Esperance Zone on 9 October with a delivery of GM canola to the Chadwick receival site.
Receivals to date have been predominantly barley and canola, with a small amount of wheat and pulses starting to come into the system.
Most sites in the zone are open, and Chadwick and Munglinup have received the most grain within the zone, with quality good so far.
Source: CBH Group