IAIN Macpherson has been at the forefront of driving the adoption of progressive farming practices in Australia over the three decades-plus he has been an agricultural consultant in the Macintyre Valley region of northern New South Wales/southern Queensland.
Since setting up Macpherson Agricultural Consultants in Goondiwindi in 1988, Mr Macpherson has played a significant role in the widespread adoption of no-till, controlled traffic farming and cropping rotations across the broadacre farming sector.
He has also helped oversee the introduction of transgenic, insect-resistant crops and area-wide insect management (IPM) strategies that saved the cotton industry.
Back in the 1980s and '90s, agronomic leaders like Mr Macpherson were encouraging their clients to transition from the traditional, multiple-cultivation methods of farming to the conservation farming practices of minimum tillage, stubble retention and chemical weed control.
It wasn't always an easy task, especially trying to convince long-standing farmers who were comfortable with traditional cultivation practices and had considerable capital invested in high horsepower tractors and soil busting equipment.
Mr Macpherson recalls the turning point came for one of his clients when, sitting around the table together, a call came in for the client from his machinery dealer in town.
"They had just replaced a final drive on one of his Steiger Tigers which was $30,000. We worked out from that that it was going to cost another 50 cents/acre (to continue cultivating compared to no-till), and that was only one final drive and he still had others to do, so that was the turning point for him to be convinced about no-till. He went no-till quite aggressively from then on," he said.
As the no-till 'revolution' gathered pace, Mr Macpherson recognised the growing need for herbicide application services and set up a spraying business as an adjunct to his consultancy business.
"As growers became more comfortable with no-till the biggest problem they had was getting decent spray jobs done for it, so a couple of clients and I set up a spray business, Goondiwindi Weed Busters. We ran it for eight years as a sideline," he said.
In conjunction with the swing to no-till, there was a major shift in the dryland farming sector away from monoculture cereals to crop rotations.
"There is a lot more summer crop, be it dryland cotton or sorghum. There are a lot more pulse crops in the system. There is pretty much a rotation of chickpeas, wheat, barley and then summer crop, depending on the country. I have been heavily involved in trying to drive that change with my clients," he said.
The late 1980s was also a time when cotton took off in the Macintyre Valley with the rapid development of irrigation and uptake by new growers.
"That was the big expansion of cotton in the Macintyre Valley back then. All the Queensland side was getting developed at that stage because the government decided that if you had a water licence you had to use it or lose it. In my second year I had six growers who were new to growing cotton. It was a big learning curve for a lot of people," he said.

Precision ag era approaches
Mr Macpherson said the next significant phase of advancement in farming was the use of precision agriculture technologies, such as variable rate application, which to date had been on a steady path of adoption.
"We have been playing with precision agriculture technology on and off for 15 years. We have a lot more information and have better tools coming, but we still haven't got to a point where there is a big uptake," he said.
"Logistically, in such a broad farming system it is easy to just do the basics well and get them right. You get more return from that than trying to go and fine tune the tiny bits. I think we are still at that stage.
"It will get to a stage where precision agriculture will have a bigger place, but we are not quite there yet. It will come down to when they have better technologies where they can identify diseases and pests and different weeds in crops.
"Most people are collecting data. There are years of data building up. What it needs next is for someone to clean up the data and utilise it, because the data by itself isn't very useful."
High input concerns
In more recent times, Mr Macpherson has had concerns about an emerging issue in the industry where growers are applying ever-increasing inputs, hoping for higher returns.
"There have been some trends in winter cropping where it is driving towards what cotton was 15 years ago where people were wanting to throw more at the crop, expecting bigger returns. But they have been tending to over-fertilise and over-spray. As an industry, it is an issue that worries me," he said.
"I have been involved with some groups down south with GPAC (Grains Pest Advisory Committee). Some of what is happening down south and in Western Australia now is pretty scary with the inputs they are throwing in and the product use they have.
"It's a sustainability issue. I see it as a bit like where cotton was in the late 1990s where it was at a tipping point as to whether we would be able to grow cotton any more or whether it was going to be unsustainable. That is one of the bigger challenges ahead in the grains industry."
Mr Macpherson is also concerned about what impact the current drought will have on the farming and ag consultancy sectors.
"1993/94/95 was a bad drought and we lost a lot of people out of the industry. The Millennium drought had a bigger impact because people hadn't recovered from the 1990s drought. Those two droughts had a big impact on young people coming through the industry," he said.
"You can see it in the agronomy field where there is a gap. There are people in their 50s and 60s, then there's a gap through to a younger generation. I think there is a good base there now, but there is a risk we will start losing people again if this drought continues.
"The consultancy industry has struggled in the droughts. You go from feast to famine. That's part of the reason I did a lot of broadacre consultancy as well as cotton because the cotton was boom and bust with water. There would be years when there was virtually no production and other years when you were run off your feet."
Cotton industry cohesion
Mr Macpherson holds up the cotton industry as a good example of a coherent industry that has worked together to solve problems and achieve significant advances.
"It has a small number of growers which makes it easier to target. It has always been an industry where people share information. If it hadn't been like that, the programs wouldn't have worked. We would have lost most of the insecticides and I doubt if we would have got IPM or even transgenics introduced because we would have been in such a mess," he said.
"I came into the cotton industry when resistance was just starting to go ballistic with pyrethroids. I lived through the worst of the resistance issues. I was heavily involved in the Macintyre Valley with researchers and bringing in IPM before we had Bollgard cotton. We had area-wide management groups and IPM groups in the Macintyre.
"After two years we presented benchmarking of the whole valley. That was the catalyst for the majority of the Macintyre Valley going to a very heavy IPM program. That made big inroads. We actually had three years when people only had four sprays for insects before transgenics were introduced. Now the transgenics are the nice IPM tool we can build on.
"In the last 10 years since IPM has been bedded down we have been working hard on nitrogen use efficiency and water use efficiency, which are the two biggest inputs other than insecticides."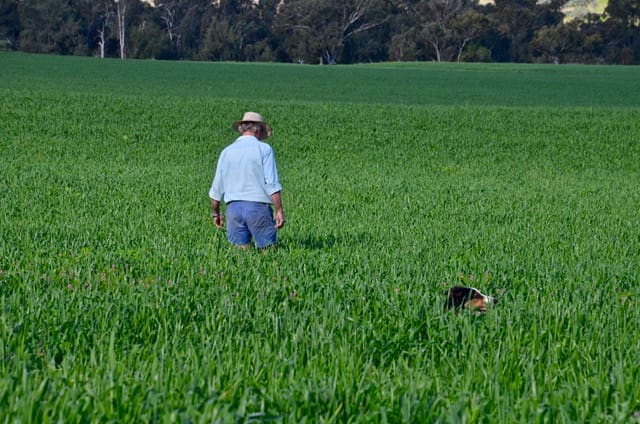 Challenging future for ag
While Mr Macpherson said there was still good money to be made from farming, it was getting a lot harder with costs continuing to rise and returns declining.
He sees producers' 'right to farm' under increasing threat and the environmental lobby having an increasing impact on farming.
"At the moment we are getting a lot of sympathy from the wider community because of the drought, but some of the lobby groups that are very anti agriculture and farming are doing a lot of damage to the industry. It is driving government policy so hard against farming that I see it as one of our really big constraints," he said.
"A big part of the answer is education. A lot of these groups thrive on ignorance as they don't really have an understanding of animal or crop production and the importance of it. As a population we need to have balance, and governments need to be supporting agriculture a lot more than what they are."
After nearly four decades in the ag consultancy game, Mr Macpherson is easing out of the paddock work involved with the consultancy, leaving it to colleague, Dave Kelly, to run the day-to-day side of the business which has been rebadged Macintyre Independent Agronomists.
However, he still oversees a number of clients while operating a farm and is involved with IPM seminars and workshops. He is also interested in holding a position on some relevant boards.
Grain Central: Get our free daily cropping news straight to your inbox – Click here