GRDC shake up
Kimba farmer joins GPSA Board
Lyons leaves FLA on firm footing
Elders grain manager
Rabobank research team appointments
Plant biosecurity roles
Ag Institute election and awards
Top baking apprentices rewarded
Students look beyond the horizon
GRDC shake up
UNDER the final phase of the Grains Research and Development Corporation (GRDC) restructure, Craig Ruchs has been appointed to the position of senior regional manager south, a redeployment from his previous GRDC role of manager grower services south.
The new structure will give each region (southern, northern, western) two agronomy, soils and farming systems managers, and two territory managers working under a senior manager grower extension.
In the north, Jan Edwards has been redeployed from the now-defunct role of general manager, farming systems, soils and agronomy to become senior regional manager.
The senior regional manager west position will soon be advertised.
As part of the restructure, regional manager positions no longer exist. As a result, Roger States in the west and Sharon O'Keeffe in the north finished with GRDC last week.
Meanwhile, applications are now open for positions on the GRDC's three regional panels in the northern, southern and western regions.
Panel members need to be able to commit 20 – 40 days per year to GRDC panel activities and panel members are compensated for their time spent on GRDC activities with rates set by the Remuneration Tribunal.
Applications for the panel positions close on July 4, 2017. The part-time positions, for an initial two-year term, will commence on September 1, 2017.
………………
Kimba farmer joins GPSA Board
THE Board of Grain Producers SA has appointed Eyre Peninsula grain grower Dion Woolford as an independent director.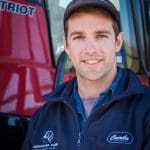 Mr Woolford farms with his wife Chelsea and his parents near Kimba, cropping 4500 hectares to mostly wheat, barley and vetch for feed and running 5000 sheep under the prefix Karawatha Park.
The 29-year-old said he hoped to bring a younger perspective to the Board to focus on different issues, such as the increasing prevalence of social media.
He said he was excited by the opportunity to work with the GPSA Board and grateful for the wide support he had received in taking on the new role – from the industry to his family.
He will stand for election at the next Annual General Meeting.
…………………….
Lyons leaves FLA
FOOD Leaders Australia (FLA) CEO Ben Lyons has finished up as head of the company after accepting a private opportunity.
Dr Lyons returned from China in 2015 as Toowoomba and Surat Basin Enterprise (TSBE) CEO, before going on to direct the growth of the then-newly-formed FLA organisation as CEO.
He said his time as FLA CEO had been marked by major milestones in southern Queensland for agriculture, producers, and agribusiness.
Some of the highlights included working alongside other stakeholders to establish the Cathay Pacific freight flights through Brisbane West Wellcamp Airport at Toowoomba as well as the first international passenger flight from the airport to Shanghai last year for AccessChina'16.
"Helping to convince Cathay Pacific to believe in the region as export capable, off the back of its agricultural expansions, is a great achievement that we see every Tuesday night as the plane comes in," he said.
A general manager will be sought to fill the position.
…………………..
Rabobank research team appointments
RABOBANK has announced the appointment of two new analysts to its Food & Agribusiness research team.
Cheryl Kalisch Gordon has taken on the position of senior grains and oilseeds analyst, and Wes Lefroy has commenced as an agricultural analyst covering grains and oilseeds and farm inputs.
RaboResearch Food & Agribusiness general manager, Tim Hunt, said the new appointments were an excellent complement to the bank's research capabilities.
"The addition of both Cheryl and Wes to the research team ensures we are well positioned to continue to provide a great depth and breadth of high-quality research coverage to our clients in the very important grains and oilseeds sector," he said.
"Cheryl is a highly-regarded grains industry analyst and economist, who brings extensive experience in the Australian G&O sector to the bank, while Wes's knowledge and experience particularly in soil technology and in the Western Australian market rounds out our grains and oilseeds research capabilities."
……………………
Elders national grain manager
LACHLAN Allen has joined Elders as the company's national grain manager based in Adelaide.
Mr Allen was previously GrainCorp's accumulation manager for South Australia and Western Australia, and held earlier positions with Viterra and ABB Grain.
……………….
Plant biosecurity roles
Australia's new plant research and development biosecurity group has appointed a chairman, implemented a management plan and is recruiting a program director to oversee operations.
The group – comprising Wine Australia, Forest Wood Products Australia, Cotton Research and Development Corporation, Grains Research and Development Corporation, Rural Industries Research and Development Corporation, Sugar Research Australia and Horticulture Innovation Australia – elected Plant Health Australia chief executive Greg Fraser as its chairman.
Mr Fraser said the group's collaborative approach was a step change approach using a more contemporary investment model to safeguard the future of our food and fibre industries.
"Plant biosecurity in Australia has become highly reactive and fragmented in recent years, largely because there are many unconnected players. Through this initiative, the seven plant RDCs will provide an environment for better coordination and action," he said.
"My focus will be bringing these stakeholders together to ensure they are applying their respective skills and resources in the best possible manner."
The group is compiling a list of funding priorities and developing its approach to attract additional research investment.
…………………..
Ag Institute election and awards
THE Ag Institute Australia (AIA) annual general meeting held in Manjimup, WA, saw chair Andrew Bishop (Tasmania) and vice chair Turlough Guerin (Victoria) elected for another term.
Guy Coleman and Shaun Coffey were elected new directors on the board, with David Hamilton the outgoing director.
Also at the conference, the AIA's National Student Award for 2017 was won by Ashlea Schott, representing Tasmania.
The prestigious AEV Richardson Memorial National Student Award is competed for by students selected from each AIA Division of Australia, who have completed an Honours or coursework Masters research project as part of an agricultural science (or related) degree.
As part of the competition, finalists provide a written submission on the background of their research topic and also present a 15-minute talk to a judging panel at the final.
Ms Schott's research project at the University of Tasmania investigated the floral developmental stages most sensitive to environmental stress in pyrethrum production.
She now works for Bejo Tasmania as a graduate research agronomist.
……………………….
Top baking apprentices rewarded
QUEENSLAND's Conor McNaught has been named 2017 baking apprentice of the year in the LA Judge Award, which this year celebrated 50 years of supporting young bakers.
The award was presented at a special retrospective gala dinner and award ceremony last night in Sydney, presented by AEGIC and Woolworths.
Mr McNaught, who works at Creative Crusts in Belmont, Queensland, under artisan baker Brett Noy, impressed judges with his high level of baking expertise, outstanding technical knowledge and polished presentation skills.
"Conor is not only an extremely competent baker, but throughout the competition he has demonstrated excellent bread knowledge and maturity," AEGIC bakery leader Daniel Li said.
"There is no doubt that he will become a valuable asset to the Australian baking industry."
As part of the winner's prize, Mr McNaught will receive a special five-day all-expenses-paid trip to Belgium to visit the headquarters of eminent baking and ingredients company Puratos.
A special runner-up prize was awarded to Victorian candidate Alex Slinger of Burnham Bakery, who will attend a two-day Customer Innovation Seminar in the Puratos Asia Development Centre, Hong Kong.
…………………
Students look beyond the horizon
FIFTEEN university students have been awarded the annual 2017 Horizon Scholarship, an initiative of the Rural Industries Research and Development Corporation (RIRDC) in partnership with industry sponsors, which recognises leadership and commitment to the future of Australian agriculture.
The bursary, funded by industry sponsors, provides $5000 per year for the duration of the students' degree in addition to professional development workshops and work placement opportunities, to kick start their career in agriculture.
RIRDC managing director, John Harvey, congratulated the students on their success and welcomed the up-and-coming leaders to the Horizon Scholarship program.
"The successful 15 scholars were selected from a talent pool of more than 150 applicants. These scholars are tipped as our brightest young leaders and are ones to watch when it comes to shaping the future of Australian agriculture," he said.
"The unique scholarship program exposes students to career options from the start of their university journey, we aim to set students up for success and ensure they have the skills to navigate a dynamic career in agriculture."
Horizon Scholars will attend a regional workshop in July focused on leadership and personal development, underpinned by the theme of "Transformation and Change".
The workshop will feature special guest speakers, industry experts, field trips and the opportunity to network, meet sponsors and discuss innovations and challenges in the agricultural sector.
………………………………………………………………
Got some "People on the Move" news to share? Send submissions to [email protected]