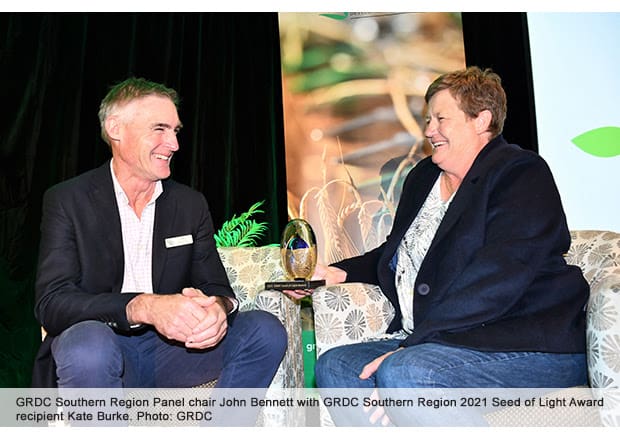 ONE of the southern cropping region's most respected advisers has been presented with the 2021 Grains Research and Development Corporation (GRDC) Southern Region Seed of Light Award.
Kate Burke, from Echuca in Victoria, is the recipient of the prestigious award which acknowledges outstanding effort in the extension of outcomes from GRDC grains research investments and is voted upon by the GRDC Southern Region Panel.
Panel chair John Bennett presented the award at the GRDC Grains Research Update in Bendigo, Victoria, this week.
"It's hard to think there is anyone more passionate about advancing our industry and its growers than Kate," Mr Bennett stated.
"For more than 30 years Kate has dedicated herself to supporting grain growers in their endeavours to improve their profitability and sustainability. And over that time her passion and drive has never waned.
"This Seed of Light Award recognises exceptional communication skills and excellence in extending research outcomes and new knowledge to growers – essentially extension is where the research rubber hits the road.
"It takes a special person to act as a conduit of information between the research coalface and the paddock in a manner that ensures the message resonates with growers and translates into positive practice change and financial gain. Kate is that special person."
Mr Bennett said Dr Burke's ability to communicate new understandings and encourage adoption by growers was unique.
"Kate has exceptional people skills, a great sense of humour, excellent financial skills and a depth of knowledge that comes from first-hand experience. She is also highly principled, and when you combine all these attributes you have a very powerful tool for conveying a message."
Wealth of experience
Originally from a family farm at Elmore, Dr Burke graduated from La Trobe University in 1989 with a Bachelor of Agricultural Science Degree, and later on completed a PhD at the University of Melbourne, with her field of study being plant breeding and agronomy.
During the past few decades she has been engaged as a senior consultant with John Stuchbery and Associates at Donald, and was commercial manager at Warakirri Cropping – one of the largest grain producers in Australia – before establishing her Think Agri consultancy at Echuca in 2015.
Dr Burke founded Think Agri having identified a need for corporate and institutional investors to have access to astute experience-based advice when considering key agri-investment decisions. She also recognised that farming families could further improve their performance by taking the lead from corporate practices when it comes to business planning and reporting.
Mr Bennett said Dr Burke was energised by helping farming families build wealth, stay well and leave a positive legacy for the next generation.
Extensive contribution
In terms of her input and involvement with the GRDC, Dr Burke's contribution has been enormous.
"Kate has been a presenter of the GRDC's popular 'Opportunity for Profit' workshops, she has led drought workshops to support growers through challenging times, and through various GRDC extension platforms she has delved into the potential role of precision agriculture in capturing opportunities for on-farm profit growth," Mr Bennett said.
"Kate has presented at various GRDC Updates on topics such as 'working towards resilient adviser-grower client relationships in the grains industry' and 'matching crop inputs to season outlooks', and she has authored numerous papers.
"In 2016 she was appointed as a lead of the GRDC's medium rainfall zone southern Regional Cropping Solutions Network (now known as the National Grower Network) and contributed greatly during her tenure."
Dr Burke recently published Crops, People, Money and You which draws on her extensive experience as an agricultural scientist in the dryland cropping sector and her ability to connect the dots of science, people and money.
"It is a manifestation of Kate's desire to see others succeed and her incredible insights and know-how," Mr Bennett said.
Extension efforts
In closing, Mr Bennett congratulated Dr Burke on her past and continuing extension efforts to support grain growers as they strive for improved farming systems and enduring profitability.
"Kate works for the common good, she knows what makes people tick and how to relate to them, and her opinions are backed by science. Like most people who are passionate about their professions, she has mentored young people and she is a strong role model for gender equality in agriculture."
Dr Burke said she accepted the Seed of Light Award with "humility and much thanks".
"The grains industry is a wonderful community. And we need to pay homage to the growers who help others in the industry, such as me, learn on the job," she said.
"Thank you to all the researchers, to the GRDC and to everyone in industry who plays their part."
Source: GRDC