THE AUSTRALIAN Taxation Office's annual Foreign Ownership of Land register for the year to June 2022 shows Australia has 12.3 percent, or around 48 million hectares, of Australia 387Mha of agricultural land has some level of foreign ownership.
Last year recorded a 10pc drop in land area held by foreign interests on the previous year's figures, with the ATO citing expansion by Australian investors as the reason for the decline.
During 2021 to 2022, an easing of drought conditions and improved seasonal conditions lifted the number of hectares used for agriculture, particularly across the eastern states, contributing to the foreign-owned land decline in percentage terms.
Foreign ownership is cropping more than 2Mha across Australia with 771,000ha in Western Australia, followed by 675,000ha in New South Wales and the Australian Capital Territory, and 502,000ha in Queensland.
Victoria has 97,000ha under crops, 30,000ha in South Australia, 7000ha in Tasmania and 4000ha in the Northern Territory.
The annual report is designed to provide greater transparency about the level of overseas investment in Australia's farmland.
ATO's definition of "foreign-owned" includes entities with a level of foreign ownership of at least 20pc, so the agricultural land register captures details of entities even when the majority of shareholders are Australian.
Top 10 foreign countries owning Australian ag land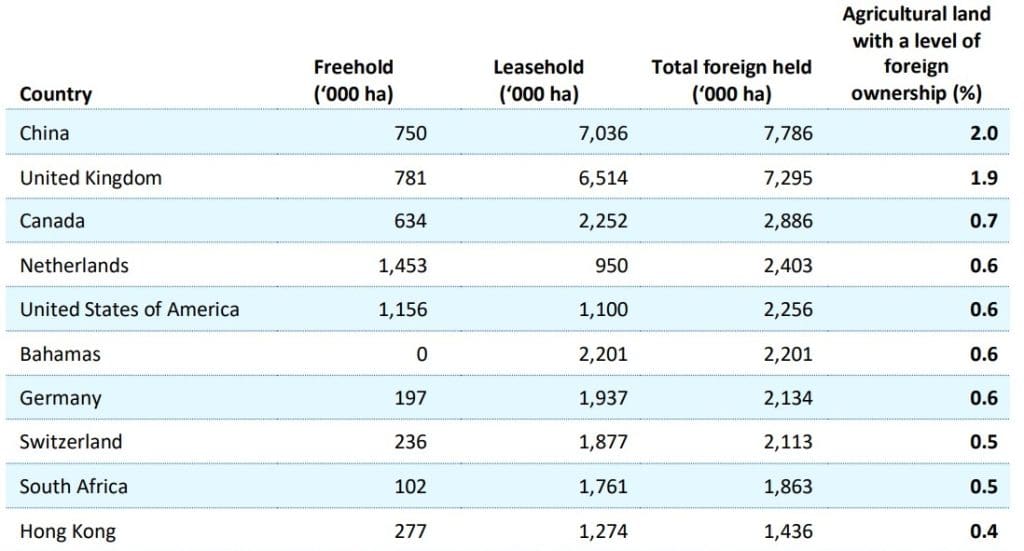 Largest foreign owners
For the fourth consecutive year, China remains the largest foreign owner of Australian agricultural land, by land area (see table above).
China holds a 2pc share or 7.786Mha, comprising 750,000ha freehold and just over 7Mha in leasehold after divesting 713,000ha last year.
The United Kingdom is close behind with 1.9pc or 7.295Mha (781,000ha freehold and 6.514Mha leasehold) after selling off 956,000ha during the same period.
The vast majority of country owned by both China and the UK is leasehold.
In fact, 82pc (41.55m ha) of all Australian agricultural leasehold land held by foreigners is leasehold,  down 8pc on the previous year.
Ranking below China and the UK, six other overseas countries hold more than 2Mha of Australian ag land (combined freehold and leasehold), including Canada (2.886Mha), the Netherlands (2.403Mha), the United States (2.256Mha), the tax haven of The Bahamas (2.2Mha), Germany (2.134Mha) and Switzerland (2.113Mha).
When it comes to the nation with the largest share of Australian agricultural land on a freehold basis, the Netherlands tops the list with 1.453Mha followed by the US with 1.156Mha.
Rural property numbers
In other statistics from the ATO's latest annual report, the number of rural properties secured by foreigners has been steadily increasing over the past three years, from 9897 in 2020 to 10,284 in 2021 and 10,313 in 2022.
Land use
In terms of land use, grazing dominated foreign-owned ag land use at more than 41Mha, followed by cropping (2.085m ha), unreported (2.056m) and  forestry (1.464m).
Foreign-owned land used for livestock is down 9.2pc on the previous year.
Land area by state/territory
The NT was the only state or territory to record a rise in terms of land area held by foreign interests – up 2pc to 14.533m ha, or 27.4pc of all NT ag land.
Leading declines in double-digit percentage terms was South Australia with a 36pc drop in foreign-owned land last year to 3.162m ha, followed by a 23pc drop in WA (11.092m ha) and Tasmania, down 10pc in area to 360,000ha.
Smaller falls were recorded in Victoria (-4.2pc to 641,000ha), followed by NSW/ACT down 3.6pc to 2.577m ha and Queensland down 2pc to 15,345m ha.
Put more simply on a percentage basis, more than a quarter (27.4pc) of agricultural land in the NT is partly/wholly foreign owned, followed by Tas (23.9pc), WA (12.8pc), Qld (11.4pc), SA (6.8pc), Vic (5.6pc) and NSW/ACT (4.8pc).
Joint ventures distort statistics
Elders Agribusiness Investments general manager Mark Barber said it was important to look beyond the headlines of the latest Foreign Ownership findings and scrutinise the detail.
"It is misleading to say that foreigners own 12pc or 48Mha of Australian ag land," Mr Barber said.
"A significant portion is pastoral leasehold which is large in land size, but small in terms of output."
Of the 48Mha of Australian agricultural land that is foreign owned, 36Mha is wholly owned by foreigners and the remaining 11Mha is shared under joint ventures and partnerships with Australians.
Mr Barber said this co-investment was often overlooked, with foreign investment backing some high-performing Australian operations.
"Foreign capital wants exposure to agricultural land, and in particular agricultural land in Australia.
"It recognises our agricultural output and quality of management, and as a result, is seeking partnerships."
One of the most obvious examples is Canada's Public Sector Pension Investment Board which invests alongside many Australian companies.
These agriculture partnerships include: Hewitt Cattle Australia; Australian Food & Fibre: Aurora Dairies: BFB (Brabin, Firman and Block), Daybreak Cropping, and Fresh Country Farms.
These seven partnerships are described by PSP as "best-in-class farmers covering nearly every major Australian agricultural commodity and operating across every state, including large parts of regional and remote Australia".
Mr Barber said foreign investment added value to businesses, whether they be wholly or partly Australian owned.
"Foreign investors create liquidity at scale in the domestic market.
"For instance, in 2021, Canadian real estate investment company AIMCo and global investment manager New Forests paid close to $600M for Macquarie's Lawson Grains, spanning 90,500ha of farming country across ten aggregations in NSW and Western Australia."
Mr Barber cited liquidity as a way to encourage domestic superannuation funds to invest in Australia.
"They require large transactions and also need other large investors (domestic or international) to create liquidity at that end of the market."
"Those seeking to leave a fund or an investment can either wait for it to picked off in pieces by Australian farming families (domestic market) or exit in one hit with a large counter-party."
He said foreign investors played a critically important role in creating liquidity in the large-scale agricultural investment market in Australia.
"Australian domestic funds may not participate to the same extent as the bigger offshore funds, however they would be far less likely to invest if these big funds weren't operating in Australia."
"These overseas funds are creating the market for larger scale investments, the demand for professional management teams, and/or the associated services that go with them."
Further reading:
Why are Australian institutional investors shy of the ag sector?
Will 2023-24 be the year of the institutional investors?
Grain Central: Get our free news straight to your inbox – Click here